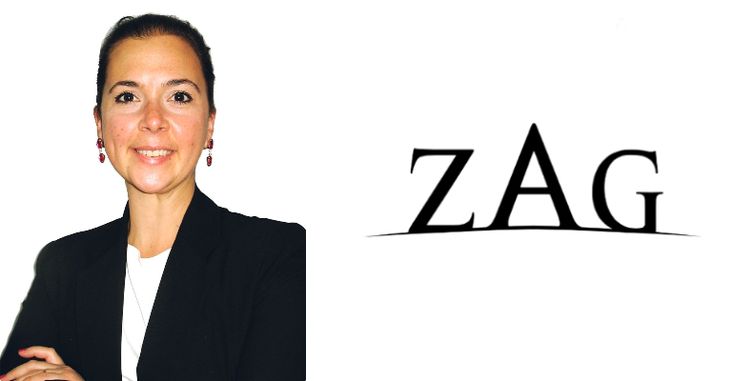 In June of 2021, you were appointed as licensing and retail director, South America for ZAG. What made ZAG the right fit for you and what are your goals for the company in Latin America? 
I was looking for a new opportunity with a goal to work for an international animation company. When Angela Cortez, ZAG's VP of Consumer Products for Latin America invited me to join ZAG I had no doubt it was the chance I was waiting for! Everyone is familiar with "Miraculous – Tales of Ladybug and Cat Noir" and I was so excited that I would be working with Angela on the brand. 
The cinematic content and compelling stories for the TV series have broad appeal for families everywhere. And "Miraculous" has resonated particularly well in Latin America with children and young adults. Children identify with Marinette (Ladybug's alter ego) as she is an ordinary girl with everyday problems just like everyone else, and while she is empowered, she has her own fragilities. It is this emotional connection that makes
it possible to see the series as a "soap opera" in which the viewer waits for the next chapter to see what will happen. In fact, I think that is precisely one of the keys to its success in LATAM, we love soap operas! 
And while "Miraculous" had already done very well across Latin America – ZAG already had many licensing partners and won numerous awards – there is so much more opportunity within the region and that is why Julian Zag, our EVP of Global Operations and head of consumer products established a dedicated team, headed by Angela, to maximize our opportunities. 
With an incredible lineup of content for the next years, I have no doubt ZAG will continue to flourish and expand and of course that is an undeniable opportunity for any professional. 
Before joining ZAG, you spent some time with ARCOR SAIC and El Reino Infantil. How does working with ZAG differ from your previous licensing ventures? 
I first got involved with the licensing industry at Arcor and over the course of 15 years, developed my expertise, ultimately becoming the regional licensing director of the company. And at El Reino Infantil, I began to understand "the other side" of licensing. I used to buy licensees, now I was selling them. It is an experience I am really thankful for because I believe it was the bridge I needed to jump to ZAG. 
Well, ZAG has a global hit with "Miraculous" – retail sales for the brand hit $1 billion last year-- and therefore we are fortunate that there is huge demand from the licensing industry to partner with us. And, as a global company, I get to work with a team of amazing professionals from all over the world, from whom I learn something new every day. And as a company, ZAG is young and non-bureaucratic which makes it a flexible and fast-moving company. They are always seeking to better understand their audience and adapt. 
I understand that ZAG is now working directly with licensees instead of with agents. How was this strategy developed? 
The company determined back in 2020 that the best way for ZAG to grow was by appointing dedicated teams across key regions and working directly with our local partners and retailers.  ZAG has now opened up offices in Mexico, Miami and Europe. For Latin America, we had a great first year, closing key deals with strategic partners for all main categories: toys (Caffaro), costumes (Glam), apparel (The Brands Club and Textiles Arval), accessories (Biotec), home (Belgioco), bedding (Piñata), back-to-school (Artesco), personal care (Biotec), party goods (Glam), publishing (Editorial Planeta) and more! In 2022 we will expand the ZAG Lab and Playmates toy line together with Caffaro in Argentina and Wish Toys in Chile and Perú—which according to data from Global Kids, are the countries in the region with the highest purchase intention with our brand – and bring on board new licensing partners and retailers.  We will also start Licensing our brand-new series Ghostforce. 
How do you hope to expand the ZAG brands in the licensing world? 
We are building "Miraculous" to be an evergreen brand that reinvents itself to connect with new audiences. In the first season, the audience for boys was just 10%, and today it is 40%, because ZAG has done such a good job at expanding the character of Cat Noir, so the series appeals to boys and girls alike. In fact, the series has a 60/40 girl/boy audience, and both Ladybug and Cat Noir are seen by children as superheroes on the same level as Spiderman, Superman or Wonder Woman. Because the series is so popular, ZAG is constantly looking for new ways for fans to engage with the brand and this allows us to be very creative when looking for new partners. Right now, we are close to finalizing some key categories for the entire region including new and innovative toy lines, publishing, ride-ons, footwear, arts and crafts and we're close to signing new country specific licensees, for example apparel in Argentina and back-to-school in Chile. We're also excited to start working on "Ghostforce," which has just been released on Discovery Kids a few weeks ago. The series is an original gender-neutral comedy/action series for kids and families that follows three junior high school students who form a secret team to defend their city from the ghastly ghouls haunting it 
With the film upcoming this year, what plans can you share for the "Miraculous" movie product rollout in Latin America? 
We are very excited about the film, it´s a beautiful movie for all audiences! We are working closely on product development with our partners, with products to hit retail before the movie release, and we have yet-to-be-announced global promotional partners! More information on this will be coming out soon! 
We've had a challenging couple of years in the industry. If you could go back to 2019, what advice would you give yourself for 2020 and beyond? What advice would you give others? 
In 2019 I never imagined in 2021 I would be working at ZAG and if I had to give myself some advice it would be to continue following my heart and intuition – this has always worked for me, staying positive and thinking that the best is always yet to come. And this has paid off.  While the pandemic has been difficult for many, ZAG has thrived due to its overall strategy – providing the best content to fans everywhere and providing multiple ways for them to engage with the brand. "Miraculous" for example is today on the main platforms all over the globe: Disney Channel, Disney Plus, TF1, Gloob, Netflix, Youtube and many others. ZAG Games has developed amazing games and apps, with the first Miraculous console game coming later this year. Plus, ZAG has a huge social media presence, so our audience today finds "Miraculous" in all possible screens and formats. 
What are your main goals for ZAG? 
My main goals are to continue to expand on the success of "Miraculous" to date and build strong and long-lasting partnerships with the best companies and retailers in the region; and also to introduce our new IP "Ghostforce." 
Read more about:
Subscribe and receive the latest news from the industry.
Join 62,000+ members. Yes, it's completely free.
You May Also Like
Loading..