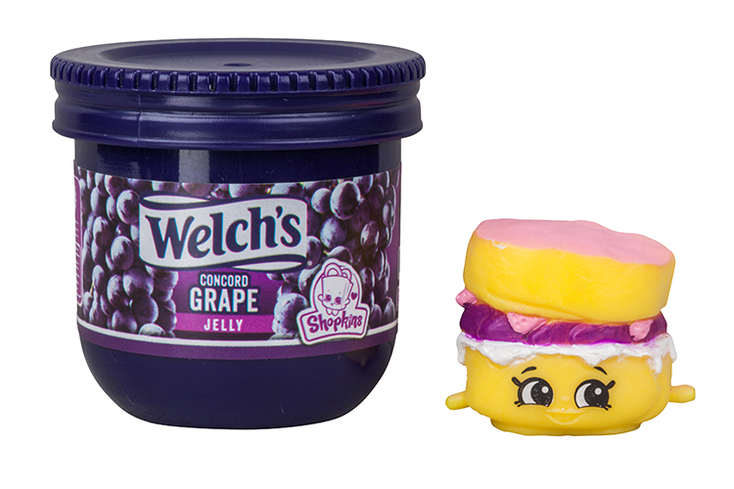 Moose Toys has signed deals with a number of leading food brands to launch a new range of Shopkins that will feature packaging inspired by popular food and household items.
Kellogg's, Welch's, Conagra Brands and more have signed on to bring their food packaging to the world of Shopkins. New Shopkins items will feature packaging inspired by Cheez-It, Keebler Fudge Stripes, Pop-Tarts Frosted Strawberry, Pop-Tarts Frosted Brown Sugar, Kellogg's Eggo Homestyle, Kellogg's Rice Krispies Treats, Kellogg's Froot Loops, Kellogg's Frosted Flakes, Pringles the Original, Pringles Sour Cream & Onion, Mothers The Original Circus Animal Cookies, Kellogg's Fruity Snacks, Blue Bonnett Spreads, Chef Boyardee Beef Ravioli, Hebrew National Beef Franks, Hunt's Petite Diced Tomatoes, Kid Cuisine Meals, Manwich Sloppy Joe Sauce, Marie Callender's Dutch Apple Pie, Orville Redenbacher's Popcorn, Swiss Miss Hot Cocoa Mix, Ro'Tel Diced Tomatoes, Peter Pan Peanut Butter, Welch's Grape Jelly and more. The collaboration hones in on Shopkins' origins as grocery store collectibles.
"The
new Shopkins are sold in mini-pack sets which have outer packaging that looks like a box of cereal, or a bottle of detergent with Shopkins inside that tie into the theme," says Alexandra Ries, vice president, head, U.S. Marketing & Strategy, Moose Toys to
License Global.
"For example, if the mini-pack container looks like a carton of milk, the Shopkin inside might be dairy-themed like a stick of butter or you might get a cheeky twist with a cookie Shopkins."
The corresponding products in the food aisle will feature stickers and other branding that will promote the Shopkins Oh-So-Real range and direct shoppers to look for favorite food products in the toy aisle.
"This fall is our 10th anniversary so we went back to what made Shopkins so special in the first place, which are everyday items you could find in a grocery store," continues Ries. "It's part of the Shopkins brand DNA and where the magic began. Now with Oh-So-Real this December, we are kicking it up a notch. Who doesn't have a connection with something like Frosted Flakes at the breakfast table? This is a fun new way for consumers to collect Shopkins."
The Shopkins line will debut exclusively at Walmart on Dec. 3. Additional retail partners will carry Oh-So-Real in fall 2019.
"The biggest component of our program is speaking to parents, we think it's a really exciting way to get parents into the toy aisle," ends Ries. "We also think collectors will be really interested in the product line, as well as fans of miniature collectibles – which have seen an increase in popularity as a result of the miniature cooking sensation sweeping social media."
Read more about:
Subscribe and receive the latest news from the industry.
Join 62,000+ members. Yes, it's completely free.
You May Also Like
Loading..