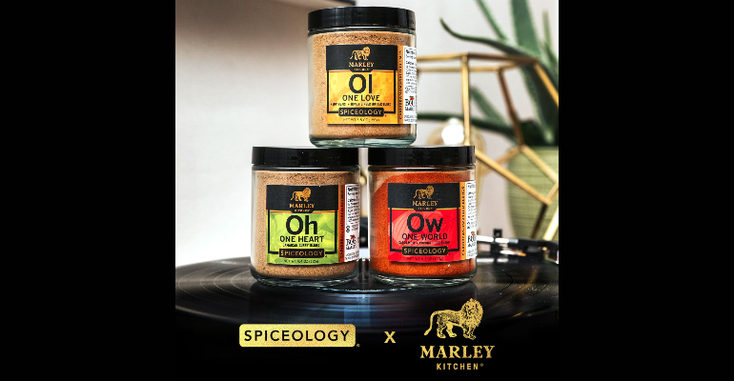 Spiceology, a spice and flavor company, is announcing its collaboration with Marley Kitchen, the food-driven brand created by members of Bob Marley's family. Now available for purchase, the line of Caribbean-inspired seasonings was developed with the culinary support of Cedella Marley and the Marley Family. 
"We're advocates for experimenting with flavor while nourishing the mind, body and soul, and one of the most important aspects of that comes down to what we put in our bodies," says Cedella Marley, chief executive officer, Marley Kitchen, owned by Bob Marley Group. "We knew we wanted to work with Spiceology to bring our interpretation of the flavors of the Caribbean to life because of their commitment to high-quality ingredients and lack of fillers. We value this as a family and a community and felt confident that working with Spiceology would help us bring our flavors to tables around the world." 
Inspired by some of Bob Marley's favorite dishes and his health-forward focus on food,
the new blends, One Love, One Heart and One World, were intended to be paired with whole foods, grains and vegetable-forward dishes. 
One Love: Hemp Heart & Honey Ginger Butter Blend - This blend offers flavor notes of earthiness from hemp hearts and turmeric, richness from butter powder, and a warm sweetness from honey granules, cinnamon, vanilla, and ginger; this blend is ideal for granola, yogurt, lamb, rice pilafs, quinoa, hummus, compound butter, and Jamaican toto bread. 

One Heart: Jamaican Curry Blend - Drawing inspiration from traditional Jamaican curries and African flavors, this blend is warm but not spicy. With strong notes of coriander, mustard, cumin, and ginger, this blend was designed to elevate chicken, fish, lentils, and legumes. 

One World: Cardamom Coconut BBQ Blend - With a balance of sweetness, citrus and heat and inspired by traditional Berbere blends of Africa, this blend's layers include turmeric and coconut sugar. Try this on lentils, legumes, fish, stews, and chicken. 
"While creating these blends, we prioritized ingredients like Hemp Hearts, Ginger, Fenugreek, and Turmeric," says Chef Tony Reed, senior director of innovation and partnerships, Spiceology. "These are ingredients with amazing flavor that are good for you, while also bringing the flavors of the Caribbean to life. Whether you're making granola or a curry, these blends offer flavor profiles that might be new to many home cooks and some chefs and will be fun to experiment with." 
The blends can be found on Spiceology.com and are available in individual 9 oz glass jars and a 3-pack of 2 oz glass jars.  
Read more about:
Subscribe and receive the latest news from the industry.
Join 62,000+ members. Yes, it's completely free.
You May Also Like
Loading..