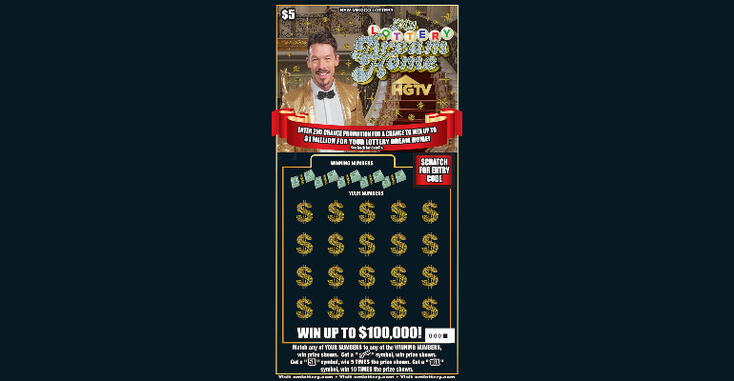 New Mexico Lottery has announced the launch of HGTV "My Lottery Dream Home" scratchers, which are now on sale only in New Mexico. 
"The inspiration for this brand extension came from conversations my team had with the HGTV brand team, who has always wanted to do a lottery game for the series," says Carolann Dunn, vice president, consumer products licensing, Discovery, which owns HGTV. "Lottery is such a natural extension for the show from both a marketing standpoint and a product perspective and we're thrilled that we were able to bring it to fruition. New Mexico was the first to express interest to Alchemy3, who HGTV has a long-term contract with. It is such a natural extension. We go for fewer but more meaningful partners in our strategy and we only extend licensing programs when they make sense."
"I thought it was the perfect match for a Lottery Scratcher, especially when we are all spending more time at home during the pandemic," says Reta Jones, chair, authority board of directors, New
Mexico Lottery. 
The game features top prizes of $100,000 and a second-chance drawing for a New Mexico Lottery player to have a chance to win up to $1 million at a live-streamed event. Additionally, four drawings will be held for $100 gift cards. Three hundred players will each win a $100 gift card.  
"This is the first time New Mexico Lottery players have a chance to win up to $1 million in a second-chance promotion for a game only sold in New Mexico," says David Barden, chief executive officer, New Mexico Lottery. 
The property is represented by Alchemy3, a lottery marketing services company, that manages marketing programs, branded games, second-chance promotions and loyalty programs for lotteries. 
"New Mexico Lottery immediately embraced HGTV's 'My Lottery Dream Home' as a scratch game theme and told us that they wanted to be the first lottery to introduce the program," says Jeffrey Schweig, president, Alchemy3. "They have done an incredible job of bringing the game to life through strong integrated marketing efforts. New Mexico players are going to love it." 
This is the first time HGTV's "My Lottery Dream Home" has been featured on a lottery product. The show's host, David Bromstad, is seen on the front of the ticket in a gold suit in front of a staircase.  
"The printing technique for these tickets is unique and beautiful," says Dunn. "Sales to date since the launch are on fire. They're a top seller; it's pretty exciting, and the program will be expanding to other states this year!"
Subscribe and receive the latest news from the industry.
Join 62,000+ members. Yes, it's completely free.
You May Also Like
Loading..