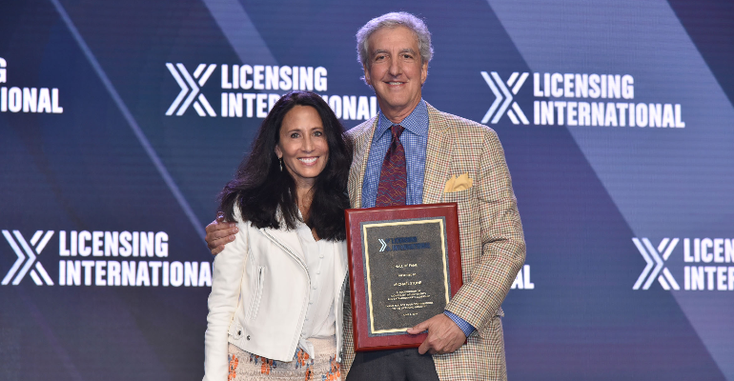 Beanstalk is celebrating its 30th anniversary. In anticipation of the milestone, Michael Stone, chairman and co-founder, Beanstalk, and Allison Ames, president and chief executive officer, Beanstalk, discuss the company's formation, evolution and highlights with License Global. 
How did Beanstalk first come together as a business, and what was the catalyst for formation?  
Michael Stone: In 1991, my partner, Seth Siegel, and I were running the licensing division of The Taft Broadcasting Company. But as Taft sought to pay off highly leveraged debt, we could see that assets, such as Hanna-Barbera Studios, were going to be sold. We decided to establish our own agency. We were lucky – one of our consulting clients, The Coca-Cola Company – stuck with us, and with the then most-famous trademark in the world on our client roster, we founded Beanstalk in 1992. 
Over the years, the business of corporate brand licensing has grown up quite significantly. How have you seen the business evolve in 30 years?
Michael and Allison: In the earlier years of Beanstalk, corporate brand licensing was not a priority for global companies. With a handful of exceptions (e.g., The Coca-Cola Company), it was more an afterthought. And it was much more transactional than strategic. Today, sophisticated brand owners recognize that licensing is an effective marketing and communications tool that engages consumers and supports a brand's marketing objectives. 
What are some of Beanstalk's proudest moments or milestones over the years? 
Michael and Allison: We don't have to look very far back. Last year, 2021, was Beanstalk's best year in our history, as we generated $9.5 billion in retail sales. But, of course, there have been many proud moments over the years, and we only have space to name a few. 
In 2000, we launched the groundbreaking mary-kateandashley retail exclusive program at Walmart, the retailer's first licensed fashion line for tween girls. The program grew to include retail exclusives in an additional 11 countries and achieved over $1 billion in retail sales over the next eight years in categories such as apparel, apparel accessories, footwear, cosmetics, fragrances, furniture, home textiles and books, among others. To support and manage the program, Beanstalk opened an office in Bentonville, Arkansas, as well as placed a full-time employee at our client, Dualstar Entertainment, in Los Angeles. 
In 1998, Stanley became a Beanstalk client, and we developed the first comprehensive licensing program in the hardware and do-it-yourself category. Today, 24 years later, some of our best work continues to be for Stanley Black & Decker. 
In 2007, P&G became a Beanstalk client working with brands such as Pampers and Always. Nancy Bailey & Associates was also a long-time licensing agency for several P&G brands, and in 2010, we acquired NBA. The growth trajectory of our P&G business is something about which we are very proud. Today, we work with over 20 brands, including Febreze, Mr. Clean and Vicks, and have four Beanstalk employees based at P&G headquarters in Cincinnati. 
In 2013, we created a division named Tinderbox with expertise to represent new media properties. The division handles the licensing for several of Microsoft Studios' and Activision's video game titles as well as eSports league, ESL. 
For client HGTV, Beanstalk was the driving force behind a complete development of a brand architecture for the HGTV HOME licensing program, including logo development and brand aesthetics. The program includes a retail exclusive in the paint category with Sherwin-Williams and Lowe's as well as a retail exclusive in the furniture category with Bassett Furniture. 
For client Diageo, we have developed one of the few comprehensive global food and merchandise licensing programs in the spirits industry. 
What predictions do you have for the business of brand licensing as we look ahead? 
Allison Ames: The digitalization of consumer products into the metaverse where consumers can create, share and monetize innovative assets and IP across various business sectors, be it art and design, fashion, music, experiences, among other areas, will have a significant impact on brand-building. Further, brands can now engage with consumers both virtually and physically and develop NFTs and crypto-based licensed extensions as an important element of brand love and collectability. 
We are seeing more and more brands make a serious commitment to incorporating sustainable practices in both their core and licensed product manufacturing and packaging to respect and protect our future ecological balance. 
Connecting with diverse communities will continue to be even more important. Brands that embrace global perspectives and cultures through licensed products and experiences will be highly sought after by Gen Z, who demand and support a diverse and inclusive world. 
How has Beanstalk's success been influenced by the relationship that you both have cultivated throughout the years? 
Michael and Allison: We have worked together for over 25 years, including on all the "proud" accomplishments referenced above. Beanstalk's success is, in part, driven by our ambition and competitive spirit, but more importantly, it is driven by our mutual respect for each other, our camaraderie, and our support for each other's success with no egos involved. We believe that all of that trickles down to the rest of our agency. We often know what the other is thinking and can finish the other's sentences. We are both passionate about building and sustaining a culture at Beanstalk (more on that below) and hiring, training, mentoring and empowering the best talent in the industry. We also mentor each other. We laugh a lot. And when Michael talks too much in a meeting, Allison doesn't give a second thought to kicking him in the shins under the table. 
What makes Beanstalk stand out in the industry? What is brand Beanstalk? 
Michael and Allison: From our earliest days, we have always strived to represent our clients with passion and commitment, even in those times when we might not agree with a course of action. People first, Services second and Profit third. Put the right people in the right jobs, engage and take a personal interest in them and deliver on your service promise. We are single-minded about honest business practices and honest relationships with our partners. And we are about continuous learning, growth and improvement of our talent. We know that culture matters and that a corporate culture needs to be articulated and nurtured, starting at the top and cascading down throughout the organization. Our articulated values are: Commitment, Humility, One Team, Innovation, Community and Empowerment. We call those our C.H.O.I.C.E. Values. We are all leaders, and we all learn from each other. As one of our esteemed colleagues recently said, "No other agency has a Michael and an Allison!"  
We are looking forward to the next thirty years. Stay tuned! 
Read more about:
Subscribe and receive the latest news from the industry.
Join 62,000+ members. Yes, it's completely free.
You May Also Like
Loading..