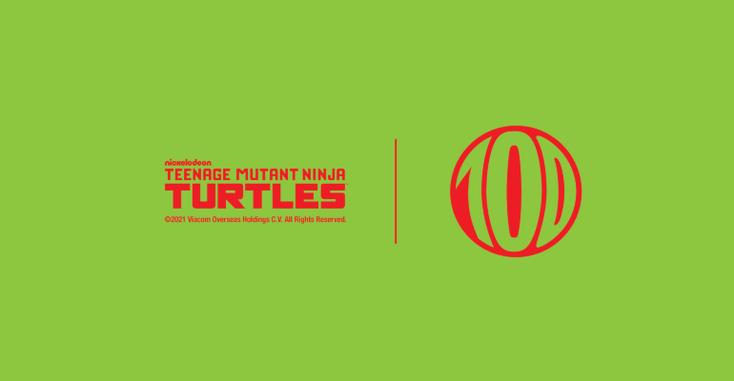 Prospect 100 has launched its second Global Design Competition in partnership with ViacomCBS Consumer Products and Nickelodeon. A competition has launched for the Teenage Mutant Ninja Turtles (TMNT) franchise. This year's global design competition will provide a platform for aspiring artists, illustrators, designers and Turtle fans, aged 16-25.
"We have partnered with Prospect 100 to offer up-and-coming artists an opportunity to showcase their work on a global platform, aligned with the beloved Teenage Mutant Ninja Turtles legacy franchise," says Veronica Hart, executive vice president, global franchise planning, ViacomCBS. "We are thrilled to see how these young creators will bring their vision of Leonardo, Donatello, Michelangelo and Raphael to life. Our goal for the TMNT x P100 Winner Collection is to create a fan-first product offering that presents the winning design to millions of TMNT fans!"
Prospect 100, ViacomCBS Consumer Products and Nickelodeon are inviting applicants to submit
original artworks reimagining the Teenage Mutant Ninja Turtles. The winning finalist's design will be turned into a special collection of official TMNT merch available globally on Amazon in August 2021 and the winner will also receive a cash prize of $7,000.
"Over the years the Teenage Mutant Ninja Turtles have kept reinventing themselves and have created aesthetics that became iconic," says Harry Beard, co-founder, Prospect 100. "We're really excited to invite young creatives from all over the world to reimagine the Turtles in an entirely new and unique way with this competition and have the chance to see their concepts become reality with an official merchandise collaboration. We all have one style of the Turtles in our minds which many of us will recognize as something symbolic of our childhoods. This is the chance for young creatives to create a visual identity that could resonate with the millions of Turtles fans all around the world when their capsule collection drops."
The judges for this competition include TMNT co-creator, Kevin Eastman of Kevin Eastman Studios, internet art sensations, Harry Hambley of Ketnipz, Danny Casale of Coolman Coffee Dan, LVMH Prize finalist Colm Dillane of KidSuper, Buzzfeed creative director and previous TMNT intern Loryn Brantz, Swedish artist and MoMA-exhibited Andre Saraiva, artistic curator LilJupiter, street muralist Matt Gondek and two of Instagram's biggest artists, Caitlyn Grabenstein of cult.class and Larisa Murariu of Morysetta.
"I co-founded my fashion label when I was still in high school out of a passion for design," says Alexandre (Millinsky) Daillance, co-founder, Prospect 100 and founder, NASASEASONS. "I couldn't learn to design or how to run a company at school, so I mostly learned everything by myself after my homework. I wish I had the opportunity at the time to take part in a Prospect 100 competition and be part of that community of similarly passionate teenagers like myself. I have been really fortunate over the years to work on some amazing collaborations with sought-after entities such as The Rolling Stones. I know first-hand just how big of an impact the opportunity to create a collaboration is. It can be a real breakthrough career moment. It is extremely rare for established brands, especially ones that have worked with entities such as Supreme, to offer young artists and designers a chance to work. It is therefore exciting that Teenage Mutant Ninja Turtles is giving the extraordinary opportunity for a young creative to officially collaborate with them through the Prospect 100 Global Design Competition 2021. There's going to be thousands of young creatives who will be really thankful for this opportunity that ViacomCBS Consumer Products and Nickelodeon are offering."
Each submission will be judged based on originality and authenticity to the designer. To enter the competition, visit www.prospect100.com and follow @prospect100 on Instagram. Applications are now open and will close on July 8 at 11:59 p.m. British Summer time / 6:59 p.m. Eastern time.
Read more about:
Subscribe and receive the latest news from the industry.
Join 62,000+ members. Yes, it's completely free.
You May Also Like
Loading..