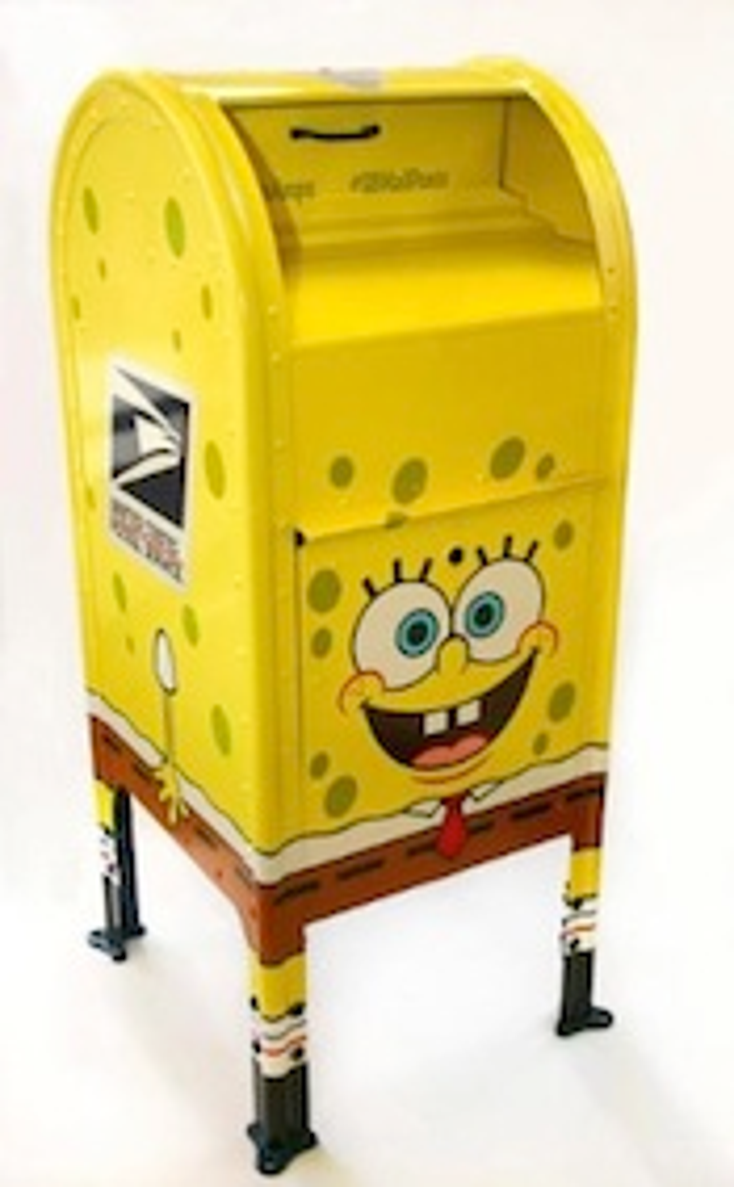 Nickelodeon's SpongeBob SquarePants is teaming up with the U.S. Postal Service and eBay for two holiday collaborations that will see the character tout the fun of snail mail and become the first animated character on eBay Celebrity.
The U.S. Postal Service has launched an educational letter-writing program called SpongeBob MailPants to show kids the fun of writing, sending and receiving mail this holiday season. Nickelodeon's new business development team negotiated the partnership.
From now through Jan. 4, kids can get postage-paid SpongeBob postcards at more than 25,000 post offices across the U.S. Resources for teachers and parents are also available online including a video tutorial for kids, customizable and printable stationery and writing-themed SpongeBob video clips.
In addition to the postcards, 30 postal service mailboxes are being wrapped in a custom SpongeBob design across the country.
"This program is a great way to inspire kids to write and send cards and letters because it's
done with the fun, positivity and humor of the one and only SpongeBob SquarePants," says Pam Kaufman, chief marketing officer and president, consumer products, Nickelodeon. "SpongeBob MailPants is a terrific partnership between Nickelodeon and the Postal Service, and we're thrilled that kids and families across the country can go to their local post office for some SpongeBob-inspired holiday cheer."
SpongeBob has also become the first animated character to be featured on eBay Celebrity, joining the ranks of A-listers like Brad Pitt, Lady Gaga and Katy Perry.
From now through Saturday, fans can bid on limited edition experiences and SpongeBob-themed memorabilia autographed by series creator Stephen Hillenburg. Items include a signed copy of the "SpongeBob SquarePants" pilot script, a custom-painted Nintendo Wii console, art prints and more.
All proceeds from the charity auction will benefit the Natural Resources Defense Council, an international environmental non-profit. This is first of several Nickelodeon-themed auctions that will take place throughout 2014, benefiting a variety of charitable organizations.
"We are thrilled to have SpongeBob as the first animated character to have its own eBay celebrity page," says Kaufman. "The SpongeBob charity auction will give fans and collectors around the world a chance to own a piece of SpongeBob and his world, while benefiting a remarkable charity with a meaningful cause."
Subscribe and receive the latest news from the industry.
Join 62,000+ members. Yes, it's completely free.
You May Also Like
Loading..