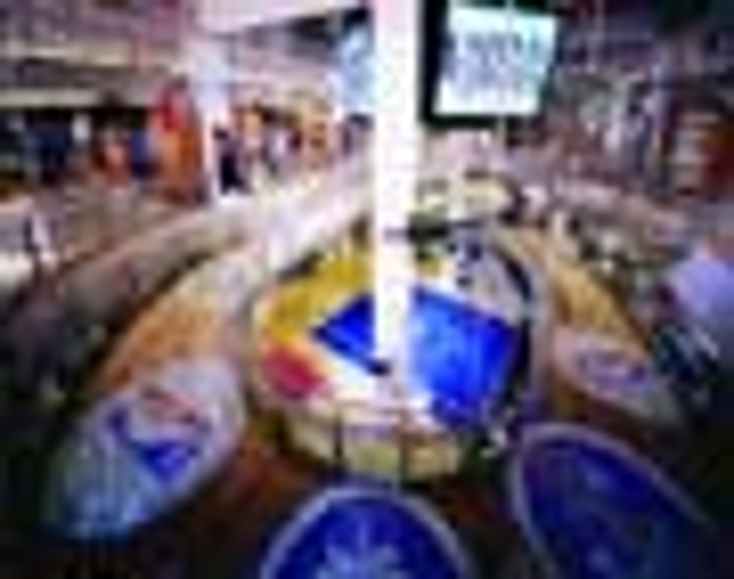 ]>The latest TV-to-big screen stars are making waves with licensing programs for higher visibility on the pop-culture radar.
The promise of a big screen blockbuster is enough to make any licensor and marketer salivate. That success can be especially sweet if the subject of the movie is an already popular and profitable TV licensed property that comes with a ready-made television fan base. A number of this year's TV-to-movie icons promise to deliver on that popularity as summer 2002 releases begin to roll out: Powerpuff Girls and Scooby Doo (shown on Cartoon Network); The Wild Thornberrys and Hey Arnold (Nickelodeon); and The Crocodile Hunter (Discovery Communications' Animal Planet). But clearly there's more to making the transition from TV to movies than just enlarging the screen.
Do it right, and it's a win-win for everyone. "A movie gives an evergreen property a real adrenaline charge," says Carol LeBlanc, vice president, licensing, Discovery Communications, New York. She also notes that a TV-to-movie scenario "prolongs the shelf life of a property for retailers" beyond just the lifespan of a feature film. Star Qualities"There are really three dimensions to successfully bringing characters to film," explains Albie Hecht, president, film and television entertainment, the creative development force behind Nickelodeon, New York, series and film projects. His criteria:
The characters have grown into pop culture icons. "Rugrats are an example of characters that became stars and were known for their hipness," he says. "We all knew which character represented us as kids."

There is a strong story to tell, such as in the upcoming The Wild Thornberrys film where the plot focuses on Eliza and shows her character's growth and "gives her a new dimension."

There is a "look" or vision for the movie. The Wild Thornberrys, for example, will be done in Cinemascope, Hecht notes.
For
Kelton Selvey, vice president, international consumer and educational products, Discovery Communications, movies don't represent the end goal of a property's growth, but are yet another outlet to get the company's message across. "Very broadly, our mission is to empower people to satisfy their curiosity about their environment. That includes any media platform that makes sense for us now or in the future. We'll be there," he says. For now, the medium is movies for the network's popular Crocodile Hunter series.
In addition to the adrenaline rush, film also allows TV characters a certain amount of growth. According to Nickelodeon's Hecht, it's a way to tell a bigger story and perhaps move a character in a new direction. With that in mind, look for Nickelodeon to take SpongeBob SquarePants to the big screen some time in 2004, along with a new combined Rugrats/Wild Thornberrys movie slated for 2003.
The synergy between TV and movies works the other way, too. The ABC Family channel is running classic episodes of the original Spiderman cartoons while the momentum from the newly released Spider-Man movie (and the sweeping licensing and promotional activities attached to it) are still at their peak. And Nickelodeon, which had a movie hit with Jimmy Neutron right off the bat, now is developing a television series based on the character. "When a project comes to us, we look at the character to determine where it fits best," explains Hecht. "With Jimmy Neutron, the character had an inherent sizzle to him, and was right for a larger medium."
In fact, Nickelodeon's success with Jimmy Neutron (including the Academy Award nomination in the animation category) is evidence of its strategy to grow its film division. Hecht says the division plans to release about three movies a year, including one animated and one live-action picture with a possible third of either category. In addition to looking in its own backyard for movie stars, it is looking outside, as well. A film based on the popular children's books, "A Series of Unfortunate Events," is planned for holiday 2003.
In the Can
Here's a look at the current crop of TV-to-movie properties and the licensing potential:
Crocodile Hunter:
Collision Course (MGM, release date: June 28): The force of Crocodile Hunter Steve Irwin's personality was enough to convince MGM to make a movie based on the Animal Planet star. "He's the world's first real-life action hero," explains Discovery's Selvey. In fact, Irwin already has spawned other television shows including Crocodile Files and Crocodile Diaries. The property also will be the core of a new block of Discovery Channel kid shows airing on NBC Saturday mornings beginning in October 2002. Key licensing deals include trading cards from Dart Flipcards, Matchbox cars by Mattel, socks by Holeproof in adult and kid versions, and checks from Checks Unlimited.
Radio Shack also has signed on as one of MGM's promotional partners. The retailer will offer the Crocodile Hunter Radio Control Truck and Action Set, originally introduced last year. According to Discovery's LeBlanc, the retailer will distribute free Crocodile Hunter temporary tattoo sheets with every toy purchase and hold a summer cross-promotion with the Subway food chain.
Scooby Doo
(Warner Brothers, release date: June 14): This live-action film stars today's hottest young actors, including Sarah Michelle Gellar and Freddie Prinze, Jr. According to Warner Bros. Consumer Products, Los Angeles, licensing and merchandising support for the film comes from Equity Marketing, which is introducing a broad array of toys based on the film; Mattel, Inc., which is launching a new Barbie as Daphne fashion doll; and Pressman Toys, which is introducing a Scooby Doo Spooky Island Board Game. Corporate retail partners Kmart, Wal-Mart, and Sears also plan to announce cross promotions with the movie's release.
Powerpuff Girls
(Warner Brothers, release date: July 3): The world's first female kindergarten superheroes, The Powerpuff Girls, will pack a punch in summer 2002 in their first theatrically released animated feature film, produced by Cartoon Network Studios and distributed by Warner Bros. Pictures. Warner Brothers Consumer Products reports continuing licensing support for the property through master toy licensee Trendmasters, which is debuting a new line of Powerpuff Girls toy products for 2002. The new line will feature "Powerpuff Girls in a variety of fun character assortments and girl-favorite themes," according to Warner Bros.
Hey Arnold
(Paramount, release date: June 28): In this animated release, Arnold, the "football-headed, untucked-shirted, city-living, stickball-playing kid 'toon star" comes up against a powerful industrialist who invades the city and buys everything in sight so he can knock it down and erect a huge "mall-plex." Can Arnold and his best friend, Gerald, find the document that can stop the bulldozers? Licensees for the property include a Game Boy Advance video game and CD-ROM from THQ, and books from Simon & Schuster and Golden Books.
The Wild Thornberrys
(Nickelodeon, release date: holiday 2002): Twelve-year-old Eliza Thornberry is the heart of this animated movie about the Thornberrys, a family traveling around the world producing nature documentaries. Licensees for the property, mirroring the Hey Arnold deals, include video games from THQ, and books from Simon & Schuster and Golden Books. Next year, look for The Rugrats Go Wild, a movie in which two popular Nickelodeon shows collide as the Rugrats meet the Thornberrys.
Subscribe and receive the latest news from the industry.
Join 62,000+ members. Yes, it's completely free.
You May Also Like
Loading..