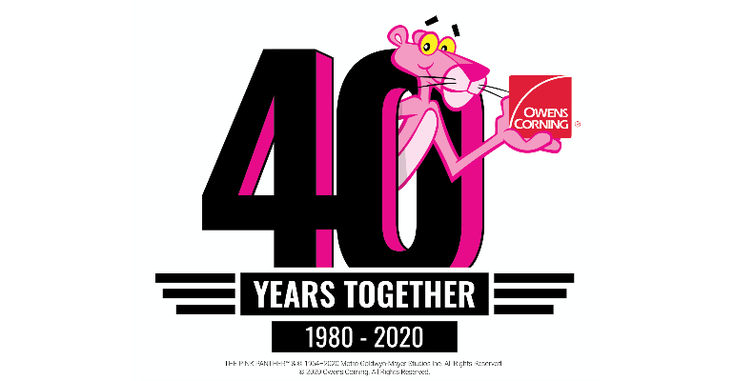 Owens Corning is celebrating the 40th anniversary of its relationship with "The Pink Panther."
Through the years, the MGM character and company "spokescat" has grown to become one of the world's most recognizable brand mascots. Owens Corning began partnering with "The Pink Panther" to promote sales of PINK Fiberglas insulation on Aug. 15, 1980. Since that time, the cartoon character has starred in multiple television, print and digital media promotions for the company and its businesses. "The Pink Panther" also adorns the vehicles of hundreds of select contractors, distributors and builders working with the company's roofing and insulation businesses.
"The relationship between Owens Corning and The Pink Panther is nothing short of remarkable," says Suzanne Harnett, vice president, corporate affairs, Owens Corning. "For 40 years, 'The Pink Panther' has been a smart and stylish ambassador for our company speaking persuasively to our brand promise despite never uttering a word."
"The Pink Panther"
was developed by animation cartoonists Friz Freleng and David Depatie as the opening title sequence for the 1964 film, "A Shot in the Dark." As a result, his movie career was expanded into animated cartoons, books and merchandise.
"Marking 40 years of 'The Pink Panther' as spokesperson for Owens Corning is a true moment to celebrate," says Robert Marick, executive vice president, global consumer products and experiences, MGM. "It's rare that you see a promotional relationship like this continue for decades. It speaks to both the timelessness and universal appeal of 'The Pink Panther,' as well as Owens Corning's ability to make him an integral part of their marketing and platforms."
The concept for pairing "The Pink Panther" with Owens Corning was first suggested by Roger Butler, an executive at the New York-based advertising agency Ogilvy & Mather. The association was natural given the color of the company's insulation, which has brandished its pink hue for more than 60 years.
Aside from the long-standing partnership with Owens Corning, "The Pink Panther" was also leveraged for a
with Pantone.
Read more about:
Subscribe and receive the latest news from the industry.
Join 62,000+ members. Yes, it's completely free.
You May Also Like
Loading..