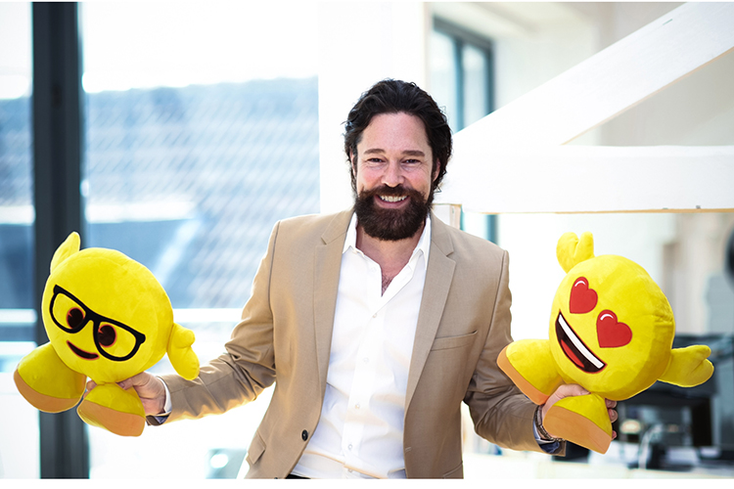 How did the Emoji brand begin?
The idea for creating an official Emoji brand came a long time ago. I started this venture back in 2013 after multiple top management positions in the video game industry. We discovered very quickly that entering a market that is already saturated with many properties is a challenging thing to do, but we knew we had to be different and unique, which is why we took close to two years to prepare our market entry.
We invested many resources into research and development, and besides a costly brand registration process, we started developing a detailed brand strategy and built a library of icons that would meet the tastes of today's consumers as well as the demand of the global merchandising market.
What have been some of your most notable achievements?
Within two and a half years, we successfully established the Emoji brand in the market and signed more than 500 noteworthy partnerships with some of the biggest corporations across the globe. Today, Emoji products are sold in more than 100 countries and generated more than $450 million in retail sales
in 2017.
Current partners include companies such as Sony Pictures Animation, Ferrero, The Inditex Group, Kellogg's, Nestle, C&A, Nikon, Fuji, Random House, Universal Music, Walmart, Orange and The Swiss Post, among others.
Additionally, we own more than 800 Emoji trademarks globally, and have created more than 10,000 icons, patterns and customized designs, all of which are protected under applicable copyright laws and available for legitimate licensing. We also offer our customers personalized content and develop customized icons for specific areas of application per customer requests. For example, we created customized icons for the IAAF at the World Athletics Championships in London in 2017.
How do you define brand value?
Brand value is something that can be endlessly discussed, but it is a fact that if you want the consumer to buy your product, or even to pay more for your product, you need to deliver. A brand owner needs to clearly define what the brand stands for and needs to deliver that message to the customer–repeat customers are the lifeline of every business.
I strongly believe that no longevity can be achieved without brand values, constant brand building and brand assurance, which all result into product quality. A brand needs a visual identity and an identity with regard to content. It also needs to stay consistent in its appearance on the market and needs to offer cool products and designs, be innovative, different and cover social aspects to connect the consumer emotionally with the brand.
Meanwhile, to build sustainability for your brand and to create a returning customer, you need to invest and stick to your brand values permanently. The Emoji Company invests in the development of accompanying content to entertainment customers. We have launched our own YouTube channel, we post mini games and GIFs and the first song from our own record label is set to launch in Q2.
Do you face any competition?
The extent of trademark protection for The Emoji Company is very broad. The company owns the registered Emoji trademark in more than 100 countries across the globe, encompassing up to 25 classes of goods and services. We also work with the biggest corporations in the industry, and they adhere to trademark law and respect registered IP rights of competitors.
Unfortunately, there are always some black sheep in the market, which we have to deal with and we do. We are protected by copyright, trademark and competitions laws. Trademark Offices, for example, refuse third party marks that are confusingly similar with our registered brand. We have also enforced our trademark rights in various court cases and have been granted multiple injunctions against third-party infringers.
There are also copycats, and although derivatives of the original may exist, without branding there simply is no differentiation and no sustainable business, which is what all licensees and retail partners are looking for. And let's be honest, the consumer is looking for quality, originality and authenticity, which is exactly what the Emoji brand stands for and what we deliver together with our renown licensees.
Read more about:
Subscribe and receive the latest news from the industry.
Join 62,000+ members. Yes, it's completely free.
You May Also Like
Loading..