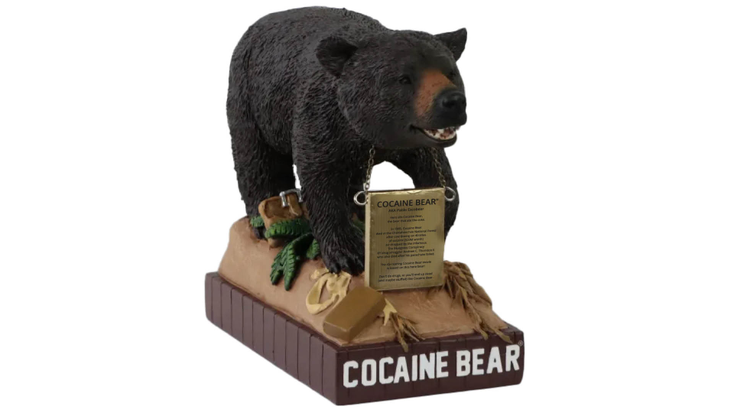 'Cocaine Bear' Bobblehead
The National Bobblehead Hall of Fame and Museum
The limited-edition bobblehead features the 175-pound black bear who inspired the subsequent film, "Cocaine Bear."Standing on the display mount, accessorized by a duffle bag of cocaine, the fun-loving "Cocaine Bear" bobblehead sports its chained plaque including its fateful description.
The bobbleheads, which will be individually numbered, are only available through the National Bobblehead Hall of Fame and Museum's
and the KY for KY
. The bobbleheads, which are expected to ship in July, are $30 each plus a flat-rate shipping charge of $8 per order
The bear first made headlines in December 1985 when the Georgia Bureau of Investigation announced that it had died from a drug overdose. The news was picked up by United Press International and the New York Times. The story inspired a movie loosely based by the events, "Cocaine Bear," a comedy-horror
film directed by Elizabeth Banks and written by Jimmy Warden, released in the U.S. in February by Universal Pictures.
In 2015, Whit Hiler and Griffin VanMeter introduced a taxidermized animal that they claimed to be the infamous bear at their Kentucky for Kentucky Fun Mall in Lexington, Kentucky. (It was later revealed by VanMeter that the bear in-store is not the same bear from the 1985 incident but has a replica as a store attraction, in an interview with The Wall Street Journal). The gift shop sells "Cocaine Bear "T-shirts, sweatshirts, hats and more.
"Visited by and bringing joy to thousands of people every month, 'Cocaine Bear' is not just a roadside attraction – and soon-to-be biopic antihero – he's also a city mascot, a heartwarming community builder, and a warning to all the dangers of drug abuse," says Kentucky for Kentucky in a statement. "We trademarked his name and likeness as part of our guardianship, popularizing him as a character. You can visit "Cocaine Bear" free of charge during opening hours. We hope that you do."
"Nothing makes a bear's head bobble more than a bunch of cocaine," says VanMeter. "We're honored that Cocaine Bear is making its bobblehead debut with the National Bobblehead Hall of Fame and Museum. They've been amazing partners to develop this Cocaine Bear keepsake with–the first of its kind!"
"We're excited to be working with KY for KY to create the first bobblehead of Cocaine Bear whose wild story nearly 40 years ago has taken on a life of its own," says Phil Sklar, co-founder, chief executive officer, National Bobblehead Hall of Fame and Museum. "Since the release of the movie of the same name, Cocaine Bear has found himself in the spotlight. This bobblehead is a must-have for fans of this party animal."
Read more about:
Subscribe and receive the latest news from the industry.
Join 62,000+ members. Yes, it's completely free.
You May Also Like
Loading..