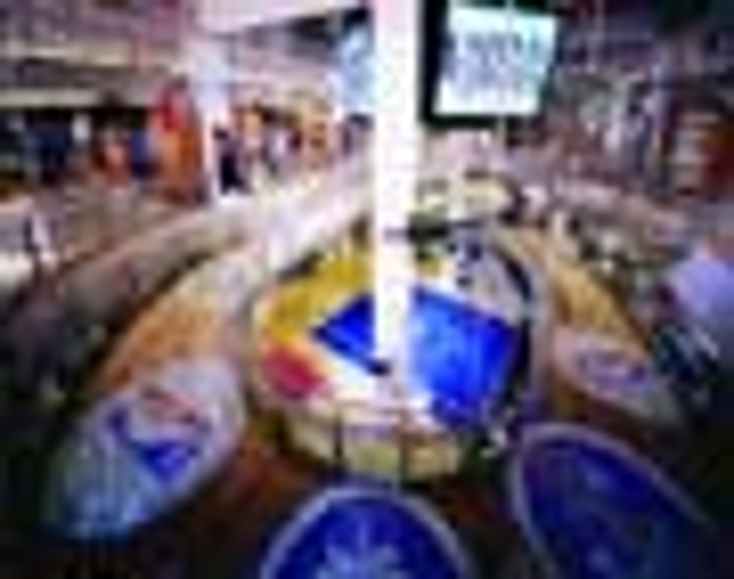 Genre broadens its reach and merchandising potential.
An increasing number of new titles are set to give the Japanese anime phenomenon a huge boost and expand the genre's reach into licensed merchandise. In fact, in the last 10 years, both anime (the Japanese word for animation) and manga (Japanese graphic novels or comics) have crossed over from the specialty sector into mass-market, mainstream America.
"Anime is definitely in the growing phase," says Mike Pascuzzi, vice president, Media Blasters in New York. "There is still a tremendous opportunity, and the consumers of anime have a vast amount of buying power."
Milton Griepp, president of GCO, a Madison, WI-based consulting firm specializing in pop culture retailing, agrees. "We've just scratched the surface," says Griepp, who sees the current anime craze as the beginning of a 20-year trend. He estimates manga brings in about $40 million in retail sales annually, while anime video sales are about $100 million. The number for licensed merchandise brings those figures significantly higher.
Beyond Pokémon
Any industry estimate always includes a disclaimer that begins, "If you leave out Pokémon...." That's because the more than $10 billion generated by Pokémon is the kind of astounding success most anime producers can only dream about.
But New York-based 4Kids Entertainment, which distributes Pokémon to the WB! Network, is not about to rest on its laurels. Its deal with the Fox Broadcasting Co. (4 Kids leased a four-hour programming block on Saturday mornings for $25.3 million per year) begins in September and gives the company an instant platform for its programs. According to Al Kahn, chairman and CEO, 4Kids, it's the rich storylines of anime that are appealing to a growing American audience. Kahn is hoping to come close to Pok/n's success with Yu-Gi-Oh!, shown on the WB! Network.
While Pok/n may have been the catalyst for a surge in anime, there is a wealth of content beyond the kids' titles. Most important, there is now an equally impressive number of venues to showcase new and ongoing titles: an "adult swim" program block on the Cartoon Network; the 4Kids/Fox block; a new crop of fan-based publications; and increasingly well-stocked anime sections in Suncoast, Tower Records, and other video outlets and bookstores.
The mission of many companies is to expand beyond their current customer base and find a way to cross gender lines. "Ten years ago, the anime customer was 18 years and older," says John O'Donnell, managing director, Central Park Media in New York. "Today, the bulk of anime properties are watched by 10- to 12-year-olds." Neverthe-less, many of Central Park Media's (CPM) catalog of titles target the older customer. It was one of the first companies to break through the U.S. market with anime offerings at national chains such as Blockbuster. Now, the company has more than 400 titles in its catalog, including the new Now & Then, Here & Now series that hit stores in March. CPM is also a market leader in manga properties, with titles such as Slayers featured in both anime and comic form.
Cypress, CA-based Bandai Entertain-ment's anime customer tends to be younger, evidence of its toy maker roots with parent Bandai America. Now, it is looking to broaden its base with Cowboy Bebop, which began airing on Cartoon Network last November. "Cowboy BeBop speaks to a mainstream market of both kids and adults," explains Jerry Chu, marketing manager, Bandai Entertainment. Expect a theatrical release this year, as well as T-shirts, comic books, and toys. The movie has earned $1 million in Japan.
Bandai also released a new line of toys for its popular Gundam franchise based on the series G-Gundam. It, too, will get a theatrical boost in 2002 with a Gundam live action movie titled G-Savior. According to Bandai, the Gundam franchise has seen eight movies, seven television series, novels, comics, videos, and toys totaling more than $5 billion in retail sales worldwide.
Pascuzzi at Media Blasters points to another untapped demographic: girls. Most anime - even that aimed at kids-still appeals to boys. That is beginning to change. (The Yu-Gi-Oh! champion is a girl.) In its own catalog, Pascuzzi says The Knight Hunters series features "five good-looking guys" that appeal to girls in the same way boy bands have sparked interest. The company is still staying true to its older hardcore anime audience, however, releasing Berserk on DVD in April. The title already has a Sega Dreamcast game in play. Look for T-shirts and posters to help promote the title.
What's the Story?
Anime storylines also are evolving. Generally, there is an overarching storyline that progresses from episode to episode, and more character development than typically is seen in American animation. "Localization," the translation and re-editing of anime from the original Japanese, is an important part of the process, especially for those properties intended for American television.
For purists, Tokyopop in Los Angeles is releasing a series of what it is calling "authentic" manga titles. These will be translated from Japanese but will still read right to left as they do in Japan. The first 14 titles will be in stores this month, including Initial D. According to Chad Benesh, marketing manager, Tokyopop, the complex storylines of anime and manga allow for unique merchandising opportunities. "Initial D is not so much character driven as lifestyle driven," he says. According to the company, the teenage storyline is fertile ground for car- and racing-related merchandise.
"New characters and situations are introduced in anime to keep the story evolving, and that makes the brand more layered," says Andrew Witkin, vice president, licensing, North America, Nelvana LTD in Toronto, Canada. Though the company is best known for its classic preschool animation titles (Franklin the Turtle, Babar), it has an anime hit on its hands with Medabots. Merchandise stemming from the animated show on Fox includes CD-ROM cards with animated footage from Serious USA, crafts based on the characters from Rose Art, shoes from Buster Brown, and a video release from ADV films this spring. New on the Nelvana roster: Beyblade, a story based on spinning tops.
With all this activity, has anime reached a peak yet? Billy Taylor, manager of retailer Suncoast, Massapequa, NY, doesn't think so. "Our anime section is very big and we've just expanded it to four banks for DVDs alone, plus a wall for anime videos. We carry almost every new release."
Predicts Media Blasters' Pascuzzi: "Anime is winding its way further into the mainstream. You're going to see its influence in movies, music videos, and more."
Subscribe and receive the latest news from the industry.
Join 62,000+ members. Yes, it's completely free.
You May Also Like
Loading..