The 2012 BrandZ report on the Top 100 most valuable brands, from Milward Brown Optimor, shows that aggregate value has had very little growth over the past year, although the world's biggest brands continue to develop, despite current economic turmoil.
Although there was only a 0.4 percent increase in the total value of the world's brands, they are collectively worth $2.4 trillion, with technology and telecom brands proving superior and comprising about 44 percent of the list. For the second year in a row, Apple took the No. 1 spot in the rankings as it rose 19 percent in value, now worth $182.9 billion, followed by IBM and Google, worth $115.9 and $107.8 billion respectively.
"This year, those businesses that leveraged technology, focused on the customer experience or boosted control of their brands thrived," says David Roth, managing director, Milward Brown Optimor.
Between 2006 and 2012, the most valuable global brands grew 66 percent and the top 10 brands alone have jumped 118 percent
in the past six years, according to BrandZ. Perhaps the most compelling element of the study is the message that the responsible, strong brands are growing the fastest because they have developed a meaningful relationship and trust with their customers.
Digital Opportunities
BrandZ reveals that consumers support companies that have similar values and a solid corporate reputation, as well as brands that keep up with the digital revolution and emergence of new technologies. Although four of the top five brands are in technology, other categories such as cars, luxury and retail are increasing value by incorporating technology into their brands.
Burberry is one company incorporating social media and new technology to increase the brand's appeal. The brand keeps itself modern and relevant through its virtual world, where customers can create a customized Burberry trench coat.
One out of every five brands in the Top 100 list is from a fast growing economy, but the total value of the brands somewhat decreased because of slow business in China and Brazil, according to the report. In addition to the BRIC nations, brands from Chile, South Africa and Australia entered the BrandZ rankings for the first time. Although some companies' brand value declined, others recovered from last year's decline and new brands emerged.
Standout Performers
In this year's rankings, BrandZ reported that Facebook increased the most in brand value, moving up 16 places to just behind Walmart and Amazon, with an increase of 74 percent to $33.2 billion.
In the past year, the value of the brands from fast growing markets in the BrandZ Top 100 increased in value by 663 percent. A slow economy in Brazil was consistent with the decline of Brazil's oil and gas company, Petrobras, and two bank brands, Itaú and Bradesco, fell completely out of the rankings.
Although China saw a decline in ranking for its most valuable brand, China Mobile, and for its bank brand, ICBC, two new Chinese brands–alcohol brand Moutai and oil and gas company Sinopec–enter the Top 100 for the first time, according to the BrandZ Top 100.
Russia's financial institution brand Sberbank grew 25 percent in value, and the Indian telecom brand Airtel enters the BrandZ rankings for the first time.
With technology brands prevailing, the opportunity for emerging market brands to enter the rankings is extremely high. Africa entered the BrandZ Top 100 list for the first time with the addition of the South African telecom brand MTN, ranked at number 88. In the retail category, the BrandZ Top 100 rankings welcomed two Chilean brands, Falabella, a department store and outlet operator, and Sodimac, a Falabella company that is a home improvement retailer.
Newcomers
Companies who showed interest in fast growing markets, especially in Asian markets, saw an entrance into the BrandZ Top 100 rankings. According to the BrandZ report, German-owned companies Volkswagen and DHL enter the rankings in 2012. Ikea had an increase in sales in China and earned a spot in the Top 100, as did fast-food chain KFC, which relies on its 3,700 Chinese restaurants as opposed to 4,780 in the U.S., according to the BrandZ reports.
The first Australian brand, Commonwealth Bank of Australia, becomes a part of the BrandZ Top 100 rankings because of markets in China, Indonesia and Vietnam.
Another first-timer for the BrandZ Top 100 list is State Farm, which utilized new technology to increase its value by introducing a new logo and expanding TV advertising.
Brands such as Starbucks and Home Depot regained positions in the BrandZ Top 100 list after revitalizing certain elements of their brands. For the second year in a row, Ralph Lauren increased its brand value through sales growth, according to this year's list, as well as luxury brand Hermès, which moved up 39 spots to number 32.
Apparel
Although the median age of the Top 100 brands is decreasing because of the influx of technology brands, apparel companies are getting older, and most were established in the 20th century. This year, apparel companies saw pressure to provide bargains and discount prices to customers. Nike followed this trend by offering discounts on some parts of its line, which allowed consumers to switch to Nike from other brands they were using during the recession, BrandZ says.
Other brands that did well in the BrandZ rankings are low-cost brands that have a high perceived value. The introduction of technology, such as mobile apps, interactive websites and other digital marketing tools, also played a role in increasing brand value for apparel companies. Zara and H&M, two brands that saw success because of their fashion-forward lines and strong value, also introduced social shopping sites, BrandZ says. Another new trend in technology tools for apparel companies is the "augmented reality mirror," used by Top Shop in Moscow and Macy's in the U.S., which uses iPad technology to allow customers to see themselves in clothes without physically trying them on.
In the developing markets, Li-Ning, a Chinese brand with lines in more than 8,000 stores, extended its international reach by joining the Indian market and introducing a website in the U.S., although its brand value did decline.
Retail Brands
In the race for the No. 1 spot as the world's most valuable retail brand, Walmart surges ahead of Amazon to reclaim the title. Technology helped Walmart to recover from last year's decline, as did restoring core categories and international expansion. Also a boon for the world's largest brick-and-mortar retailer worth $34.4 billion is its entrance into the South African market with the purchase of Massmart, a wholesale and retail brand, as well as its strong sales in China, which helped to increase Walmart's value, according to BrandZ.
Falling behind Walmart, Amazon did benefit from the widespread use of technology by being a customer's first stop search engine for online shopping; however, the absence of physical stores did have an effect. In a compensatory effort, Amazon introduced delivery pick-up locations at 7-Eleven stores, BrandZ says.
The introduction of the term "omni-channel" is a significant aspect of the BrandZ top retail brands, revealing the need for companies to provide both physical and virtual shopping experiences for its customers. BrandZ describes the omni-channel retailing experience as "simultaneously shopping in the aisle of a physical store while checking the competition on a mobile device." Tesco, ranked at number 36, incorporated the omni-channel approach with the use of interactive screens in subway stations in Seoul, Korea.
Home Depot utilized the strategy of integrating price and quality to inflate its brand value, making it this year's most improved retail brand with an increase in value of 31 percent, according to BrandZ. The recovery of the housing market also played a role in Home Depot's appreciation in value.
Digital Control
It is no secret that technology brands comprise the most dominating category in the BrandZ Top 100 most valuable brand list, lead by Apple and powerful brands such as Google, Microsoft and Facebook. As influential as the financial aspects of the technology brands are the impact that their names and monumental breakthroughs have had on all other categories of the BrandZ Top 100 rankings is also significant.
Apple appreciated its brand value by introducing new upgrades, such as the iPad2 and iCloud feature, reaching a market value of $500 billion, according to BrandZ. As a result of Apple's innovations, other technology brands, such as Verizon, benefited from distribution and sales of Apple products, while companies like Google rivaled by purchasing Motorola Mobility and improving the Android market. Facebook secured the title of the fastest riser in this year's BrandZ Most Valuable Global Brands, increasing its brand value by 74 percent to $33 billion. In the second spot in the rankings, IBM developed because of its efforts to be a responsible brand looking further than simply profit, with its Let's Build a Smarter Planet strategy.
In the international markets, global technology brands flourished. Baidu, the largest search engine in China, continues to expand by establishing an office in Brazil and increasing its value almost 50 percent from 2011. Because of the natural disasters in Japan and Thailand this past year, Sony struggled in the 2012 BrandZ Top Global Brands list, coming in at number 86.
The 2012 BrandZ report says that this year, consumers are worried about privacy with big technology brands such as Google and Facebook. However, brands in the technology category will continue to progress and introduce new innovations to keep up with the consumer's need for connection and versatility in the digital world, BrandZ says.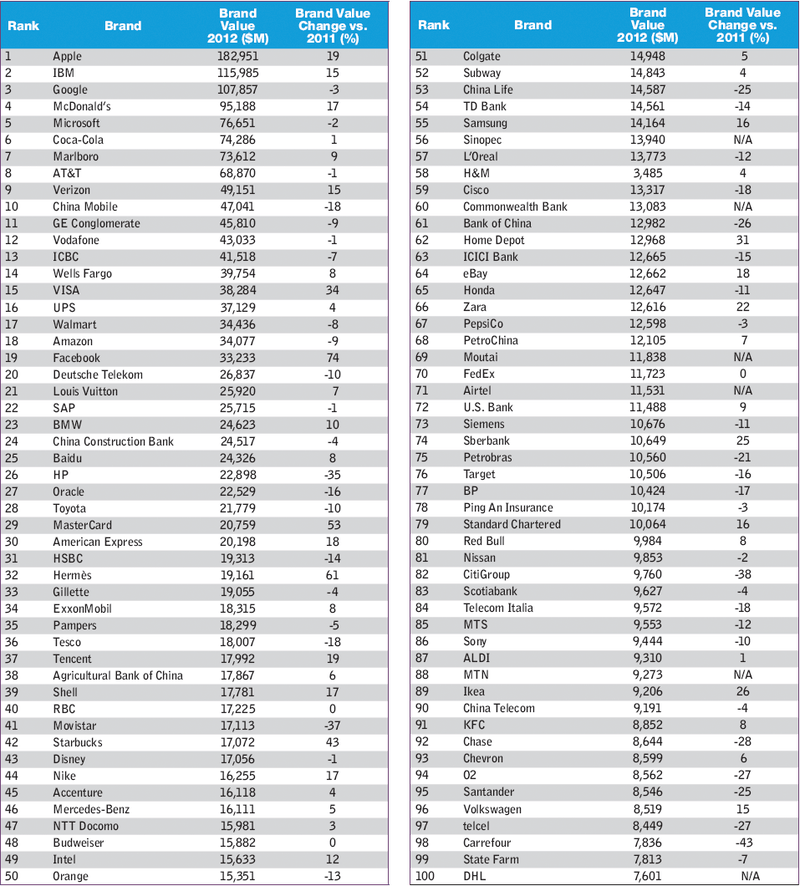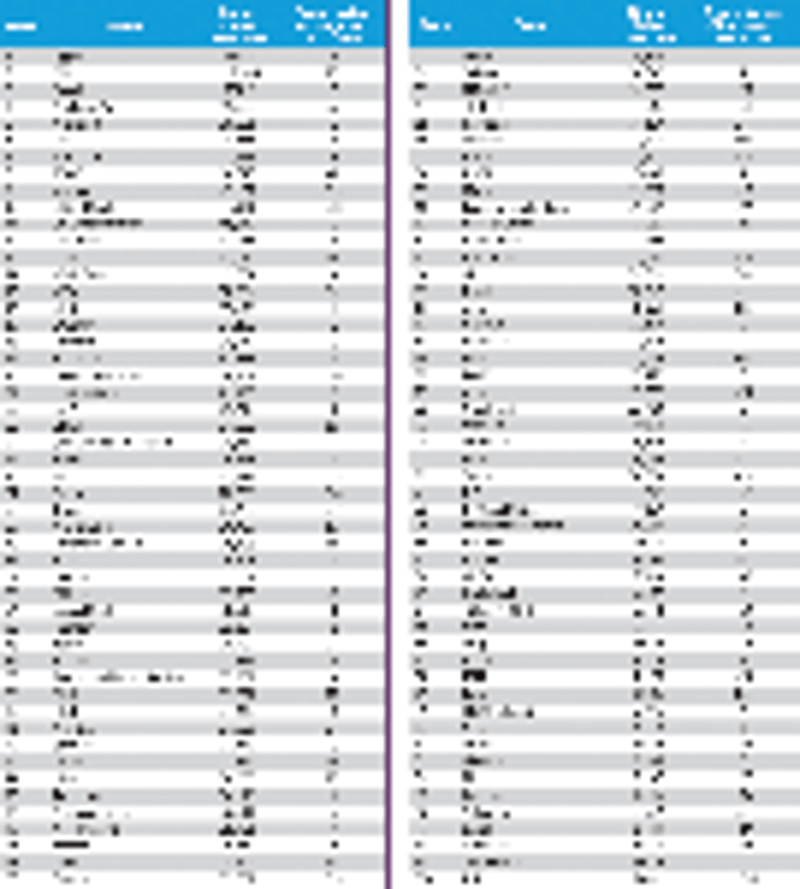 Subscribe and receive the latest news from the industry.
Join 62,000+ members. Yes, it's completely free.
You May Also Like
Loading..