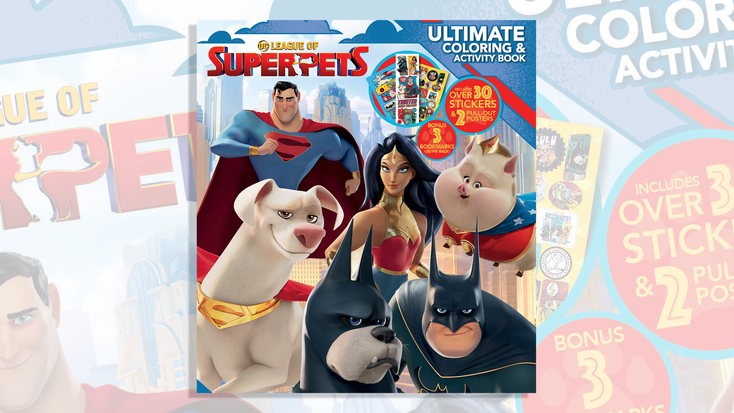 "League of Super-Pets" coloring book.
Bendon
Warner Bros. Consumer Products
(WBCP) and
will release a pack of products inspired by the four-legged stars of Warner Bros. Pictures' upcoming animated adventure, "DC League of Super-Pets." The global merchandise collection includes preschool toys, pet products, a video game, children's books, a DC original graphic novel, apparel and housewares.
, Rubies,
, Fetch for Pets,
,
and
have collaborated with Warner Bros. Consumer Products and DC to bring "DC League of Super-Pets" merchandise to mass market and specialty retailers leading up to the film's release in theaters only – July 27 internationally and July 29 in North America.  
"The endearing characters and themes of teamwork and inner strength depicted in 'DC League of Super-Pets' inspired our team to develop a varied, cross-category collection that brings the heart, soul and fun of the film into the lives of fans around the world," says Pam Lifford, president, Warner
Bros. Discovery Global Brands and Experiences. "From preschoolers who tell their own stories using Krypto and Ace toys, to parents introducing their future superheroes to reading and pet lovers who can equip their own super-pets with super-products, our goal is to give fans a variety of ways to bring 'DC League of Super-Pets' home with them." 
WBCP offers a range of "DC League of Super-Pets"-inspired products, including: 
Toys and Collectibles:
Rev & Rescue Krypto can transform Krypto from standing to flight mode. The toy features 15+ sounds, music and phrases from the film. Baby Krypto is a puppy that has movable legs, a dog bone pacifier and removable eyeglasses. Other toys include the Super-Pets figure sets, featuring Superman and Krypto, Batman and Ace, Wonder Woman and pot-bellied pig PB and a Super-Pets Figure Multi-Pack. 
Just Play will offer plushies based on the characters from the movie such as Superman and his dog Krypto, a talking plush. He barks, plays phrases and moves his ears. There is an Amazon-exclusive DC Super-Pets Bundle of five animal heroes: Ace the Bat-Hound, Krypto the Super-Dog, Merton the turtle, PB the pot-bellied pig and Chip the squirrel, ranging from 6.25 inches to 9 inches tall.  
In Australia, toy brand Headstart will lean into "DC League of Super-Pets" with a plush toy range available at local retailer Australia Post and mass retailer Big W. 
Rubies will debut a selection of new, licensed children's costumes. Outfits inspired by Superman and Batman's best friends, Krypto the Super-Dog and Ace the Bat-Hound, are available this July at Costumes.com. Other costumes inspired by DC superheroes, including Wonder Woman, The Flash, Batman and Superman, will also be released. 
Children's Apparel and Accessories: 
Hybrid Apparel has introduced new graphic tees, available only at Kohl's through their Jumping Beans toddler's program. "DC League of Super Pets"-themed lunch kits from Fast Forward will also be released. 
Bioworld will release graphic hoodies, sweatpants and T-shirts available at Amazon, Target and Walmart. 
In Australia, retailer Big W will release "DC League of Super-Pets" hoodies and tees for kids in June. In September, EB Games and Zing Pop Culture will offer kids T-shirts, accessories and stationery. In Thailand, Pena House has launched kids' T-shirts. CSD in Taiwan is launching a collection of branded disposable face masks. 
Pet Products:
 Fetch for Pets, a New York-based pet product manufacturer, will showcase a new line of licensed DC pet products. The line encourages pets to unleash their inner DC superhero with plushies, rope tug toys, collars and more. 
The DC Superman dog toy is a 9-inch dog rope toy that features the Superman symbol in a soft plush, as well as a red and blue rope for tugging. It does not have any hard plastic, sharp corners or edges. 
Buckle Down collars and leashes are also available at Buckle-Down.com.  
Warner Bros.' DC Shop will carry merchandise from the new animated film. Apparel for adults and youth are also available along with mugs featuring the DC Super-Pets. DC Shop will also carry dog collars and leashes, dog toys and more from licensee partners Buckle Down and Fetch for Pets. Products will be available on June 29 and will continue to roll out towards the movie's July premiere.   
In selected Asia-Pacific territories, pet apparel and accessory company Kanine will launch a "DC League of Super-Pets" line later in 2022. 
Video Games:
The Adventures of Krypto and Ace," is a cross-platform video game​​ published by Outright games and licensed by Warner Bros. Interactive Entertainment on behalf of DC, will debut July 15. Kids 7 to 10 can play the game on Nintendo Switch, PS4, Steam and Xbox One and PC. PS5 and Xbox Series X/S will be available Sept. 30 and a free upgrade for existing PS4 and Xbox One version owners. 
Housewares and Homegoods: The new "DC League of Super-Pets''-themed tumbler by ZAK Designs comes with a silicone straw that has a valve that prevents liquid from flowing when it's tipped over. The collection features characters from the film including Krypto the Super-Dog, Ace the Bat-Hound, PB the pot-bellied pig, Merton the turtle and Chip the squirrel. Zak Designs' collection of tumblers are available in Walmart stores. 
Crown Crafts will debut a four-piece toddler bedding set with a comforter, pillowcase, top and fitted sheets with the DC Super-Pets characters at Walmart on June 9.  
Delta Children's "DC League of Super-Pets" Sleep and Play Toddler Bed with Built-In Guardrails is available now at Walmart.  
Hallmark Keepsake Ornaments will release a Krypto the Super-Dog ornament, available for purchase July 9 in Hallmark Gold Crown stores or online.  
Publishing: 
On July 19, DC will release the graphic novel, "DC League of Super-Pets: The Great Mxy-Up."  
Random House Children's Books is publishing five movie tie-in formats tied to the release of the upcoming "DC League of Super-Pets" film. The titles include a complete retelling in a hardcover accompanied by an 8-page insert and poster, a junior novelization in paperback, a full-color activity book, a Step 2 Step into Reading leveled reader and a full-color storybook. 
Bendon's line of "DC League of Super-Pets" movie tie-in coloring books come with coloring, activities, posters, stickers, tracing and more. 
Food: With a multi-regional Happy Meal program activating in 67 countries, McDonald's is featuring "DC League Of Super-Pets"-themed Happy Meal boxes, premiums and in-store displays for 20,000 restaurants around the globe. In the Philippines, the country's biggest quick service restaurant chain Jollibee is offering a "DC League of Super-Pets" toy with every Jolly Kiddie Meal until July 15. Apple's partnership showcases JAZZ apple as a partner for superheroes. 
Hasbro and LEGO are exhibiting at Licensing Expo 2022. Find out more information 
.
Read more about:
Subscribe and receive the latest news from the industry.
Join 62,000+ members. Yes, it's completely free.
You May Also Like
Loading..