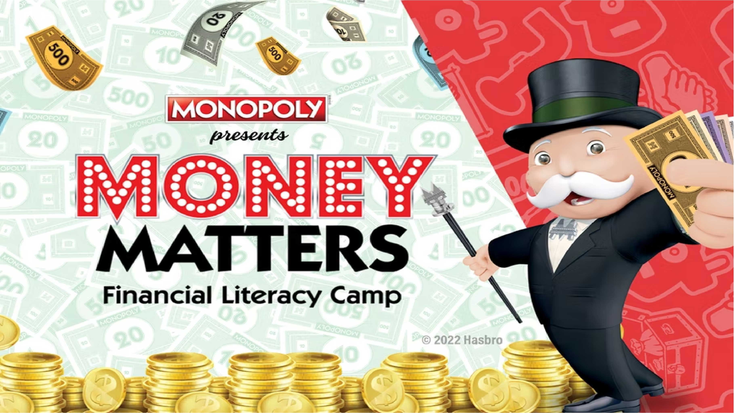 Promotional image for the Money Matters Financial Literacy Camp
Varsity Tutors/Hasbro
The board game is part of an interactive
to help kids develop the tools for lifetime financial success. Through live, expert-led lessons and Monopoly-based simulations, campers will learn budgeting and personal finance, marketing and entrepreneurship and economics and business strategy, all through a gamified experience. 
Monopoly's Money Matters camp sessions meet for two hours each weekday, and campers are placed in small groups of six to nine, ensuring maximum participation, guidance and collaboration. Each day, an expert instructor will lead campers through interactive activities, discussions and Monopoly simulations as they master a new financial topic. Campers will develop their own Monopoly house rules, properties, cards and strategies to put their newfound
knowledge to use. When daily sessions end, campers can head to their Camp Clubhouse for even more monetary activities to monopolize their time, including challenge quizzes, printable activities and more. 
Weeklong camps start in June and run through August. Each Money Matters Financial Literacy camp costs $250 per camper.  
"Monopoly is known as the world's most iconic board game, but it's also a timeless tool for introducing kids to the fundamentals of personal finance," says Brian Galvin, chief academic officer, Varsity Tutors. "A number of real-world finance concepts and scenarios are rolled up into the game of Monopoly, making it a fun and entertaining way to teach kids about the mechanics of money." 
A survey by the National Endowment for Financial Education found that
of adults believe their state should require either a semester or yearlong personal finance course for graduation. By being taught about financial risks, children will be
to avoid financial debt and bankruptcy in the future. They may also be more inclined to plan for events in the future, such as saving for a holiday, investing in property or even putting money aside for retirement. 
According to studies, Americans currently demonstrate relatively
of financial literacy and have difficulty applying financial decision-making skills to real-life situations. In the U.S., only
of individuals can answer four or five questions on a basic five-question financial literacy quiz correctly. 
Virtual Summer Camps from Varsity Tutors, now in its third year, have been headlined by celebrity instructors such as Mayim Bialik, Stevie Van Zandt, astronaut, Leland Melvin, and Coyote Peterson. These camps help to keep learning skills sharp during the summer. Large-group StarCourse classes hosted by Varsity Tutors have also been led by renowned organizations such as Dreamworks, The Smithsonian Institution, The Field Museum, Coinbase, The New York Stock Exchange and many more.  
Nerdy offers a range of subjects on its learning platform (more than 3,000) and has delivered personalized learning across multiple learning formats including one-on-one instruction, small-group classes, large-format group classes and adaptive self-study. 
A full summer camp schedule is available
. 
Subscribe and receive the latest news from the industry.
Join 62,000+ members. Yes, it's completely free.
You May Also Like
Loading..