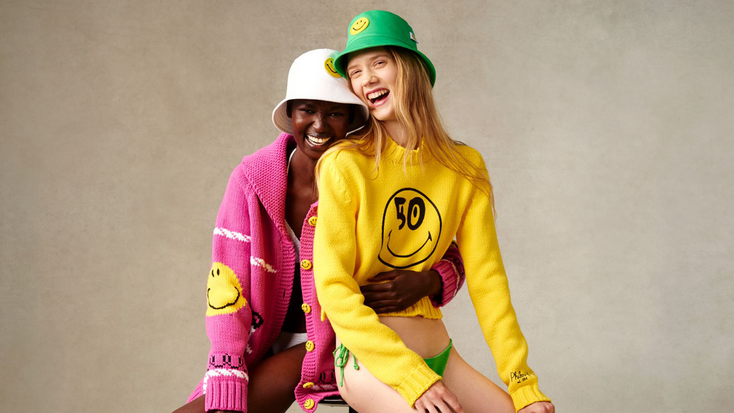 Apparel from The Smiley Company.
The Smiley Company
At A Glance
Learn about The Smiley Company's beginnings and how they made their foray into fashion.

Hear about the brand's streetwear and casual wear partnerships and their higher-end offerings.

Discover how Smiley is celebrating their 50th anniversary – and how they plan to reinvent and adapt for the next 50.
In 1972, French journalist, Franklin Loufrani, wanted to accentuate the positive by highlighting "good news" stories. He launched a happiness promotion in the France-Soir newspaper, using a Smiley icon to point readers to uplifting articles. Today, that bright yellow smile has become synonymous with happiness and good vibes. There are few brands in the consumer ecosystem that strike as distinct a style as the omnipresent Smiley. The brand, known for its signature design motif of the iconic Smiley face, has continued to evolve throughout its 50-year history. It's a lifestyle image known all over the word and found on consumer products of all types, shapes and sizes. One area where The Smiley Company has been particularly and consistently strong is in the fashion arena.
Smiley as a Fashion Brand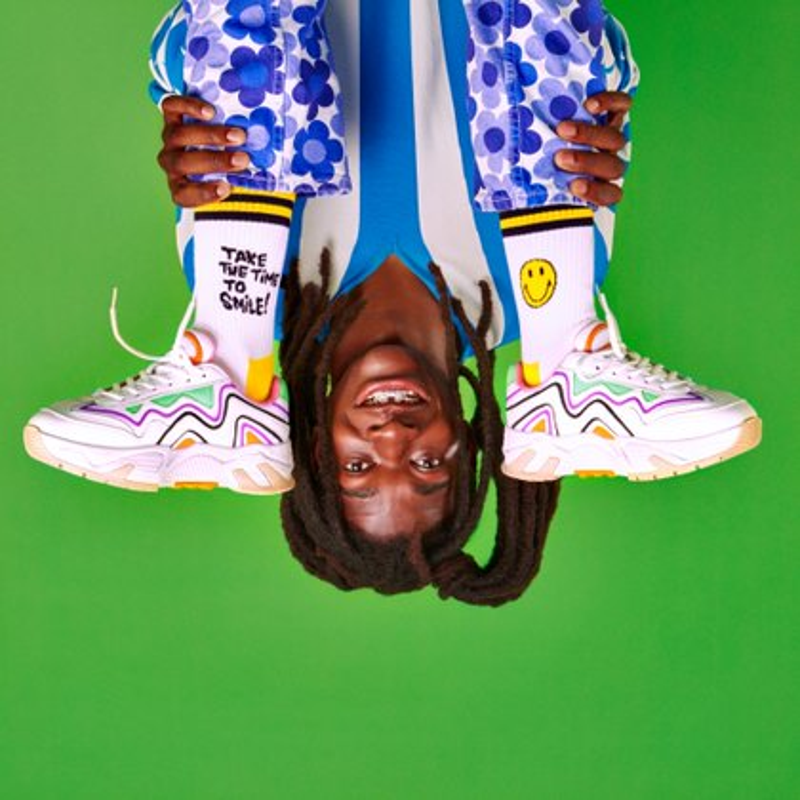 The brand's explorations in fashion have cut a broad swath through the market with unique collaborations driven by an ethos of happiness and emotional well-being. License Global spoke with Nicolas Loufrani, chief executive officer, The Smiley Company, to go behind the scenes of a streetwear and high-fashion movement 50 years in the making.
"When
I joined the company in 1997, I developed the emoticons; the Smileys you see on text messages and that are now used every day by everyone," says Loufrani. "It was a massive revival that sparked interest from lots of business partners and helped us rebuild the business. From 2007, I split the brand into two intellectual proper-ties, one for emoticons and one for fashion. After 10 years, I wanted to focus, once again, on the heritage of my father's original logo and transform it into a fashion brand."
Starting that transformation with designer and brand collaborations, Smiley was being repositioned as creative, sophisticated and meaningful, stretching into new markets and demographics to become a name in fashion. Today, the image of Smiley is driven by novelty, collaboration, design and brought to the world through forward-thinking retail experiences.
Partnering to Spread Cheer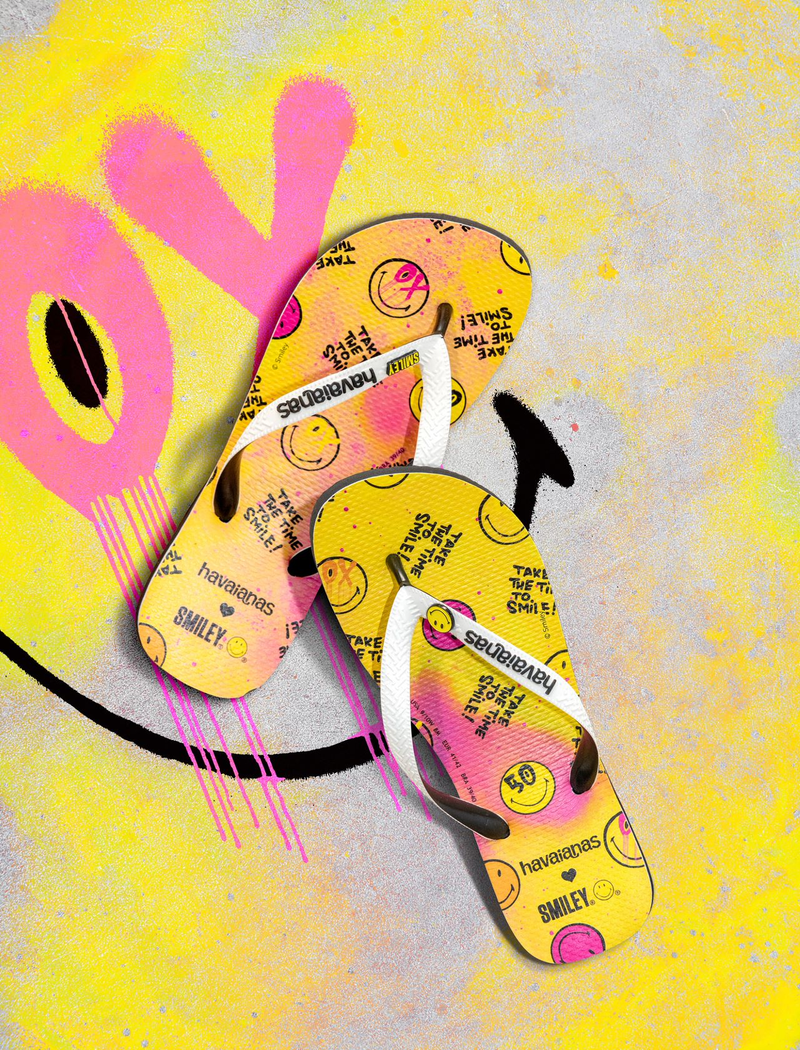 "We bring our image, values, our creativity, our design and our partners bring their own expertise (manufacturing, retail, logistics) and values," says Loufrani. "It's a merge of both visions that gives life to unique products spreading a universal message of happiness. Now we have entered the era of hyper-collaboration, we manage the brand with more intelligence and expertise with a team of 40 top-notch executives and designers and through co-creation with brands and retailers. We not only bring a famous intellectual property, but we have a strategy per industry, per market segment, per country, per age group and gender. We also select, very carefully, which partners we work with. We only want partners who have real brand equity or that offer the products and marketing we like."
Celebrating its 50th anniversary
in 2022, the dawn of Smiley, which would eventually spawn SmileyWorld and The Smiley Movement has been part of lines, capsules and launches at Karl Lagerfeld, Moschino,
,
, Galeries Lafeyette, Champion, Reebok and Fossil to name a few. In particular, the Galeries Lafeyette retail collaboration brought the Smiley brand to the heart of the French retail center with an edgy, art-fuelled activation.
"We bring our image, values, our creativity, our design and our partners bring their own expertise (manufacturing, retail, logistics) and values."
The Smiley brand works well with this breadth of art and fashion because of the brand's approach to collaboration.
"We constantly innovate – even this 50th campaign is unique," explains Loufrani. "We bring clear and strong brand values, design directions, marketing and retail campaigns. We create and develop with our partners." Earlier in 2022, to celebrate 50 years of Smiley, the company also collaborated with French dance music DJ, David Guetta, to
, a remix of "Silver Screen" by Felix Da Housecat and Miss Kittin, with Smiley's "Take the Time to Smile" message as a backdrop. Smiley not only builds capsule collections; it works directly with retail to launch these products and ranges in store and online. When asked how retail partnerships are the future of licensing, Loufrani says it has already been the company's focus for almost 15 years.
"We have been able to work with all the biggest chains in the world – whether it's big global ones or the major local ones in almost every market," says Loufrani. "We can do this because we have set up a team with product developers, category managers and marketers with a lot of creativity and storytelling. This is why we stand out from the competition. Retail partners are key today. Unlike in the past, it's not just about showing a product in the store and waiting for it to sell, it's about creating 360-degree activations that are going to tell a story to the public and make them exited and engaged." Loufrani says the big retailers need this more than ever to attract people to stores and online and to have strong content on social media to be part of the cultural conversation. He also shared some examples of these retail partnerships.
"We have seen phenomenal results with H&M adults and kids as well as Bershka and Zara," he says. "We've also recently launched SmileyWorld with Marks & Spencer."
The Yellow Brand Goes Green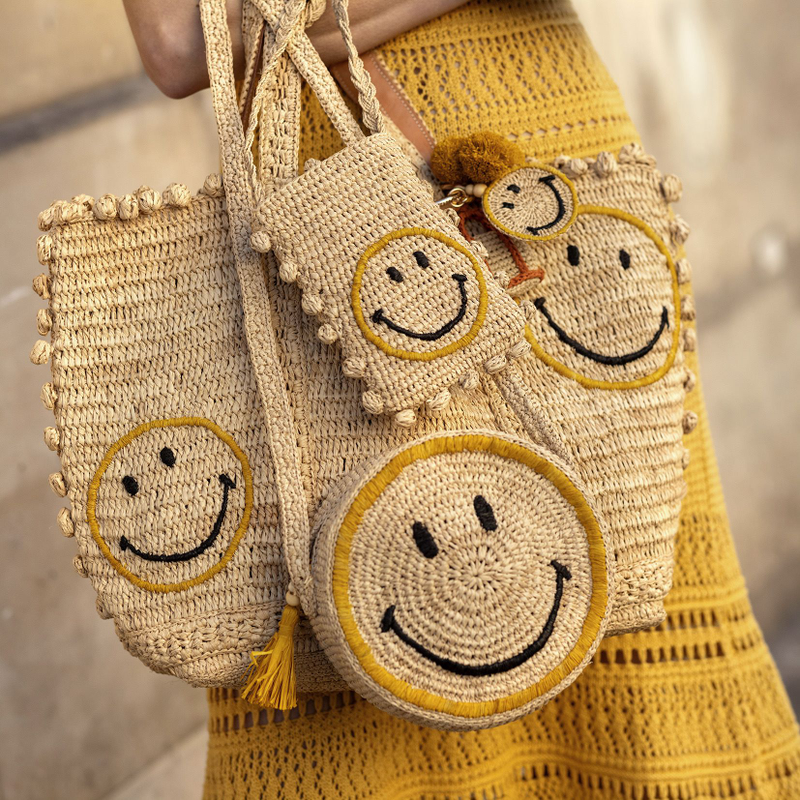 Streetwear and casual wear remain a big part of the Smiley brand collaboration effort, and that space continues to evolve and grow. Like many companies, Smiley also has a focus on sustainability.
"Smiley has always been part of streetwear and has evolved across all streetwear touch points such as music culture, art and social movements and this is something we have continued to cultivate this year through our street art manifesto for happiness and the defiant optimism we are showing with our slogan 'Take the Time to Smile,'" says Loufrani. "It will continue with our Future Positive campaign, which is about bringing sustainability in the licensing industry across all product categories and with all our partners globally. We want our streetwear and fashion to be sustainable and this will be our focus in years to come."
That emphasis on sustainability is now part of the future of fashion. Loufrani sees that brands can play a bigger part of that when collaborating.
"Our 2023 campaign, Future Positive, will be a major focus of our future collaborations," he says. "Extending the brand mission to create a happier, kinder, more conscious world, Future Positive will see Smiley curate a sustainable range of lifestyle products. This 360-degree campaign will bring together the most future-thinking brands to curate a range of limited-edition, sustainable lifestyle products, infused with brand experiences and charitable giving opportunities. We will create a wide number of communication touch points to reassure the public with a message of defiant optimism: our future will be positive. We will explain in a cool, creative and upbeat way how this is going to be possible thanks to the common effort companies across the world are putting in reaching UN SDG goals."
Focusing on the Next 50 Years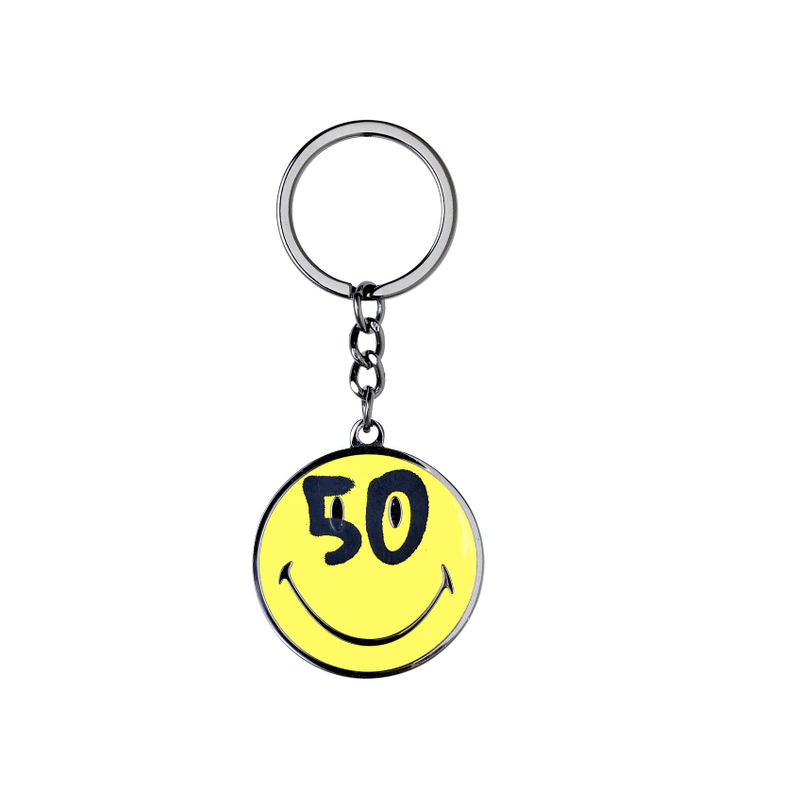 Companies that reach a 50-year milestone are certainly going to have big anniversary celebrations. Smiley is no exception. The brand's 50th anniversary has brought forth new fashion collaborations. Loufrani talked about some of the more impressive drops he's worked on and where the brand will be going over the next 50 years.
"Our 50th anniversary is a milestone for us and we have planned a yearlong series of activations and brand collaborations," says Loufrani. "We have spent the past two years working on an amazing anniversary campaign on a scale no other IP has reached. That is the result of our creativity and network." Retail-based, immersive experiences are becoming increasingly more popular as consumers look for a little something extra when they're out shopping. Pop-ups and in-store collaborations seem to be filling a need that customers have developed. Smiley has been serving that need throughout its 50th-year celebration."We have opened more than 90 pop-up shops with world-leading department stores including Galeries Lafayette and Nordstrom," says Loufrani. "Within the stores, we feature brand collaborations from 65 major designs and brands, with unique collector products based on the works of art created by André Saraiva. We launched a global street art manifesto for positivity with him in the heart of 10 global cities, which featured a guerrilla flyposting to spread our message, 'Take the Time to Smile.'"
If Loufrani has anything to say about it, the first 50 years are just the beginning for this Smiley. He has no plans of slowing down.
"In the next 50 years, I hope we will continue reinventing and adapting to the zeitgeist which is what we have been doing for the past 50 years," explains Loufrani. "Because I am a sponge for trends, I always have to adapt; I just cannot stand still. I want to be part of the cultural conversation and everything I see around me as long as it reflects our DNA of creativity, positivity and sophistication. "It's important to work with companies and people who share our ethos rather than just want to sell stuff and make money," he adds. "We have some new and exciting collaborations coming up in Q3, so watch this space!"
Read more about:
Subscribe and receive the latest news from the industry.
Join 62,000+ members. Yes, it's completely free.
You May Also Like
Loading..