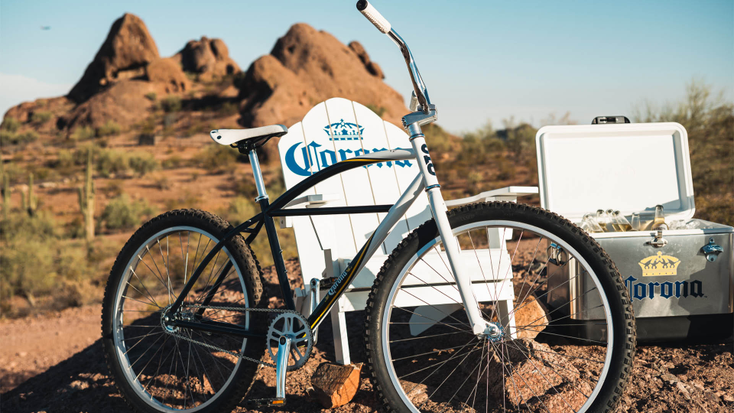 Corona bike and chair.
Joester Loria Group
At A Glance
Hear about Joester Loria Group taking the BoxLunch campaign, which won at the 2022 Licensing International Awards, worldwide.

Discover how beverage brands like Corona, Modelo and Pacifico are now encompassing lifestyle through licensing.

Find out which Kellogg's cereal is celebrating a milestone in 2023.
Licensing Agency Joester Loria Group (JLG), based
in New York City, has an extensive roster of clients – specifically a handful of food and beverage brands. With JLG's strategy, fast food legacy, McDonald's; Cheetos and Doritos snacks, beer brands, Corona, Modelo and Pacifico; soft drink, Pepsi; plus the Kellogg's family of cereal brand, including Froot Loops and Frosted Flakes, have all found placement in a range of licensed products, making them a part of a viable pop-culture movement.
Feeding Frenzy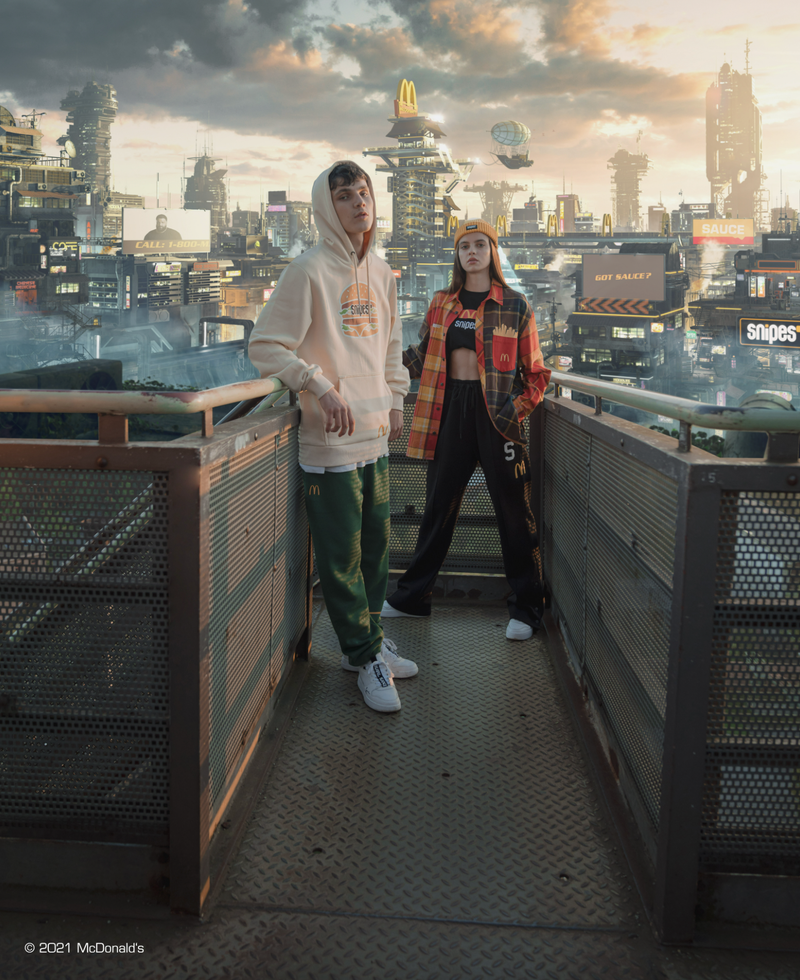 In 2021, JLG partnered with BoxLunch, a cause-
driven pop-culture retailer that is part of the Hot Topic company, on a line of McDonald's apparel,
accessories and collectibles in the U.S. The collection came on the heels of the McDonald's favorite menus and merchandise campaign with rapper Travis Scott in September 2020, which became a highly sought collection from both McDonald's and Scott fans. The BoxLunch collection provided McDonald's U.S. consumers with rare access to an assortment of apparel, accessories and more that tapped into the family restaurant's archive of characters, graphics and iconography including the Happy Meal smile, "I'm Lovin' It" slogan, and characters Ronald McDonald and the Hamburglar. Fan-favorite meals like Egg McMuffin and Chicken McNuggets were refashioned as backpacks and crossbody bags.
The
collection was such a hit that it won the Best Retailer, Corporate, Lifestyle, Fashion and Sports Initiative category, at this year's Licensing International Awards in May.
collections have launched worldwide, all tied to McDonald's marketing moments and anniversaries and designed to appeal to Gen Z. Partners have included SNIPES Europe, Peter Alexander and Budgy Smuggler in Australia, Graniph in Japan, and Peace Collective in Canada. Funko and adidas continue to off er limited-edition collections annually.
"Exciting new collections that amplify McDonald's campaigns and anniversary recent successes are in the works, and we look forward to working with
again," says Debra Joester, president, chief executive officer, Joester Loria Group.
Spotted! A Chester Cheetah Rollout
' licensing program is vast and attention-grabbing, with mascot, Chester Cheetah, featured on apparel ranging in costumes from Spirit Halloween, apparel with Forever 21 and a limited-edition collection with adidas and singer, Bad Bunny, to food and beverage collaborations with KFC, Mountain Dew and Quaker Foods. There will be more headline-grabbing partnerships from Cheetos in the future.
"The Cheetos licensing program will continue to drive excitement with Gen Z through collaborations, strategic direct-to-retail partnerships and unexpected merchandise that amplify key marketing campaigns and break through cultural moments throughout the year," says Joester. "In 2023, Cheetos will bring the 'Cheeto-fying the World' campaign to life with irresistible and playfully mischievous licensed products across several areas, especially within fashion and beauty, which are proven passion points for the Cheetos Cult."
Getting into the Fighting Spirit
JLG works with leading premium beer brands
, Modelo and Pacifico, extending them as lifestyle brands. Corona continues to expand its licensed product offering, including a sustainable apparel collection from United by Blue, a Corona Beach Luxe collaboration with Maui & Sons inspired by the Corona ad campaign featuring celebrity, Snoop Dogg, giftsets from Marketplace and electronics that elevate fun with friends. Corona apparel and accessories collections are refreshed annually with on-trend graphics and direct-to-retail partnerships.Modelo beer's growing popularity has established the brand as a top selling family of beers in the U.S. JLG tapped into the brand's Fighting Spirit campaign with a number of streetwear collaborations including Diamond Supply and Midnight Studios. As an extension of Modelo's Fighting Spirit campaign with tattoo artist Mister Cartoon, JLG developed a co-branded apparel and accessories collection sold exclusively at Zumiez. JLG will announce more collaborations for Modelo as it approaches the fifth anniversary of its "Fighting Spirit" campaign in 2023."
Especial has ridden its 'Fighting Spirit' to the No. 2 beer sales position in the U.S.," says Joester. "In 2023, we will celebrate five years of the 'Fighting Spirit' with collaborations and licensed products that celebrate the brand's Latin heritage and authentic swagger."Pacifico's licensing has focused on the brand's surf heritage and spirit of discovery. Pacifico was born in Mazatlan and brought to Baja, Calif. by surfers, so a collaboration with surfing brand,
released this past summer was only natural. The Pacifico x Quiksilver collection of sustainably made T-shirts and wovens, boardshorts, hats, flip-flops, a beach towel and a tote bag reflects both brands commitment to sustainability and protecting our oceans. In the fall, skateboard company, NHS Skate, released a limited-edition, co-branded skateboard and skate accessories collection, paying tribute to the Pacifico's iconic yellow packaging and featuring NHS Skate accessories like Creature skate-boards, Krux trucks, OJ wheels and MOB grip. The collection includes NHS's signature Brüe Killer deck, coordinated wheels, trucks, grip tape and apparel.
"
has long been the beer of choice for the SoCal surf community," says Joester. "Over the years, the brand has continued to celebrate the surf culture and other action sports. As an X Games sponsor and an ongoing sponsor of the U.S. Ski & Snowboard team, Pacifico sponsored skateboarders, snowboards and other action sports athletes. Our collaborations with skate brands Lakai and NHS are a natural extension of Pacifico's commitment to action sports, while our collaboration with Quicksilver showcases the brand's surf heritage."
Colorful Celebrations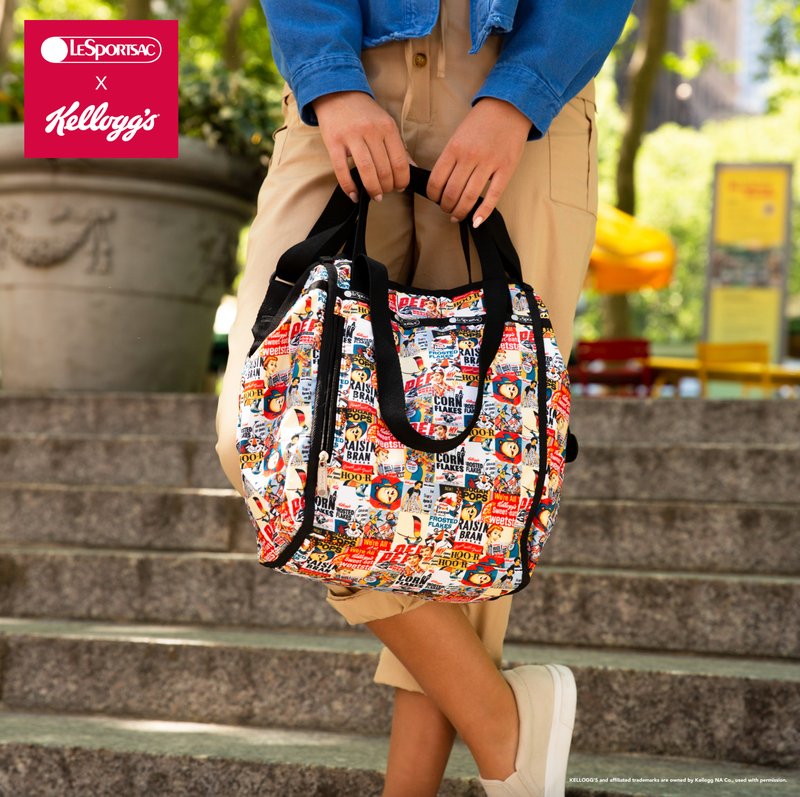 Froot Loops cereal is prominent on the licensing front, and JLG has extended the breakfast brand into beauty (makeup and nail polish), sunglasses, apparel, collectibles and confections. In 2023,
and its mascot, Toucan Sam, will celebrate its 60th anniversary, and the agency plans to mark the milestone with the, with collections and collaborations throughout 2023. "Froot Loops 60th anniversary will be a 360-degree marketing campaign that brings together third party partnerships, leading retailers, influencers, and more to engage millions of loyal brand enthusiasts," says Joester. Another F&B brand on the JLG roster celebrates a milestone in 2023, as
celebrates 125 years in the soft drink market. Apparel collaborations are already on the market, with extended consumer product rollouts to commemorate the anniversary. "The pulse of the Pepsi licensing program has always been a celebration of the pop culture icon through a modern lens," says Joester. "With 125 years of legendary marketing campaigns and a rich archive of artwork and slogans, Pepsi lifestyle merchandise continues to be inspired by the brand's heritage. New trend-forward collaborations and collections that celebrate Pepsi through the generations will be announced in 2023."
Read more about:
Subscribe and receive the latest news from the industry.
Join 62,000+ members. Yes, it's completely free.
You May Also Like
Loading..