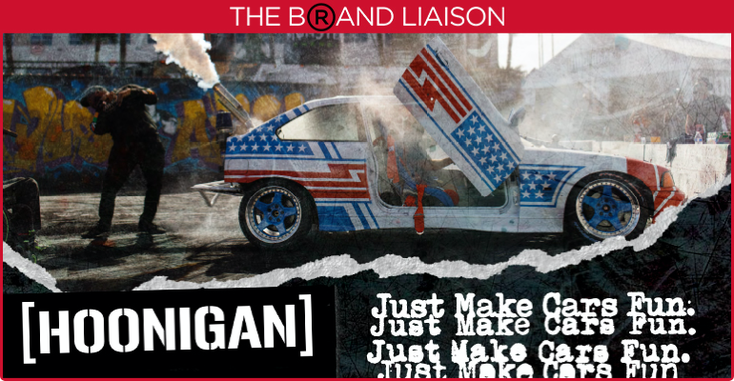 The term Hoonigan is defined as "a person who operates a motor vehicle in an aggressive and unorthodox manner, consisting of, but not limited to, drifting, burnouts, doughnuts as well as acts of automotive aeronautics; One who hoons."
But the Hoonigan brand is much more – it's the most successful automotive viral video franchise of all time! Led by award winning rally race-car driver Ken Block, Hoonigan boasts a YouTube empire of more than 7.5 million subscribers, nearly 1 billion views, and multiple awards and accolades, including three Emmy Award nominations for their Amazon Prime Original Series "The Gymkhana Files" – a docu-series about the action film franchise that changed the car scene forever.
How does an automotive brand gain that kind of traction without the wheels coming off? The reason is because Hoonigan is much more than just an automotive brand - it's a culture built on making cars fun.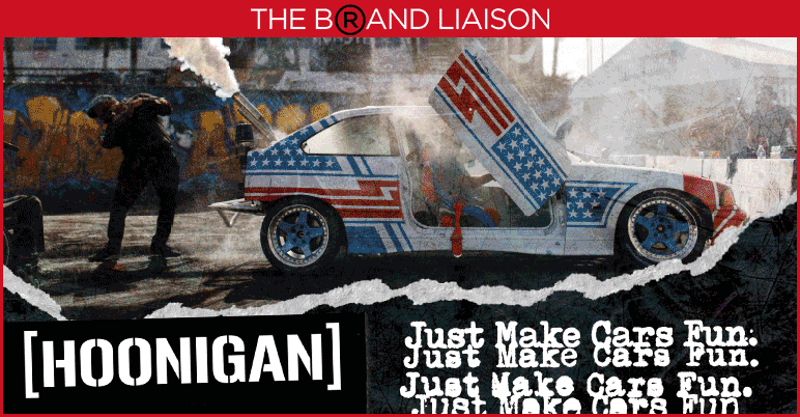 "This is one of the coolest properties we've ever represented," says Steven Heller, president,
The Brand Liaison. "You are immediately hooked on these heart-racing videos, and they have created an entire car culture based on their racing talent. You can't fake this. Ken Block is the real deal. Mad skills!"
At Hoonigan, the cars are the stars. Each new custom-built vehicle gets its own name and personality, as they quickly become fan favorites. Hoonicorn, Twerkstallion, Napalm Nova, Sh*tcar, ShartKart, ScumBug and Tri5 by Fire are among the dozens of custom cars currently featured by the Hoonigan drivers.  They represent the masters of the Hooniverse.
"Hoonigan is on the leading edge of sports and automotive culture building digital content that cater to an avid base, and licensing is such a natural brand extension." Says Jenn van Dijk, chief executive officer, Hoonigan. "Licensing provides us the opportunity to offer our fans unique licensed products and build the interactive experience.  We are excited to be working with our new partners to build the Hoonigan licensing program and provide our fans with exciting new products."
For example, in licensing, Hopkins Manufacturing will be creating an entire line of automotive accessories across all 6 major company divisions, including seat covers, car mats, sun-shades, organizers, mobile accessories, stickers and more, all specially created for the Hoonigan brands; Thunder Tiger is creating custom remote control vehicles to be priced at $150 and over; and Kustom Yard is developing full collections of Hoonigan branded apparel and accessories in Europe featuring the cars and images of the Hoonigan, Gymkhana, Climbkhana and Terrakhana series. 
Building on the current fan base and new consumers, Hoonigan licensed products range from apparel, accessories, headwear and eyewear to toys, collectables, racing sets, video games and experiential licensing.    In addition to Hoonigan e-commerce, channels of distribution will include mass merchants, warehouse clubs, automotive stores, sporting goods stores, farm and agriculture chains and home improvement channels as well as specialty automotive, c-stores and car wash locations.  To learn more about licensing for Hoonigan, Gymkhana and Ken Block, visit The Brand Liaison www.thebrandliaison.com or email: [email protected]
Read more about:
Subscribe and receive the latest news from the industry.
Join 62,000+ members. Yes, it's completely free.
You May Also Like
Loading..