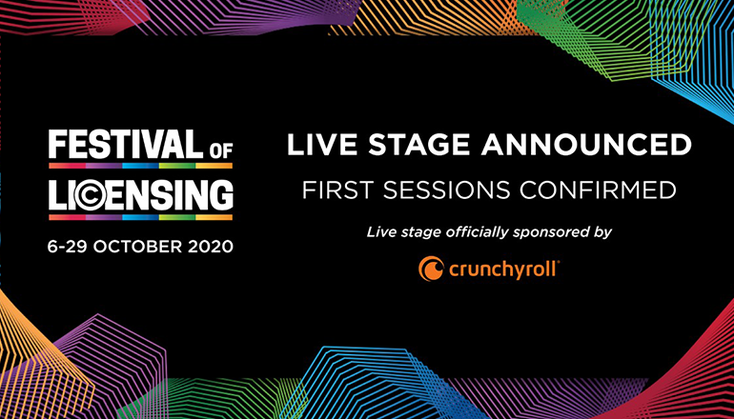 A month-long virtual celebration of the global licensing industry running from 6-29 October, Festival of Licensing incorporates three regional events linked to the world's biggest markets – Europe, Asia and the Americas, and culminates with the global C-suite and executive-level virtual conference, Licensing Leadership Summit. Festival of Licensing is organized and produced by the Global Licensing Group at Informa Markets.
Going live at 0900 BST on 6 October, The Smiley Co., the French brand that's been dedicated to the way we share happiness since the 1970s, will open the festival and kick off the event's Europe content. Alibaba will take the centre stage for the first day of the Asia week. ABG will headline day one of the Americas week with insight into their unique business strategy that has been making business headlines thanks to a strong partnership with U.S. mall owner Simon Property Group; and Live Stage sponsor, Crunchyroll, will keynote the America's second day of content with a lively discussion around anime, one of the hottest entertainment trends in pop culture right now.
Festival
of Licensing will also include educational content from event sponsor Licensing International, the leading trade association for the global licensing industry, working to foster the growth and expansion of licensing around the world.
"To have businesses of this stature, who are globally known and respected throughout licensing and beyond, headlining on the Festival of Licensing Live Stage is phenomenal. We couldn't have asked for more," says Anna Knight, vice president, licensing, Informa Markets. "We have amazing regional sessions confirmed, as well, including fantastic panels. This is just the start. We have another four weeks to go and a tonne more keynotes and content yet to announce. It's going to be an incredible line up with some truly inspirational sessions and can't-miss educational content."
You can see the full
Festival of Licensing Speaker Agenda
here, but we've included the current run list to showcase the global insights of this rapidly growing four-week gathering. 
WEEK 1: 6-8 October
Europe, powered by Brand Licensing Europe
Keynote presentation: Putting Purpose into your Licensing Programme
Nicolas Loufrani, founder and CEO, The Smiley Company. Additional special guests to be announced.
Wednesday 7 Oct., 9AM BST
Keynote panel: How the Sports Industry Swerved the Biggest Brand Disruption of Recent History
Joan Carrera Lopez, Senior Manager, Retail & CPG Licensing, Formula 1®; Tim Ellerton, Commercial Director, Team GB; + more panellists to be announced
Additional on-demand sessions available from Tuesday, 6 Oct., 9AM BST:
What do Gamers Want?
Dan Amos, head of Esports, Difuzed. Additional panellists to be announced.
Moderator: Ben Roberts, Content Editor, EMEA, License Global
Building a Long Term Programme: What do Licensors Need to Do?
Nikki Samuels, CEO, factory; Ruth Golightly, Head of Buying, Children's Clothing, Asda/George; Ashley Holman, Managing Director, Riverside Brands; Gabrielle Sims, Licensing Director, FatFace
Moderator: Richard Pink, Managing Director, Pink Key Licensing
WEEK 2: 14-15 October
Asia, powered by Licensing Expo China and Licensing Expo Japan
Wednesday, 14 Oct., 2PM CST
Keynote presentation: How Alibaba, China's eCommerce Giant, Embraces Licensing
Alex Tsai, Head of Partnerships and Licensing, Americas and Europe, Alibaba/Alifish
On-demand sessions available from Wednesday 14 Oct. 2PM CST
Understanding China's eCommerce Ecosystem for Licensing
Moderator: Sky Canaves, Editor, Content Commerce Insider. Additional panellists to be announced.
WEEK 3: 20-22 October
Americas, powered by Licensing Expo
Keynote presentation
Jarrod Weber, Chief Business Officer and President, Lifestyle, Authentic Brands Group
Wednesday, 21 Oct., 9AM PST
Keynote presentation
:
Anime 101: Breaking Down the Hottest Pop Culture Medium
John Leonhardt, Head of Consumer Products, Crunchyroll
Moderator: Amanda Cioletti, Event and Content Director, Licensing, Informa Markets
Additional on-demand sessions available from Tuesday, 20 Oct. 9AM PST:
What do Licensees Want?
A broad look at the licensing landscape and unique business terms in light of COVID-19, unpredictable entertainment calendars, the current retail climate and the growth of e-commerce.
Moderator: Steven Heller, Founder, The Brand Liaison. Additional panellists to be announced.
Doing Business in Latin America: Trade Promotion and Export Assistance to U.S. Brands
Sandra Tinajero, Economic and Commercial Section, U.S. Embassy to Quito
What do Retailers Want in Latin America?
Hear from some major retailers in Latin America about what they look for when it comes to licensing.
Moderator: Dalia Benbassett, Vice President, Corporate Relations and Acquisitions, Tycoon Enterprises. Additional panellists to be announced.
Lightning on a Canvas: How Bob Ross Became an Icon of the New Generation
Cynthia Modders, President and Founder, Firefly Brand Management
WEEKS 1-3 – On-demand sessions and series' available from Tuesday, 6 Oct. 9AM BST
A series of sessions curated by industry trade association Licensing International will also be available to view on demand during all three regional weeks
What you Need to Know to do Business in… (Series)
This series will include 15- to 20-minute on-demand sessions covering information on market size, local licensing and retail trends, business practices and much more, for the following regions:
Europe: France, Russia and Germany

Asia: Japan, China and India

Americas: Brazil and Mexico

 
Basics of Licensing (Series)
Licensing 101 on-demand sessions will be available to view in local languages, including English, French, German, Russian, Japanese, Chinese and Spanish.
"We are again delighted to partner with the Global Licensing Group to provide best-in-class information and educational resources advancing the business of licensing for professionals in every market," says Maura Regan, president, Licensing International. "Through our network of global representatives and associates, we're preparing a slate of regionally focused content that will help executives new to the industry, as well as those looking to expand their business to new parts of the world. There truly will be something for everyone."
"Crunchyroll has been the world's best home for anime for over 10 years and is also an established licensor and distributor worldwide, so it made perfect sense for us to partner with Festival of Licensing as the Live Stage sponsor and we're really looking forward to enjoying the program, along with thousands of other visitors across Europe, Asia and the Americas," says sponsors of the Live Stage and globally-renowned anime brand, Crunchyroll.
Follow the link to learn more about the
 or to register your interest in
 or 
at the four-week virtual gathering.
Read more about:
Subscribe and receive the latest news from the industry.
Join 62,000+ members. Yes, it's completely free.
You May Also Like
Loading..