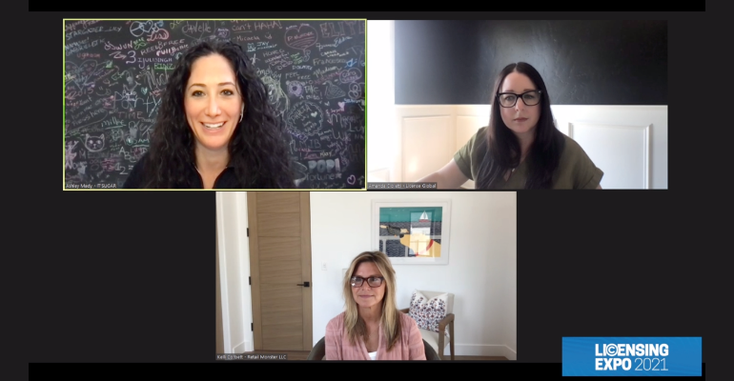 The second installment of Licensing Expo Virtual's "Retail – Ask Me Anything" addressed what retailers can do to keep shoppers interested and invested in their products.
Panelists included Ashley Mady, vice president, brand development,
IT'SUGAR
and Kelli Corbett, chief client officer, Retail Monster. Amanda Cioletti, content director
, License Global
, moderated the session.
The session kicked off with the panelists identifying elements that make for a successful brand/retailer relationship. 
"When a brand can mobilize an audience into action," says Mady. "Fandom is so important. Making sure that a brand can drive traffic into a retailer has never been more important." 
Both panelists spoke about licensing categories that are more effective at retail now.
"The 'it' categories right now are gaming, which has been on fire," says Corbett. "Toys continues to do well. Apparel, while it had a slump last year, has come out of it."
Mady and Corbett then addressed "omnichannel" shopping, a buzzword in
recent years but on the horizon for retail for 2021.
"It should be part of your strategy," says Corbett. "The future of retail is now. Despite gloomy forecasts and store closures for a lot of major retailers, global retail sales are growing."
"Consumers expect to be able to shop in all ways all the time," says Mady. "Whether retailers transform now or later, consumers are expecting if they see something in stores, they want to be able to buy it at a later time online." 
"Retailtainment," which gives shoppers a location-based experience at brick-and-mortar retail shops, continues to be a trend into 2022 and beyond. 
"Retailtainment can mean so many different things, and the heart of it is offering a special experience in your store that's motivating the purchase, or just giving someone a reason to come in," says Mady. 
The panelists also encouraged retailers to continue to incorporate social media into their overall strategy by working with social media influencers.
"Retailers are looking at ways to reach out, communicate and enhance the shopping experience on social platforms," says Corbett. "Leaning into influencers and bloggers with the ability to create viral campaigns and even' click to purchase' are all core elements of a strong brand opportunity."
"The organic reach and loyal fandom of influencers can't be replicated," says Mady.
While influencers have been a helpful way to help brands, there are still other ways to help promote a brand and reach new customers. 
"For Retail Monster, we ask how you engage with fans and continue to drive like a 365 engagement to grow that brand," says Corbett. "What's also important for us is bringing in new audiences and new customers for that retailer. So how do you also extend the reach and exposure?"
Mady says there is "is no cookie-cutter way" for brands to reach new audiences.
Both Corbett and Mady looked ahead to what trends are coming up for retail.
"Build out the engaging brands to leverage any content to tie into it," says Corbett. 
"How can we mobilize these audiences in different ways?" asks Mady. "Retailers are becoming more like a showroom, so consumers can touch, feel, experience but maybe not purchase right then."
To watch the Retail AMA on-demand, go to LicensingExpo.com.
Subscribe and receive the latest news from the industry.
Join 62,000+ members. Yes, it's completely free.
You May Also Like
Loading..