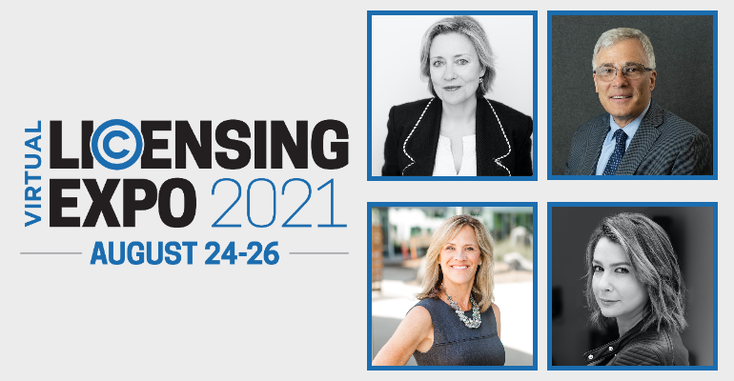 Licensing Expo Virtual
, the world's largest event dedicated to licensing and brand extension produced in partnership with industry trade association
, has announced the full speaker list for the all-new
.
The Digital Brand Roadshows program offers Licensing Expo attendees the opportunity to experience a collection of six thematic live roadshows that spotlight the best in upcoming brands, new content releases and some of the most compelling IP portfolios available to license based on the latest industry trends.  
"IP discovery is a key component to this year's event," says Anna Knight, vice president, licensing, Informa Markets. "We are thrilled to share that the inaugural launch of Digital Brand Roadshows has attracted speakers from world-renowned brands such as Penguin Random House U.K., Dr. Seuss Enterprises, Yale University, MGM and Acamar Films who are seeking to build partnerships with licensees and retailers. The Digital Brand Roadshows
are perfect for those looking to spot trends and discover the latest brand rights available."
Consisting of 40-minute live broadcasts, the new program collates a broad-cross section of brands, spotlight a selection of the thousands of IPs available for license throughout the event.
The complete session and speaker list can be found below:
Collaborations & Partnerships – August 24 at 12 p.m. PST
There is something beautiful that happens when two brands partner up with the same purpose to create some of our most valued products. This session will highlight exhibitors who have succeeded through compelling collaborations to create authentic and marketable products, services or experiences.
Lindsay Pearl, head, international licensing – Penguin Ventures, Penguin Random House U.K.

Carla Silva, general manager and vice president, global head, licensing, King Features

Bruce Garfield, owner, Bruce Garfield Company
New Exhibitors to the Event – August 24 at 3 p.m. PST
This session will showcase exhibitors who are brand-new to the Licensing Expo Virtual platform, covering an array of markets and product ranges and highlighting for attendees the latest IP and brands on offer.
Rocio Gonzalez Bustillo, founder and illustrator, Chan-Chan

Germaine Gioia, president, Playlife Company

Jay Bakerink, co-president and owner, Haylett Entertainment | executive producer, "Piney: The Lonesome Pine"

Denise Gomez, licensing director, Boat Rocker
Heritage & Nostalgia – August 25 at 11 a.m. PST
Time and time again, consumers prove that nothing can top the feeling you get when a product takes you back to your childhood or helps you to escape to a different place in time. This session will shine a spotlight on exhibitors who have withstood the test of time by continually delivering nostalgic content and products that always are a winner at retail.
Robert Marick, executive vice president, Global Location-Based Entertainment and Experiences, MGM

Kristen Barthelman, senior vice president, Art Brand Studios

Susan Brandt, president, Dr. Seuss Enterprises
Licensing Around the World – August 25 at 3 p.m. PST
Think globally, act locally is the saying. The ability to appeal to a varied mix of consumers across differing demographics is something truly unique. This session will showcase brands who have proven successful in bringing products to market across a range of diverse regions.
Jasen Wright, vice president North America, Wildbrain CPLG

Paul Murawski, director, Department of Marketing and Trademark Licensing, Yale University

Albert Rose, licensing director, Licencias Mexicanas
The Live Experience – August 26 at 11 a.m. PST
The desire to have first-hand experiences motivates consumers to engage and share within their networks. This session will cover brands who are excelling in creating a captivating, immersive and unforgettable in-person event or experience for fans and consumers.
Rachel Terrace, senior vice president licensing and brand development, Penske Media

Sherry Liu, vice president, strategy and business development, Nickelodeon
Animation & Anime – August 26 at 3 p.m. PST
Content is king, and animation it's crown. When companies hold characters that are so unique and have a wide appeal across ages and ranges, the licensed product opportunities are almost limitless. This session will focus on brands that have brought animation to life through new opportunities, collaborations and product innovations.
Brian Ige, senior vice president, Animation, VIZ Media

Sandra Vauthier-Cellier, chief commercial officer, Acamar Films
The Digital Brand Roadshows are available exclusively to Licensing Expo Virtual attendees. All brands taking part are exhibiting at the event alongside more than 200 others; attendees can
to pre-book meetings with them at the event.
All content will be showcased live during the event and available on-demand for three months after the event ends.
Latest exhibitors confirmed at Licensing Expo Virtual include Global Icons, Country Music Association, Studio 100, Bridging Group Korea joining Fruit of the Loom, Warner Bros, Buzzfeed, Unicorn Jazz, WWE, Activision, Pokémon, Peanuts Worldwide, Beanstalk and more than 200 others.
Subscribe and receive the latest news from the industry.
Join 62,000+ members. Yes, it's completely free.
You May Also Like
Loading..