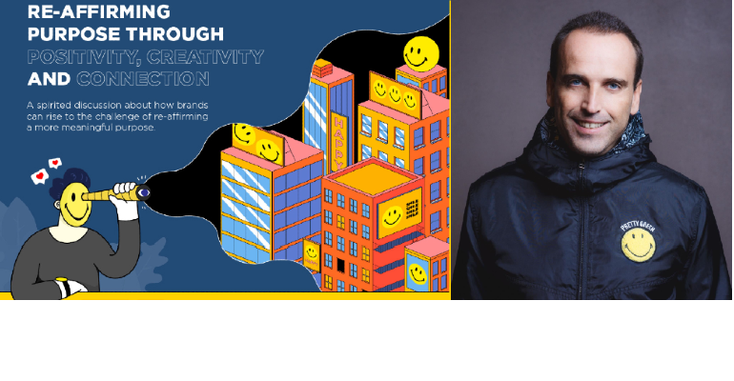 The Smiley Company is kicking off the first week of the Festival of Licensing with an in-depth keynote on the defiant optimism at the core of its brand. Nicolas Loufrani, chief executive officer, The Smiley Company, will be leading a discussion about why the company has always believed in the power of positivity, creativity, and connection for companies and customers.
To learn more about the keynote and better understand the core driving tenants behind Smiley,
License Global
recently caught up with Loufrani to learn more. Read our Q&A below and be sure to register for the Festival of Licensing to hear his upcoming keynote in full.
License Global: What do you hope guests get out of the keynote?
Loufrani: I hope guests are inspired by what Smiley is doing and want to be part of it. Whether creating their own purposeful projects or as a co-creator of Smiley's or sponsor of one of our unique projects. As a business we can really help our partners to do something purposeful whether that's through a creative product or promotion, a cultural project, a charity
initiative, a sustainable innovation, or even just sharing a positive story. All of these values are embedded in our business model today and we can make it easy for our partners to connect with a purpose that is aligned to their own values.
That's the beauty of Smiley as an IP; it's unique to the industry, it's completely customizable and bespoke to every partnership and iteration. We are the industry's first licensed lifestyle IP that is solely based on co-creation with like-minded partners who share our passion for creativity and positivity.
How important is it for brands today to be purpose driven?
I think their livelihood probably depends on it. Kantar's Purpose 2020 report recently stated that brands with purpose at their core grow twice as fast as others (
). They also have a brand valuation increase of 175 percent over the past decade. A recent global study by Zeno Group revealed that consumers are four to six times more likely to purchase, protect and champion purpose-driven companies (
). All the evidence is there that that's the way forward, but the barrier to entry seems to be psychological for many.
Our collaboration with Eastpak is a great example. From a successful collaboration on a creative collection, we raised funds which were reinvested in helping 18 homeless mothers house and fed their families for eight months. Smiley Movement did all the 'heavy-lifting' on that project. If we could do that with every one of our partners, we would have a significant impact on the world and if everyone in licensing did that, we could change the world. 
I know that brands find the thought of a charity project a bit daunting and outside their comfort zone; that's why we set up Smiley Movement. To make it easier for our partners to make giving the new norm. Creating simple bespoke solutions that add purpose to these partnerships, This helps our partners kick start meaningful engagement with consumers, builds brand value and creates a social legacy.
Over the last 50 years, how has Smiley evolved while staying true to its brand purpose?
Our purpose has always been to make the world a more creative, optimistic and positive place. That was the idea behind our original incarnation to highlight feel-good news in a host of Europe's leading newspapers in 1972. The exciting thing about this is that this message remains more relevant than ever today, as we see a surge in dedicated good news publications. 
We readapted our approach to positive journalism in 2018. With the launch of our own 
  this focused on powering our original good news message by highlighting the everyday heroes that are doing exceptional work in their communities to support charities and non-profit organizations. We did this because we believed their stories uplifted and engaged more people to emulate these good deeds. We think that today this is the feel-good news people want to see and hear. 
As a brand, we have never been more focused on our purpose, which has always centered on promoting the importance of positive thinking and engaging people in learning about the core emotions we experience in life. These are two essential elements in laying our foundations for the decades ahead. 
Much of the division we see in society today stems from a lack of empathetic understanding between people, one of EQ's core components. We can only really address this problem by helping to educate future generations in social and emotional learning. We know from scientific research that EQ education will help people better identify and respond to their emotions and be more empathetic and tolerant of others. That's why we plan to launch a 'Happier Schools' program for 2022. Taking EQ into schools and training kids in a fun and engaging way through a science-based interactive curriculum, in-schools arts workshop and a learning pack that utilizes a range of Smiley assets and curated EQ educational content.
While the whole emoji trend was a bit of a gimmick in licensing, we know that our emoticons have a purpose in this world. They help kids to understand an emotion quickly and express what may seem complicated to them more easily. Science has proven that EQ has an even more critical role in the world than IQ nowadays. 
So, I guess our purpose has never changed, but the way we achieve this is continually evolving.
How do you identify licensing partners who believe in Smileys purpose and positive ethos?
We look primarily to work with likeminded people who share our message of creativity, optimism and positivity. We look for people who truly believe in the brand and understand clearly from the beginning their reasons for working with Smiley. We are looking for long-term thinkers who understand how to build a strategy, segment products and regularly launch newness driven by creativity. We try and avoid working with partners who are stockpiling IP's and waiting for just one to perform; these partners, from experience, are unlikely to capitalize on licensing opportunities appropriately, and they are generally not the right people to rely on to build for the future.
Specifically, in such a uniquely challenging year, how important is it for a brand to be positive and connect with customers on a human level?
It's critical for their future. All the trends we see emerging today are based on brands needing to make an emotional and contextual connection with consumers. It's no longer just millennial and Gen-Z's that want brands to have a conscience; it's also now Gen-Xers and Boomers. The recent WGSN Future Consumer forecast for 2022 outlines the New Optimists cohort as a key future consumer demographic. New Optimists range from Gen-Z to baby boomers and have many unifiers – the largest being an enthusiastic appetite to embrace joy. They are positive activists who stand up for their beliefs by spreading joy, not negativity. 
We are at a real moment in time. With the struggles people have faced over the last decade and the relentless bombardment of negativity from always on social media, it's taken its toll. They are now actively seeking out good news and looking to celebrate the positive things in our world. 
Smiley has, for nearly 50 years, been the defiant face of optimism in difficult times and that is why over this time, it has been subverted creatively by some of the world's most influential artists, musicians, creatives, filmmakers and fashion designers. 
This has been the long-term strategy behind the business and why today, despite all the challenges we have faced this year, our business is 11 percent up year on year, our Instagram channel has grown from 50k to 160k in six months and our
has grown to nearly 130k from 400 people in the same period. That is the true measure of the power of being a positive brand that has a purposeful strategy.
Learn More
To hear more from Loufrani be sure to attend the 
, a month-long large-scale digital gathering that unites the global licensing industry to connect, learn, strike deals and do business on an international stage. Week one kicks off to on Oct. 5 and focuses entirely on licensing in Europe and the U.K.
Read more about:
Subscribe and receive the latest news from the industry.
Join 62,000+ members. Yes, it's completely free.
You May Also Like
Loading..