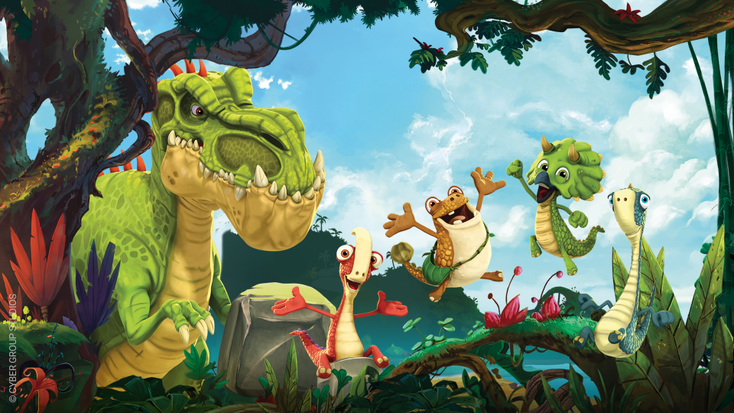 License Global
catches up with Bruno Danzel D'Aumont, vice president, international licensing and marketing, Cyber Group Studios, on new plans for "Gigantosaurus" as the hit kids' property expands into new territories and streaming hubs.
License Global
: What was the catalyst behind the success of "Gigantosaurus?"
Bruno Danzel D'Aumont: The comedy-filled adventure focuses on friendship and teamwork. The four dino heroes have unique and relatable personalities that kids can easily identify with. The dinos are like kids leaving home for the first time and they find they can face any situation by working together and being empathetic and kind to one another.
In addition, kids around the world universally love dinosaurs and good storytelling, so the appeal of "Gigantosaurus" is very broad.
The success of Gigantosaurus is the result of multiple factors, including the quality of the animation and design of the characters, which are all real dinos, and very well executed. There are more than 40 different
authentic species represented in the series! 
The richness of the backgrounds is also amazing and very true to life. The series brings an innovative approach to the Cretaceous world. It is not about battles between dinosaurs, but rather great stories with a lot of fun, adventure, friendship and imagination.
The success of the series is also linked to its release internationally. 'Gigantosaurus' is currently broadcast globally in 194 territories and has been translated into 29 languages.
How has the show evolved as more fans engage with the story internationally?  
It's all about content. "Gigantosaurus" is a colorful series that brings a lot of fun, discovery, adventure, and excitement to audiences all around the world. It was important for us to create a program that fosters kids' natural curiosity and helps them to learn about the world – and themselves. 
It takes many years to build a successful program. We started developing the show in 2017. In Season 1, our heroes made some awesome discoveries during their adventures and games around Cretacia. Season 2 brings some "dino-mite" all-new adventures to life and introduces new characters, including extra-adorable baby dinos and a new "baddy." Season 2 also takes the team to exciting never-before-seen locations. The new stories are both hilarious and heartwarming and the CG animation is even more vibrant than before. Music also comes into play more in Seasons 2 and 3, including different styles and rhythm.
"Gigantosaurus" is growing into new territories. How is the U.S. and China important to its growth?
The U.S. and China are key markets for us. Karen K. Miller, a long-time kids and family content executive from The Walt Disney Company, Warner Bros and NBC Universal is president and chief executive officer of Cyber Group Studios USA, our U.S. division, and is driving the company's growth in the U.S. In China, our local partner, PMG, is doing a great job marketing "Gigantosaurus."
It is important to note that "Gigantosaurus" is a global brand with great performance. It's a key property in the U.S., China, and Europe, but also in Russia, Mexico, Latin America and many other territories.
What about the world around "Gigantosaurus?" how can kids interact with the brand through different media platforms or consumer products? 
The world around "Gigantosaurus" is a real added value. Fans can interact with "Gigantosaurus" through different media with dedicated content. The content available on YouTube, for example, is impressive. It features "Who Knows Their Dinos?" shorts with educational materials specifically produced for this media, as well as "Dino News" shorts. There is a content-rich universe on YouTube with official "Gigantosaurus" songs, clips, karaoke, and more. We also opened "Gigantosaurus" channels in various languages: English, French, German, Spanish, Italian, Russia, Portuguese, Turkish and Polish.
Kids can also interact with "Gigantosaurus" through consumer products as well. Our master toy partner is Jakks Pacific, which developed a beautiful range of figurines and plush. The product portfolio is now expanding to include puzzles, board games, bedding, arts & crafts, tableware, apparel, and dress up. Overall, more than 400 "Gigantosaurus'" products have been developed by our licenses and are available at retail and on the main digital platforms around the world, including our own Amazon stores.
The style guide is very rich and allows our licenses to develop irresistible series-inspired products.
On the publishing side, our licensee Templar developed more than 20 titles in 13 different languages, distributed in major markets around the world. The books feature both episode- driven and new content. Our partners Panini, Egmont and Signature Publishing have also developed
Gigantosaurus
magazines.
The first video game based on the "Gigantosaurus" series was created by Outright Games in partnership with Cyber Group Studios and launched in March 2020. It is a multiplatform and multiplayer family game. Families can join in on the fun together, side by side, with 1-4 player action across prehistoric, vibrant worlds, epic racing levels, puzzles and challenges.
"Gigantosaurus" is also on Facebook and Instagram, where fans can share Giganto experiences and learn the latest news about the series and brand.
Where do you see "Gigantosaurus" heading in the future as kids' viewing habits change?
"Gigantosaurus"will continue to introduce new content. Cyber Group Studios will also launch "Giganto Club," an original scripted animated series that takes its cue from "Gigantosaurus." It is the first program to be produced in our new real-time animation studio in Roubaix (France). This latest dinosaur adventure will expand on the success of "Gigantosaurus." Each episode of "Giganto Club" will present fascinating facts about the Cretaceous period and provide comparisons with today's world. The series will feature breathtaking landscapes and locations. It will be hosted by real-time animated dinos that will engage viewers with engaging games, songs, and themed segments such as "Dino-news" and "Dino-guests." We also have big plans for 2023, including a theme park, so more "dino-mite" news to come soon.
Read more about:
Subscribe and receive the latest news from the industry.
Join 62,000+ members. Yes, it's completely free.
You May Also Like
Loading..