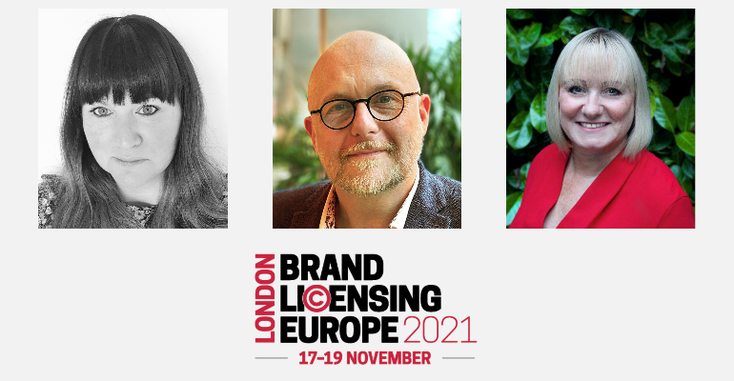 Brand Licensing Europe has announced exclusive retailer content for this year's event including five live sessions in the Retail Trends Lounge delivered by George at Asda and Hasbro, Kids Industries, The Insights Family, Black Lives Matter Licensing Movement and Julia Redman and Nextail Labs. The event takes place in person from Nov. 17-19 at ExCeL London and visitors can register for free at
The Retail Trends Lounge program was introduced to help retailers make the most of the opportunities that licensing can offer, and they are invited to use the space to also host meetings off the show floor. It will be returning this year as part of BLE's 'What's Next' theme to bring retailers exclusive sessions about the future of brands and innovation at retail to create a unique, immersive shopping experience.
All five sessions, plus the live finale of the Kelvyn Gardner License This! competition (which is open to all), will be recorded and available to all attendees to watch
on-demand as part of the BLE virtual follow-up running from Nov. 30-Dec. 1. They are:
• 9:30-10 a.m.: A Future Forecast 2022
Nick Richardson, founder and chief executive officer, The Insights Family
The Future Forecast will provide a practical perspective on the opportunities and challenges family trends pose to retailers.
"At BLE, we are excited to be sharing snippets of our latest data and insights in our session in the Retail Trends Lounge, as well as making a number of predictions for the year ahead," says Richardson. "There is no doubt that the kids, parents and family ecosystem has changed significantly as a result of pandemic, and by providing kids, parents and families with a voice to shape their worlds, we can help the licensing industry be best prepared to mitigate risks and maximize opportunities."
• 12:30-1 p.m.: The Importance of Diversity & Inclusion in Licensing
Saphia Maxamed, founder, Black Lives Matter Licensing Movement
An introduction to The Black Lives Matters Licensing Movement that will also cover the current retail landscape and its lack of diversity, why change is needed and what retail can do to help.
• 9:30-10 a.m.: Plant with Peppa at Asda
Catrina O'Brien, retail development director, U.K., Europe and Asia licensing, Hasbro
Jade Snart, sustainability and compliance expert, George at Asda
Catrina and Jade will talk about the "Plant with Peppa" program that's teaching children about the importance of trees in the world. Peppa and Asda are pledging to plant 10,000 trees in the U.K. to help to rebalance the Earth's atmosphere.
• Noon-12.30 p.m.: Agility and Creativity in Omni-Channel Retail
Julia Redman, owner, Buyers Eye, Buying & Sourcing Consultancy
James Mooney, brand adviser, Nextail Labs
This session will look at what retailers need to focus on to maximize potential, and how to embrace the use of new technology to benefit both online and offline presence and profit.
• 10-10:30 a.m.: Families, experiences and the importance of toys
Gary Pope, co-founder, chief executive officer, Kids Industries 
Gary will share original and never seen before data to explore how families like to shop now and how these behaviors have amplified following the pandemic.
"The importance of a great retail experience has always been significant, but now it is vital," says Pope. "And there are few categories where a great experience will more deeply engage families than around toys, games and all those other marvelous things that children want to play with."
The BLE Sustainability Activation, in partnership with Products of Change, will also feature highly relevant content for retailers as it inspires attendees towards a more sustainable future through product showcases from industry pioneers. Tesco and George at Asda will both feature, with the latter showcasing its 3D design technology and 100% responsibly sourced school uniforms.
"BLE is hosting brilliant content for retailers both in person and online," says Anna Knight, vice president, licensing, Informa Markets. "For those attending in-person, we invite them to discover What's Next in retail by joining the trend sessions, visiting the Sustainability Activation and also walking the show floor to gain inspiration from the thousands of products on display and see how brands could fit into their future product ranges. BLE brings together all the latest trends from the world of brands, entertainment and pop-culture under one roof and is a great place for retailers to identify future trends and brands their customers will love. Attendees are also invited to the two sponsored bars by Crunchyroll and Motul to experience first-hand how brands can come to life to create truly meaningful customer experiences. We will be hosting complimentary 'Welcome back' drinks in those bars from 5-7 p.m. on day one in partnership with Licensing International and everyone is invited to come along for a drink (or two)."
Participants from BLE's Retail Mentoring Program will also be at the show. The CPD-accredited program that consists of seminars, workshops and 1-2-1 consultancy sessions to help retailers make more informed decisions when negotiating licensing deals and discovering new brand partners, has seen a record number of delegates from retailers (84) including Maqio, Merlin Entertainments, RSPCA, The Hut Group, Vanilla Underground, Marks & Spencer, Selfridges, Halfords, Asda George, Tesco, Home Bargains, Matalan, Next, M&Co, The Entertainer and Morrisons.
Subscribe and receive the latest news from the industry.
Join 62,000+ members. Yes, it's completely free.
You May Also Like
Loading..