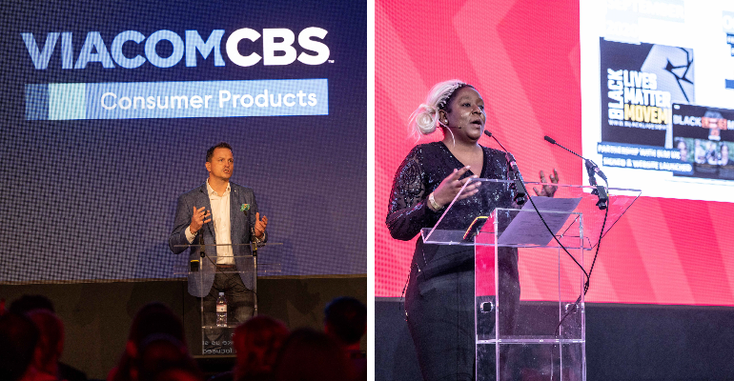 The long-awaited return of Brand Licensing Europe (BLE) during Nov. 17-19 brought the global consumer product, retail and brand community back together for the first time since 2019.   
With so much change taking place across the world, License Global highlights a few of the key trends, talking points and transformative factors on display at BLE.  
From Nov. 30-Dec. 1, BLE Virtual took place, and while it was online, there were still the same great keynotes and opportunities to connect with others in the industry. 
Change Makers: "If You Can See It, You Can Be It" 
The increased awareness, visibility and inclusion of marginalized communities are central to the brand licensing industry. The Team GB keynote – featuring athletes Charlotte Worthington and Tom Daley – highlighted the importance of giving all communities visibility.  
"I think visibility, in general, is important," says Daley. "Charlotte [Worthington] has become an incredibly visible female athlete. Let's say 10-15 years ago, would
a little girl be like, 'I want to be a BMX rider,' because she's never seen someone who could do that. So, if you can't see it, you can't be it. I think that's extremely important for women in sport. I also think the visibility of people of color in sport is extremely important, as well as LGBT people in sport. Just seeing people like you represented in adverts, commercial engagements, whatever it may be, is extremely important. Think about all those different opinions and those different points of view that can come together to create one amazing product. That is something that is going to create a special world, to let everybody have a seat at the table to give their opinion and to include everyone so everybody feels seen and everybody feels welcome."  
Following the Team GB keynote, a dedicated conversation surrounding Diversity & Inclusion – featuring Saphia Maxamed, founder, Black Lives Matter Licensing; Maura Regan, president, Licensing International and Mark Kingston, senior vice president, international licensing, ViacomCBS – drew attention to vital research and changes underway across the industry to help kids and consumers feel inspired, included and empowered.  
"Black Lives Matter is a movement," says Maxamed. "I want to make sure everyone understands that this is not a moment. We must keep moving the conversation forward. Our interest here is equality; nonpolitical, we want to implement meaningful change. The movement is a collective space for the licensing industry to come together and do what's important. So, the licensing itself is going to be something that we are all working together to implement that change and help give money back to the Black community."  
"Our industry never asked 'why,' we get that intuitively. The question was how," says Reagan. "Licensing International is so proud to endorse an amazing playbook UNICEF recently created in partnership with the LEGO Group, outlining how to promote diversity inclusion in marketing, advertising and products. We know children need diverse role models and everything from their favorite programs, books and games. The toys they play with, and the packaging toys come in, to the commercials they watch. If they see it, they can be it, and the playbook serves as an important resource to identify and dismantle stereotypes related to gender, race, ethnicity, disability, and age. We have the responsibility, the obligation to amplify and celebrate diverse and underrepresented voices throughout our storytelling. We all can be the change that we want to see."  
"We take seriously the responsibility to instill a sense of equity and belonging in our offices, communities and our industry," says Kingston. "We work hard to create a culture where not only our employees feel a strong sense of belonging, but our partners and, by extension, our consumers feel we are speaking to them in a way that is relevant, welcoming and meaningful. Diversity and inclusion are an integral part of our brand DNA. And we're constantly looking to move the needle in all our efforts. We are consciously aware that there remains enormous work to be done. And we believe that one of the keys to success is collaboration with all of you as a company; we serve all children, all families and all people, which means we must understand and reflect their imagination, ideas and perspectives and, above all else, their experiences."   
Followed by historic toy research, insightful modern data with a future-thinking message from Ameeta Held, vice president, insights and business strategy, consumer products, ViacomCBS, the need for a more diverse universe of consumer products has never been more highlighted than it is today.  
Global issues including sustainability were also an ongoing discussion at BLE booths, and thanks to the growing pace of Products of Change, education surrounding tangible change has never been more important and widely available.  
"As an industry, we have a huge influence, which provides a wonderful opportunity to use our brands to generate social change," says Mansell-Stopher. "Our industry is packed with brave, creative thinkers, and I hope that when we reach 2030, (we can) look back at how much we would have achieved."  
Agents of Change was also a key focus for License Global and Brand Licensing Europe, as the two Global Licensing Group teams highlighted their chosen disruptors and change-makers for 2021.  
For the complete list of License Global's Influentials, read the License Global December Issue arriving Dec. 9.  
Disruption being a key theme of retail and modern consumerism in the light of global pandemic measures, the Retail Trends Lounge of BLE was a vital source of trend insight dedicated to the changing retail landscape.  
"We're seeing that kids have far more control of their own money," says Nick Richardson, founder, chief executive officer, The Insights Family. "We're seeing how innovations such as GO Henry essentially allow kids to have access to money anytime and anywhere, which is extremely exciting for the children and slightly terrifying for us who are parents. What we see here just in terms of the significant increase in terms of financial spend, and how they're now enabled through some exciting innovations we've observed over the last five years."  
Kids now have the power. Due to increased digital access, influencer sway, streaming platforms shifting the traditional power struggle of the family remote and even digital initiatives that provide financial power to children, brands are changing the way they connect with families across the globe.  
The triple bottom line of people, planet and profit came into the spotlight with Julia Redman, owner, consultant, Buyer's Eye.  
"When we talk about the triple bottom line, we're talking about people, planet and profits," says Redman. "Only those that are investing the time, money and effort in creating a more viable and more environmentally sound strategy will survive in this sort of new age of retail. So, it is now about creating fundamental changes to the way that we operate as brands, as retailers and as consumers. So, from offline to online and the metaverse. From physical to experiential, from supply-driven to demand-driven, thinking about how much we need to produce. From unsustainable to sustainable, ethical consumerism is also a massive part of what we are trying to do as an industry from overconsumption to conscious consumption."   
The force for change is driving how we spend, how we interact and how we consume across categories, cultures and communities. For the first time, our global wellbeing is a prominent part of the modern and future consumer culture.  
Publishing and children's publications continue to soar across the U.K. and Europe, whether it's classic brands that parents share with their children as part of a nostalgic inheritance or new brands entering the market through Europe's shared love of books.   
Toys and Games are becoming more innovative as we merge physical and digital lifestyles. Gaming continues to dominate the market with a forecasted 3.06 billion active gamers online by 2023 (Newzoo), with more brands entering the video game market by the day.   
Sport continues its marathon return from the pandemic freeze as football clubs, basketball teams and Olympiads become icons that bind communities. Heritage is only becoming more creative with every deal, and art supports that with new talent entering the market as they build unique, grassroots communities online.   
Sustainability is More Than A Buzzword
Helena Mansell-Stopher, founder, managing director, Products of Change, led a panel of change leaders – Amanda Gallagher, sustainability and brand manager, George @ASDA; Shelia Brown, chief executive officer, Newlife; Steve Lynam, managing director, Pre-Loved Kilo; Jack Ostrowski, founder, chief executive officer, Yellow Octopus – during BLE Virtual today to highlight how brands can drive ethical, social and sustainable change. 
"I think our most exciting pillar is around circularity, and I think has suddenly become more relevant to our customer post-COVID," says Gallagher. "So, with a new life and routine, we work really closely with Sheila and her team on products that are normally hard for us to dispose of or don't naturally fall into other buckets. So, New Life supports us with that, and it effectively does what it says on the tin and gives new life to those garments. With Jack, our partnership here gives the choice to our customer on how they can dispose of unwanted clothing. You have the choice to avoid putting it in into landfill or putting it into the bin, you can send it back, rotate it and get a discount on your next online purchase as an incentive. Then, with Steve it was something new and quite disruptive in the marketplace for us to partner with Pre-Loved when we launched our sustainability store in middle term. I think that was something very new and very unexpected for George @ASDA and that's been an amazing partnership that's just growing as we speak." 
The range of partners, experts and product disposal specialists went on to discuss the varying nature of sustainability from corporate responsibility to consumer-driven choice, touching on numerous must-know strategies along the way. 
There was no shortage of trends on the show floor at BLE 2021, and the key now is to see how these ongoing, new or evolutionary factors shape the modern licensing community forever. For direct insight into the content available from BLE Virtual, the on-demand sessions, insights and webinars will be available here for registered attendees. 
Read more about:
Subscribe and receive the latest news from the industry.
Join 62,000+ members. Yes, it's completely free.
You May Also Like
Loading..