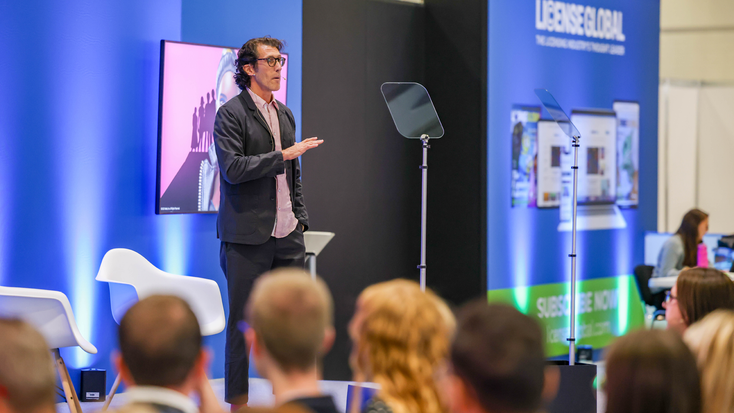 Brand Licensing Europe's theme this year is Fashion; the first keynote featured Richard Dickson, president and chief operating officer,
, talking about the company's top toy property, Barbie – her life, stumbles, cultural impact and future.  
Presenting in front of a standing room only crowd, Dickson took a deep and introspective look at one of the No. 1 toy properties in the world, a doll that has become an influential multiplier in everything from fashion to social media and entertainment.  
"At 63 years young,
is the top-selling doll of all time in an industry where the life expectancy of a typical toy brand is just 3-5 years," says Dickson. 
Dickson explained Barbie's focus on cultural relevance had anticipated a defining revolution in the workplace and in social equality for women that emerged in the '60s, while also representing aspirational opportunities for young girls. 
"Through Barbie, girls could dream without limits, enabled by fashion play that was tactile and dimensional,"
says Dickson. "Her incredible closet was the stuff of fashion magazines, an exciting new portal to possibility." 
Barbie wore fashion inspired by some of the top designers in the world – Anne Klein, Pucci and Yves Saint Laurent to name a few. Barbie celebrated her 50th in 2009 as "a fashion and pop culture icon – relevant, successful, celebrated," adds Dickson. But in the mid-2000s, people began to question Barbie's relevancy and her impossibly perfect body. 
By 2014, Dickson admits Barbie floundered.  
"When we allowed Barbie to get complacent about the realities of a rapidly changing world, we unintentionally failed girls, misunderstanding how valuable it was for every girl to see herself and her world reflected in her Barbie dolls."  
In response, Mattel recommitted Barbie to her own brand purpose: to inspire the limitless potential in every girl and reflect the wide and varied demographic that is her target market.  
"More than a promise, Barbie's brand purpose has become a global platform for empowerment that influences everything from messaging to design and execution," says Dickson. 
The company introduced "the most inclusive line of dolls on the planet featuring seven skin tones, 22 eye colors and 24 hair types and styles," says Dickson.  
Barbie's iconic shape was diversified and Mattel introduced its Inspiring Women line to honor historic female trailblazers and "Sheroes" dolls to celebrate contemporary female role models. 
The changes worked in a big way, as Dickson explained, "Not only have we grown the Barbie brand consistently since its low point in 2014, we doubled Barbie's toy business in just seven years to deliver the brand's highest year ever last year." 
What's up next for Barbie? "You ain't seen nothin' yet!"   
Subscribe and receive the latest news from the industry.
Join 62,000+ members. Yes, it's completely free.
You May Also Like
Loading..