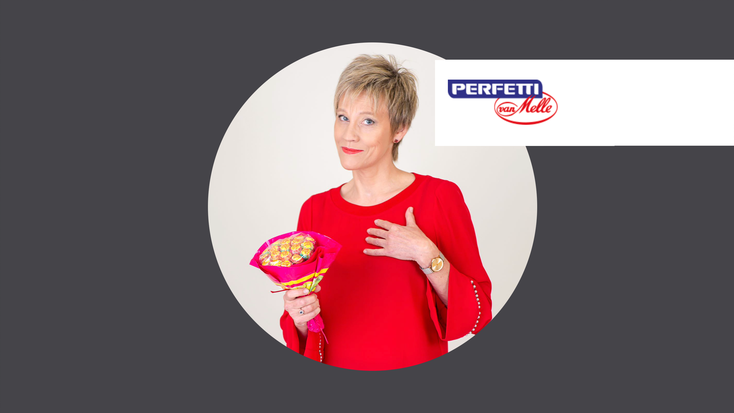 Christine Cool.
Perfetti van Melle
License Global: What is your background, and how did you fall into the licensing industry. 
Christine Cool:
I was raised in Belgium, a small rainy country. Soon I had the urge to travel and learn many languages, so after getting my degree in interpreting, I relocated to Spain. I fell in love with Barcelona, which quickly became my second home. My native knowledge of Dutch landed me a job at the international client desk of a Dutch bank, where I got motivated to learn business administration and marketing.  
One of our big international clients was
, and one day, the company's founder invited me to work with him to help set up the international licensing structure of the group's brands. The job also involved managing seven Chupa Chups licenses in Spain. Seeing how well these worked and how big the brand's awareness had become across Europe, we decided to explore international opportunities. 
That was 25 years ago, and ever since, we have not stopped conquering new licensing markets and expanding the business with other popular brands in the group. As each brand is a universe
of its own, it has been a passionate journey. What I like most about this job is that you always get a big smile from people when you speak about their favorite childhood candy and the endless opportunities these brands offer to play with in other sectors. 
In June, you announced a new agreement with Destra to allow Mentos and Chupa Chups to be licensed in Brazil. Is this your first foray into South America, and what was the thinking behind the strategy? 
We were already building the Chupa Chups licensing program with Tycoon in Mexico. Still, as our Mentos program is growing fast internationally, we felt the time was right to look for a strategic partner to 
set up the licensing program in Brazil
, as this country is one of
key markets for Mentos. 
Destra is a great partner who plays an active role in the licensing market's digital transformation and puts a lot of care into understanding the brands' DNA and positioning. A few months into the partnership, we are already signing the first deal for personal care with Mentos and fashion for Chupa Chups. 
What excites you most about creating new collaborations? 
I like that this is a people-first business: it's very important to network and transmit our passion for these brands to professional teams who understand long-term brand building and credibility. We see our agents as an extended part of our team and always aim to build a lasting relationship that brings mutual benefit. 
I also love our relationship with the designers and artists who keep reinventing our brands' imagery. It's great to see how they can tap into different registers of the brands that connect with people's emotions and the vibe of the moment. Their capacity to look at the brands from a fresh angle keeps the programs young and exciting. 
Why do you think there is such a connection between the food and beverage industry and fashion? 
People have a big emotional bond with the trusted brands they consume daily. Their identities are very iconic, and fashion needs to speak a language its consumers can understand and relate to. The intrinsic characteristics of popular food and beverage brands awaken the senses of consumers. Taken out of their context, the brands provoke an element of surprise that allows them to catch the attention in a society where we receive thousands of brand messages every day. 
You exhibited at Licensing Expo in May. How did the show go for you? 
It was great to be back at the show and to do business in person. All around the floor, you could feel that people were just grateful to have that human contact again. The digital trade fairs were a great alternative during the pandemic, but people had grown a bit wary of them by now. The show has also been an opportunity for us to create visual stories with our properties in a way that we cannot quite do online. We also found that the people visiting were very focused and keen to discuss productive business. 
What are your plans for the fashion catwalk slot at Brand Licensing Europe? 
Considering the huge importance of the apparel category in our business for as long as I can remember, participating in a fashion initiative feels like a natural environment. Several of our brands have regular drops in fast fashion retailers all over the world. On the other hand, we like to keep the brand image on edge by having it revisited and even disrupted by artists with a bold signature. 
"This year, we are putting a lot of creative effort behind our most global brand, Mentos. We will present an artist collaboration of Mentos by Philip Colbert, an internationally-acclaimed pop artist, which we are very excited about. Expect a breath of fresh air from us, pun intended. 
A large part of your branding is around creating visual experiences. Can you give us a few examples of that, and what do you have in store for visitors to BLE in London? 
Since we started licensing Chupa Chups, we have always given a lot of attention to creating graphic stories around all our brands. Over the years, we have understood that it sets us apart from our competitors and creates ongoing opportunities in the fashion sector. This year we have focused on creating magical seasonal worlds and indulgent multi-brand stories by fusing our brands, which we look forward to presenting at BLE. The cherry on the cake will be the exciting artwork created bespoke for Mentos by Philip Colbert. 
What can we expect from Perfetti van Melle for the remainder of 2022 and into 2023? 
As of this summer and through spring 2023, we have several exciting toy releases. Mini brand toys and dolls are all the hype now, and collections are about to be launched with several of our brands by Moose, MGA L.O.L., Zuru, Super Impulse, Popmart and Ypernova. 
We are witnessing an unstoppable appetite for innovative F&B collaborations with the signature flavors of our brands. The Chupa Chups' sparkling drinks by Korean licensee Namyang are now sold all over the world. In Europe, the brand teamed up with Unilever and La Menorquina, who are further rolling out their ice cream in 2022, and in Australia, Bulla has launched delicious Chupa Chups ice cream treats.  
As we speak, we are signing agreements for the first protein products for Airheads and Chupa Chups that will hit the market in 2023.  
In recent years our program has been leveraged significantly in Asia. For several years, South Korea and Japan have grown from strength to strength. This year we are launching new licensing initiatives in China with the brand Alpenliebe, one of the biggest go-to candy brands for Chinese children and making our first moves with Chupa Chups in the Indian market.  
We are proud of the location-based licensing initiatives we have been building in South East Asia, where stunning installations and fun activity centers are created with Chupa Chups and Mentos to attract visitors to malls and airports by guaranteeing happy moments for the whole family. These are the type of sweet stories that we aspire to keep creating for our consumers. 
returns to London's ExCeL from September 20-22, with exhibitors spanning a range of categories, a new fashion theme highlighting exciting lines from leading brands, exciting seminar content and more!  
Read more about:
Subscribe and receive the latest news from the industry.
Join 62,000+ members. Yes, it's completely free.
You May Also Like
Loading..