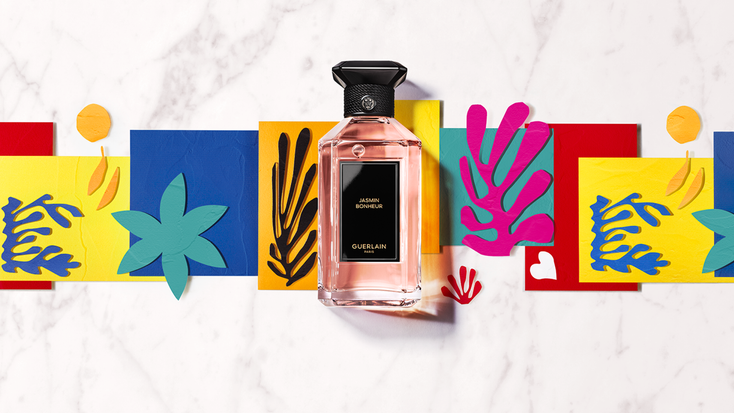 Jasmin Bonheur perfume bottle.
LVMH
The "painter of happiness", Henri Matisse was a well-known artist from the 20th century. Guerlain (a LVMH brand) is collaborating with Maison Matisse – founded by Jean-Matthieu Matisse, one of the painter's great-grandsons – to celebrate his art with a piece and limited-edition series inspired by Matisse's palette.  
Inviting Maison Matisse for this first collaboration, Guerlain is celebrating the art with a tribute to the "master of colors" in two creations inspired by two of the artist's paintings that themselves become full-fledge artworks. 
"We are extremely fortunate to have Maison Matisse show its trust in us for these new creations," says Ann-Caroline Prazan, director, art, culture and heritage, Guerlain. 
 "Our partnership is anchored by shared values of excellence, exacting standards and elegance, joined by a mutual love of beauty, nature and art." 
The Maison Matisse edition of the Bee Bottle is entirely decorated with emblematic motifs inspired by "La Musique," a painting done by
Matisse in 1939. Just fourteen hand-painted signed and numbered bottles contain the Couleur Bonheur extrait de parfum, a fragrance whose olfactory notes are inspired by the artist's palette, a fruity chypre composition.  As Guerlain's Bee Bottle celebrates its 170th anniversary in 2023, this creation is an ode to painting, music and perfumery. 
Jasmin Bonheur reveals a vibrantly colorful jasmine, tinted with orange apricot notes to the purple of iris and soft rose pink in a limited-edition work of art that evokes Henri Matisse's palette. Inspired by the painter's masterpiece "Les Mille et Une Nuits," the Jasmin Bonheur Maison Matisse is transformed by a decorative plate atop the cap and the colorful adornment of the case. Hearts, jasmine flowers and leaves are interpreted in a palette of fuchsia pink, yellow, orange, emerald green, blue and red.  The limited edition counts just 1,000 pieces worldwide. The collection also includes the Figue Azure scented candle in a limited edition of 500 pieces worldwide.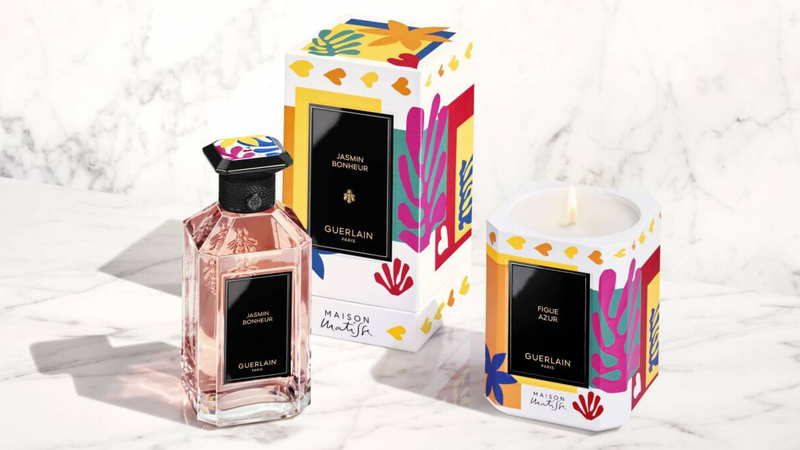 "My great-grandfather's works are very multi-sensory, his was a world full of plants and flowers and they became recurring motifs in his work," says Jean-Matthieu Matisse, founder, Maison Matisse. "There are thus myriad compelling connections between his work and the artistry of Guerlain perfume. That's why we were delighted to embark on this collaboration, especially since we share values, exacting standards, a respect for precision and a love of color. This celebration of happiness is a beautiful initiative and a first for Maison Matisse." 
Read more about:
Subscribe and receive the latest news from the industry.
Join 62,000+ members. Yes, it's completely free.
You May Also Like
Loading..