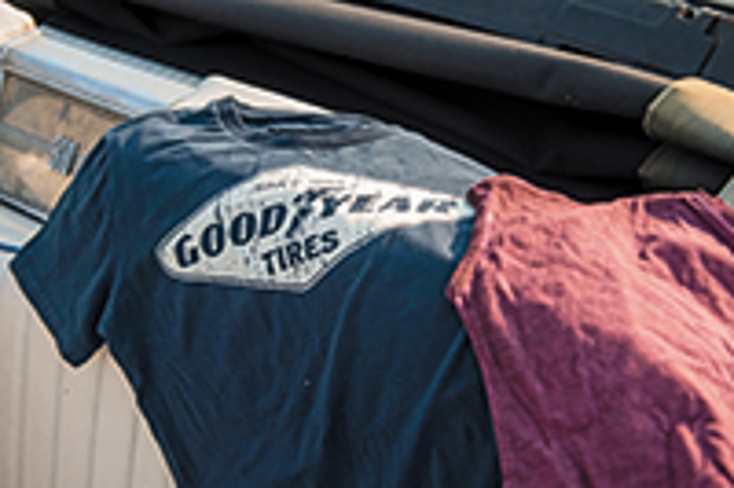 Although the brand is best known for racing, Goodyear now has its hand in the footwear, apparel and other consumer product categories.
With the help of its licensing agent, IMG Licensing, the Goodyear Tire & Rubber Company has transformed its brand into a global lifestyle franchise. Goodyear will also debut standalone stores in China and Mexico in the next few months.
An early frontrunner in auto racing, the Goodyear Tire & Rubber Company has built its reputation for nearly 120 years on its dedication to uncompromising standards and superior performance. Since the early days of racing when Henry Ford chose Goodyear tires for his 1901 Detroit Driving Club winning racecar, the Goodyear name has become an American brand synonymous with auto racing.
While the brand name and logo are familiar to fans of Formula One, NASCAR and NHRA drag racing, Goodyear also continues to design and manufacture tires for aviation, commercial trucking and heavy, earth-moving equipment in addition to passenger cars and light trucks. The Goodyear Blimp is an American icon.
IMG Licensing has harnessed that rich heritage to create an aggressive licensing
program for the brand that has extended the Goodyear name globally to footwear, apparel, accessories and a variety of other consumer product categories.
"Goodyear is an iconic brand recognized all over the world," says Fabrice Faurie, VP of licensing at IMG's Worldwide Licensing Business Unit. IMG Licensing has worked with Goodyear Licensing since 2009 to reach new consumer product categories through a two-pronged approach to brand building.
"Goodyear tires have a strong heritage of performance, innovation and reliability. We've drawn on those core tech elements for premium-priced, licensed product lines such as technical outdoor clothing and performance footwear," says Faurie. "The company also has vintage appeal, so that has become our other area of concentration for mid-tier merchandise."
In a nod to its racing heritage, the company's Goodyear Racing range of clothing, footwear and accessories from licensees such as Punch, EDF and H&C in Europe, Brazil, Central America and Mexico targets motor sports enthusiasts with a lifestyle range of racing-inspired shoes, denim and accessories.
SCL Footwear Group expanded the line this year to include a casual collection, Goodyear Performance Collection for men, which includes five styles of canvas sneakers and racing-inspired silhouettes focused on durability, mobility, traction and comfort. The line, which incorporates Goodyear tire tread patterns in the soles, is available online and at more than 180 stores in the U.S.
Performance-driven outerwear is also a natural fit for the brand, and Goodyear Licensing has teamed up with Hawke & Co. Outfitter for a line of tech-driven waterproof jackets that will debut at Macy's stores nationwide in Spring 2017.
Last year, the brand extended its focus on performance to a collection of premium-priced as well as mid-tier watches and a sunglasses line focused on better visibility. Goodyear also launched a collection of luggage and bags that incorporate Goodyear technology and durability.
"We developed Goodyear wheels for the luggage with the same tire pattern and anti-slide features," says Faurie. "The superior wheels offer better grip and quiet motion."
The collection includes soft trolleys and hard case luggage, as well as a line of outdoor bags, shoulder bags, duffle bags, wallets and a belt pack.
While IMG continues to find partners for premium-priced performance products, the company's long heritage and iconic blimp are providing a springboard for the Goodyear Vintage fashion program, a popular range of apparel that includes vintage jeans, jackets, shirts and footwear.
"The Goodyear Vintage program uses iconic Goodyear graphics from the '50s and '60s for apparel lines targeted to mid-tier department stores and specialty retail," says Faurie.
Goodyear vintage apparel was sold at Pull&Bear retail outlets in 62 countries and on the specialty retailer's website in 2014. In the U.S., Goodyear vintage t-shirts launched at Lord & Taylor department stores across the country in fall 2015, and a capsule collection of vintage t-shirts was launched in 170 Lucky stores nationwide in spring 2016.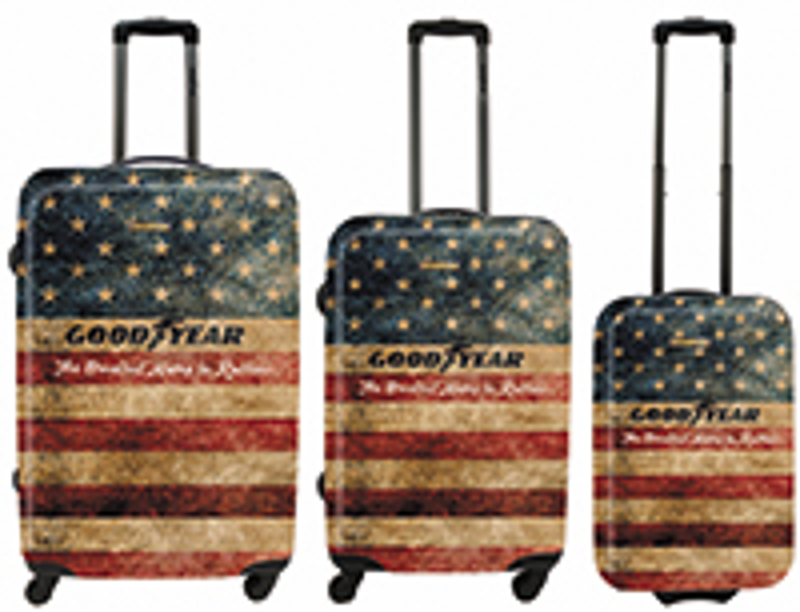 "We're rolling out t-shirt collections globally and are concentrating on building the Paraguay, Uruguay and Bolivia markets, which are new for us this year, as well as the China, Singapore and Malaysia markets this year," says Faurie.
Goodyear continues to expand its denim collection, which launched in Europe in 2015. The men's collection of jeans, shorts and jackets featuring vintage design and traditional leather branding has since rolled out to Latin America and will continue its global rollout in the coming year.
The brand is also found on hand and power tools sold at Carrefour in Europe, Exito in Colombia and Costco and Walmart in the U.S., as well as retail locations in China. Of course, automotive accessories are still a huge category for the brand and Goodyear batteries, wiper blades, car mats and electronic car accessories are available globally.
Faurie says IMG and Goodyear are looking to expand the brand's reach in the garden category.
"We are in the hose and hose-reel segment for products sold in Home Depot, and we are talking to licensees about how we can widen our reach in that category," he says. "We are always looking for partners for new opportunities in every market. We're also working to make sure that every category we are in is represented in every market in the world."
It's an ambitious goal, but Faurie says the brand is up to the task.
"There's so much untapped potential and so many different directions we can take the brand," says Faurie. "We're also planning 12 freestanding stores in China and one or two locations in Mexico, and we are keen to develop the U.S. market in 2017."
Subscribe and receive the latest news from the industry.
Join 62,000+ members. Yes, it's completely free.
You May Also Like
Loading..