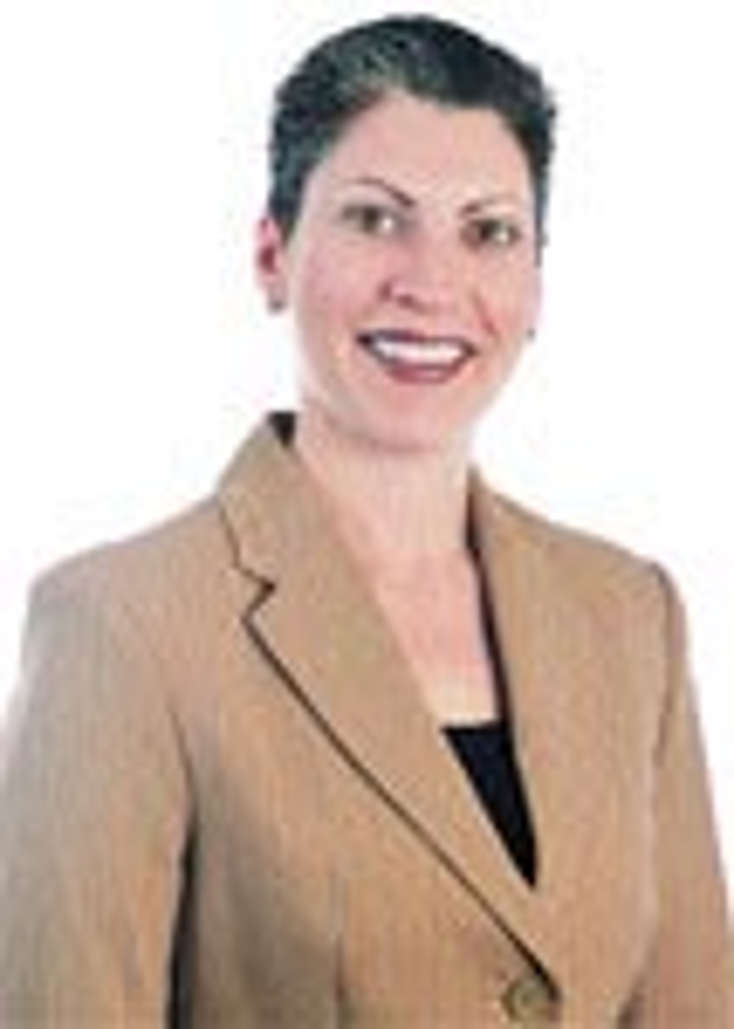 ]>Artist Mary Engelbreit's recipe for success is a mix of talent, licensing know-how, and an ability to relate to the consumer.
Bloom where you're planted" and "If your ship hasn't come in-swim out to it," Mary Engelbreit's artwork cheerfully advises, making it easy to see how her flourishing business was sparked by her early experience creating illustrations for greeting cards during high school. A blend of colorful illustrations and proverbial quotes, Engelbreit's work is whimsical, nostalgic, and optimistic, much like the artist herself. Growing up in the picturesque suburb of St. Louis, MO, the artist claims that "real life"-both hers and her family's-has served as a source of inspiration, as well as her mother's collection of children's books from the 1920s and '30s. As a young girl Engelbreit interpreted her favorite stories through her art and aspired to illustrate children's books.
Upon graduation from high school and in pursuit of her childhood dream, Engelbreit approached several children's book publishers, who rejected her artwork. One publisher, though, encouraged her to illustrate greeting cards. She took that advice and eventually established Mary Engelbreit Studios, which evolved into a thriving licensing business that was officially founded in the mid-1980s. Its initial focus was on printing and marketing greeting cards, but it soon expanded to include calendars, T-shirts, and mugs. Engelbreit first licensed her artwork for greeting cards in 1986 to Sunrise Greetings, which is now InterArt (a division of Hallmark). In 2001, the artist saw her ultimate dream come to fruition when she signed a contract to illustrate children's books for HarperCollins. "Today licensing is the primary focus of Mary Engelbreit Studios," says CEO Greg Hoffmann, reporting that the company has 15 employees and 44 licensees across dozens of gift, home décor, craft, and children's product categories. Sales for licensed product are projected at $110 million, up from $100 million in previous years. "Licensing is definitely to be credited for the tremendous growth we've experienced at retail," says Hoffmann, a long-time friend of Engelbreit who served as a legal and business counsel to the artist in the Studios' infancy and went on to become the full-time CEO eight years later. "There is simply no way we could function without licensing partners. Utilizing their manufacturing and distribution expertise ultimately has resulted in far greater success and wider distribution." Calendars and book publishing remain at the core of business, but greeting cards are central to the licensing activity. Other categories on the rise include educational, craft, and children's publishing. "Within the next 12 months we'll have published three books in the Ann Estelle series [children's stories written and illustrated by Engelbreit]," notes Hoffmann. Other initiatives include a line of fabric for home décor. When choosing licensees "we look for market leaders with enthusiasm for our brand," says Claudia Reed, director of sales and marketing, Mary Engelbreit Studios. "We also look for creative, dynamic companies with excellent product quality, licensing experience, and market penetration, and licensees that 'get' our brand." Direct contact and communication is also vital. A Web-accessible image database of more than 4,000 images enables licensees to research and create their own concepts. Mary Engelbreit Baby, a line of clothing and layette items inspired by the Baby Booky board books, is sold exclusively at Mervyn's. It is Mary Engelbreit's first direct-to-retail relationship. "We're seeking additional opportunities with national accounts and/or direct-to-retail programs based on the success of the baby program," says Reed. Baby Booky board books are not the only publishing initiatives to fly off retail shelves and into another category. Due to the success of "The Night Before Christmas," plans for animation are in the works. "Queen of Christmas," the first in the series of Engelbreit's "Ann Estelle Stories," soon may follow. New craft licensees include Leisure Arts for soft-cover crafting publications, Spinrite/Bernat for latch-hook rugs and kits, Colorbök for scrapbooking, and Kittrich for adhesive shelf papers and borders. Creativity and personality are always at the heart of Engelbreit's art and writing, and are central to the way the company does promotions at retail. To create awareness and boost sales, the artist often does book signings when a major book is published or a product enters another category. A signing at a Mervyn's store in Phoenix resulted in a sales increase of 9 percent for that day. An Ann Estelle costume often is sent to book signings to generate excitement and breathe life into the character. Among the most significant challenges is the need to adapt to the changing retail market. "Our retail base has always been in the independent gift market, but as we've grown and moved into new categories, we've had to learn to operate in many channels of distribution," says Hoffmann. Mary Engelbreit now offers a wide range of products in a variety of categories and price points. Its distribution philosophy is to sell through the retailers that are best known for those products, while continuing to support the independent accounts. "We actively seek to market products where our customers shop for those products," he adds. There's also a constant need to educate decision makers in retail and licensing that although the brand is strong and has a loyal customer base, Mary Engelbreit remains "fresh" because it constantly ventures in new directions. Differentiating points among retailers are blurring and there is pressure to meet short-term goals without emphasis on building a brand identity. "Retailers need to take more chances on new brands and ideas within old brands," says Hoffmann. "Mervyn's understands licensing and is expert at maximizing the benefits. It takes risk, long-term commitment, and hard work to balance retail needs with licensing needs, but it can provide a differentiating point between retail competitors." It's also critical for independent accounts to tout the special nature of their offerings. "From a divisional at Michaels craft stores, we really learned to look at our product in its entirety from the retailer's perspective. They showed us how our product doesn't always work within their racking systems and they've educated us on the dynamics of front end-caps, pricing needs, etc.," says Reed. "Retailers should offer coordinated statements merchandised by licensed brands," she continues, adding that they should offer as much of a licensed brand as possible and offer it in a thematic grouping. One of the most frequent comments shoppers at the Mary Engelbreit Store in St. Louis-the company operates 11 retail stores across the country-make is that they weren't aware so many categories and skus are available. An online survey conducted in 2003 revealed that nearly 80 percent of fans would like to see newly issued products more widely available at national retailers. Cultivating relationships with customers and directly communicating with them has become easier in this Information Age. Mary Engelbreit sends a monthly e-newsletter to 50,000 fans and recommends retailers begin gathering customers' e-mail addresses at every possible point of contact. The magazine, Mary Engelbreit's Home Companion, is also a tremendous brand builder, reaching close to 2 million readers."While we aren't quite ready to divulge the specifics, we will continue discussions and negotiations with an international licensing representative," says Hoffmann, adding that Mary Engelbreit is always eyeing new categories and industries for the brand and is expanding the baby category. The next major challenge involves the addition of entertainment and character licensing. As the market for children's books grows, the characters will take on new meaning and evolve into their own sub-brands. Developing these characters within the umbrella of the Mary Engelbreit brand requires new ways of thinking about licensing, as well. Pursuing relationships with children's manufacturers also will foster the development of these areas for the "Ann Estelle" and "The Night Before Christmas" properties. In 2005, HarperCollins will publish "Mary Engelbreit's Mother Goose," predicting it to be one of its all-time best-selling children's books. Both licensees and retailers are gearing up for the launch.
Subscribe and receive the latest news from the industry.
Join 62,000+ members. Yes, it's completely free.
You May Also Like
Loading..