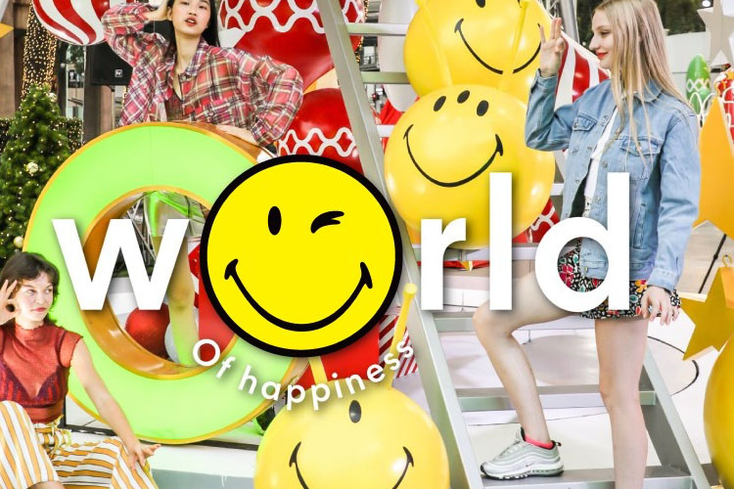 In Thailand, the brand launched a program dubbed "Center of Life–Center of Happiness," an immersive Christmas-themed Smiley experience held at central shopping centers across the country.
The activations honored the year-end gift festival in Thailand. Central Pattana and Smiley produced a variety of holiday experiences that turned malls into unique Christmas installations. Themes included World of Happiness, featuring a Smiley 13-meter-tall Swarovski Christmas merry-go-round and Happy Smiley Celebration, with a three-meter-high Golden Gigantic Smiley Balloon, which was surrounded by a Smiley Snow Globe and a Smiley Ferris wheel.
The CPN campaign saw Smiley give away more than one million gifts including a chance to win Northern Lights Hunting Trips in Finland, Huawei Mate 20 smartphones, round-trip flights with Bangkok Airways and a list of exclusive Smiley premiums, such as plush toys, bedding, drinks cups and travel bag sets. Hyundai department stores in South Korea have run a yearlong
promotion across 15 department stores and five outlets.
A line of Christmas-themed Smileys appeared on plinths and floor and window decals throughout Hyundai's shops alongside unique slogans in bright colors. Egg Optical launched a Smiley souvenir shop at New Town Plaza Mall, which is selling Smiley cookies, snacks, crockery and homewares.
The retailer also offered Smiley gift-with-purchase promotions throughout the season, which included Smiley sunglass cases and eye cloth and more. "Smiley icons lend themselves particularly well to seasonal-themed promotions, and we have created dedicated style guides and icons to complement the holiday season," says Nicolas Loufrani, chief executive officer, Smiley. "From Smiley Santas, snowmen and even gingerbread icons, we aim to help spread smiles during the holiday season. The promotions with CPN, Hyundai and eGG Optical are great examples of why more brands are turning to Smiley for its authentic messaging and unique positioning at the forefront of the happiness movement, as Asia continues to set the benchmark for how to execute these promotions to the highest standards."
Subscribe and receive the latest news from the industry.
Join 62,000+ members. Yes, it's completely free.
You May Also Like
Loading..