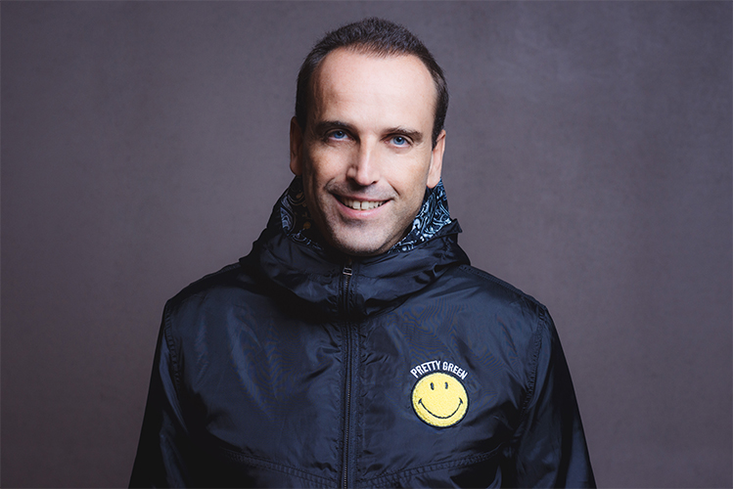 The Smiley Company has a lot to be happy about. Sales were up a whopping 59 percent last year to $419.9 million, the company has added a number of new licensees and its joint venture with Rubik's is taking off. Blockbuster promotions with partners such as Nestlé Waters/Vittel and Zara helped make 2017 a standout year for the company. Over the past 20 years, chief executive officer Nicolas Loufrani has completely revolutionized The Smiley Company portfolio into an evergreen lifestyle brand.
"We set out to grow our existing partners business through best-in-class licensee support and that strategy has helped us to ensure that the right products were going into the right stores at the right times," says Loufrani. "We also properly leveraged our anniversary year in 2017, launching a series of stellar limited edition promotions, collaborations and events that not only amplified the brand's heritage, but also its inherent creativity."
The original Smiley icon was created by Loufrani's father, Franklin,
in 1972 as part of France Soir newspaper's Take Time to Smile campaign, to remind people to smile during a time when bad news seemed to prevail. Franklin first developed the logo to note good news items in the paper, then trademarked the logo to license the image for mass consumer goods.
The younger Loufrani joined the business in 1997. With a background in marketing for luxury goods and an eye on the technological revolution, he helped grow the company by leaps and bounds. Loufrani kept the original Smiley logo intact for collaborations that ranged from haute couture to mass market collections across an array of categories.
Loufrani then updated the original Smiley logo to create thousands of copyrighted, expressive emoticons for a new SmileyWorld brand that was commercial, on trend and culturally relevant.
Over the past 20 years, the Smileys Loufrani created have been featured on tens of thousands of products produced by more than 800 licensees and have generated more than $1 billion dollars in retail sales. As a licensor, The Smiley Company is also faring well. It ranked at No. 80 on
License Global's
annual Top 150 Global Licensors report, released last month.
"Smiley has a completely unique brand message–to make the world a happier place–and that's the starting point for everything we do as a business," says Loufrani. "The Smiley Company leverages not just Smiley's brand equity, but our collaborative design and commercial expertise as well to ensure we create best-selling collections, driven by market insight and supported by marketing best practice. When our partners work with Smiley, they enter into successful long-term partnerships that will grow over the course of time."
A dedicated team of 40 people and specialist brand teams within licensee-specific industries allows the company to understand the needs of each partner and offer them professional advice and guidance.
"Smiley also adopts a global outlook but takes a local approach, with national sales teams speaking a wide range of languages so we can guide partners towards the best products for them and their markets in order to drive more sales," says Loufrani.
The separate SmileyWorld brand, with sales of $281.50 million and representing 67 percent of the company's total retail sales, also had strong growth in 2017, says the company.
"It was a massive year for the emoticon trend," says Matt Winton, marketing director, SmileyWorld. "We had high-profile coverage and were able to leverage that into some really interesting deals."
In the food category, SmileyWorld saw double-digit sales growth with exclusive launches of new snack products for private label with retailer Lidl through partner Intersnack, which included 3D Smiley-shaped stacked chips. A partnership with Zaini led to the sale of more than 1 million chocolate surprise-filled eggs, and Beverages L'Abeille's Smiley Fruity juice drinks sold more than 3 million pieces. Smiley Candy Shops launched at Carrefour, and in a huge promotion with Nestlé Waters, more than 130 million bottles of SmileyWorld-branded water bottles were sold across multiple formats for Vittel in Central and Eastern Europe.
The brand also partnered with Unilever in France for a gift-with-purchase mug set.
In publishing, Dragon d'Or, Scholastic and Baeckens Books drove sales.
Toys, apparel, footwear and accessories also remain strong segments.
Smiley's brand collaborations drove high-value sales in 2017, says the company. The brand partnered with VF Corporation's Lee Jeans for Smiley's first complete denim collection since the 1970s, and had continued success at retail with luxury accessory designer Anya Hindmarch. The brand also enjoyed growth in the footwear category, with prestigious and successful collaborations with Chaussure Eram and Palladium, says Smiley. The brand's sales reached $138.4 million and represent 33 percent of total retail sales for the company.
Loufrani noticed the resurgence of the Rubik's trend and saw the potential to grow out the Rubik's brand. In 2016, The Smiley Company entered into a joint venture with Rubik's to expand the Rubik's Cube brand into new categories and develop the business globally.
"Rubik's was good at making toys but they didn't have experience with brand extension," says Winton. "Where at Smiley, our business is brand extension. It's what we do best."
"With its dynamic resources and decades of experience, along with industry knowledge and the network to really leverage the Rubik's brand, The Smiley Company is re-inventing Rubik's as a global brand of the future," says Loufrani. "The partnership focuses on building Rubik's amazing DNA and heritage, tapping into its roots in art and intelligence to develop a wide range of lifestyle products to support the brand extension."
NPD data shows that Rubik's Cube was the No. 1 best-selling game in France in 2017 and the seventh best selling game in the U.S. last year. Google's Year in Search for 2017 revealed that "How to Solve the Rubik's Cube" was the seventh most-searched term on the platform in the U.S.
"Rubik's is really hot. It has amazing traction and has diversified into some interesting new categories," says Winton.
Rubik's continues to enjoy stand-out coverage across the world's most influential pop culture channels and has had 50 high-profile appearances in film, music, advertising and on TV, says Smiley. The iconic puzzle appeared in the blockbuster summer kids' movie Despicable Me 3 and a PopBuzz video featuring actor Chris Pratt solving the Cube in an impressive three minutes was a huge hit.
As the demand for Rubik's products outside of traditional channels grows and new partners continue to sign on, the future looks increasingly bright for the world-famous toy brand. The Smiley Company is finalizing a partnership with a major food brand for a promotion across 34 countries, it says.
Red Bull recently signed on to sponsor more than 1,000 global Speedcubing event competitions this year. Speedcubing events, in which contestants vie to solve the Rubik's Cube, are held across five continents and attract huge media exposure. Red Bull's involvement will add to the budgets, visibility and reach and take the sport to a new level of professionalism and recognition.
"There's a real intelligence market with the resurgence of geek culture," says Winton.
Uniqlo launched a range of Rubik's t-shirts early this year across the chain's global distribution network of more than 1,500 stores. JCorp and Jammers are also on board for apparel lines.
Sakar will launch a line of technical accessories for Rubik's including speakers, headphones and power banks, Brand Partners Group will launch fidget spinners, fidget cubes, fidget with speakers, fidget tops, Bluetooth sound cube, flash drives, keychains, watches, clocks, pet products and batteries; Calendar Holdings will create calendars; and Prime 3D will produce 3D lenticular stationery.
In the toy category, Strictly Briks introduced an innovative new three-in-one, cube-shaped brick construction toy in Rubik's iconic colors to encourage consumers to solve challenging puzzles and use their imaginations to build creative objects and design pixel art.
U.K. licensee Gibsons' Rubik's Cube jigsaw puzzle was also named a Hero Toy winner at Toy Fair 2018.
A host of brainbusting publishing titles are scheduled for launch this year, including titles from U.K.-based Carlton Books and Egmont and French publisher Place des Editeurs (SOLAR). Hemma (part of Planeta Group's publishing arm) has already debuted a range of children's titles.
Going forward, the goal is to expand both Smiley's and Rubik's reach in the toy, videogaming and publishing categories.
"We intend to grow this division rapidly and we hope these could account for 20 percent of our global business within three years," says Loufrani.
Read more about:
Subscribe and receive the latest news from the industry.
Join 62,000+ members. Yes, it's completely free.
You May Also Like
Loading..