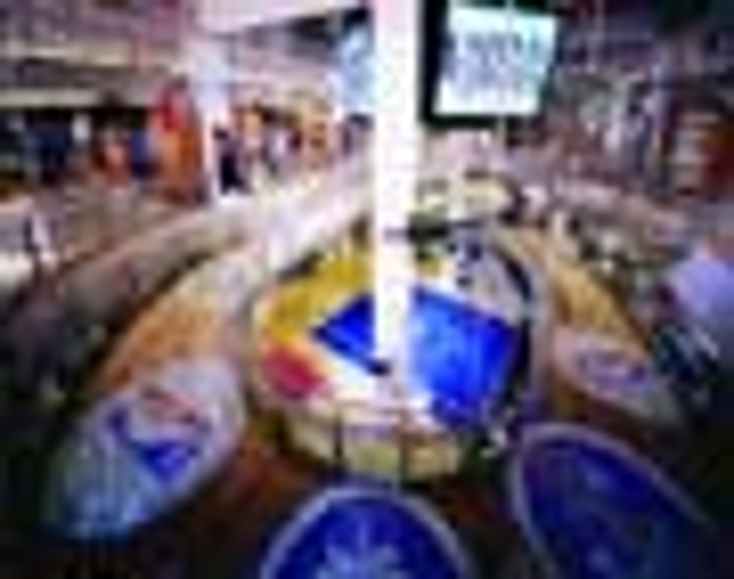 ]>Wildlife art licensing is branching into new categories-including home textiles and furniture-that appeal to male and female consumers alike.
Wildlife art merchandising has come a long way, baby. Ten years ago, licensing agents and publishers say, it lived strictly in a man's world, based on the perception that only male shoppers purchased wildlife art prints or collectibles for cabin, lodge, or den décor.
Today, artwork of wolves, fish, white-tailed deer, jaguars, songbirds, wildflowers, and eagles, to name a few, is surfacing on all manner of product being bought by male and female consumers alike. According to licensing agents and publishers, categories such as home textiles, furniture, greeting cards, and personal checks-largely the domain of the female shopper-have become popular product nesting grounds for wildlife art licensors. Have women finally "found" wildlife? Or is it more likely wildlife marketers have "discovered" women? It's probably a combination of the two, and perhaps a half-dozen other factors. Despite the range of theories, all the expert sellers in the art genre interviewed for this story (designers, agents, licensees, and retailers) agree the feminine appetite for wildlife art has accelerated, and almost all have seen upward spikes in sales since 9/11/01.Angling for the LadiesOn a Saturday morning in mid-July outside the newly re-opened, bigger-and-better Orvis flagship store in Manchester, VT, 100 or so people stood on the field surrounding the sporting goods outlet, testing reels and finessing their fly-fishing casts. Most of the enthusiasts were under 30. Half of them were women.
Two
miles away, in the nearby headquarters of Applejack Licensing-an art publisher originally rooted in wildlife art-Director of Licensing Paul Wheeler says licensing royalties from images of fish, deer, songbirds, and smaller fuzzy creatures have increased 20 percent over last year. "We are seeing wildlife design trends that favor a more feminine flavor," says Wheeler. But, he adds, "I also see a lot more women interested in extreme wilderness experiences, such as extreme skiing, mountain biking, mountain hiking, hunting, and fishing."
His words boomerang all the way down to High Point, NC. Tina Livengood, director of licensing and marketing for sculptor Dick Idol's two-year-old licensing firm, Dick Idol Ventures, discusses what went into translating the feel of the wildlife sculptor's rearing bears and running deer into a female-favored home furnishings collection.
"We kept the female perspective in mind from the start," she says. "There are certain elements we used, such as wildflowers on pillows, other botanical touches, curvatures and carved details, and treatments," she says, that speak to feminine tastes.
At Kittle's Home Furnishings stores, a 17-store chain based in Indianapolis, President Eric Easter says the few-months-old Dick Idol Ventures furniture collection is the "biggest new collection success we've had, based on a high-sales-per-square-foot average." He adds that the 1,500 square feet devoted to the Klaussner-made furniture is about to double, and other lodge-inspired furniture will be added to the Idol-anchored 3,000-square-foot space.
He describes some of the collection as manly and large scale, but appealing to both men and women. For him, the concept of the male customer, or the needs of such a mythical creature, is a non-factor. "Men don't drive anything in furniture. It's the women. For anything to sell at the rate the Idol furniture is selling, it must appeal to women."
"My wife is my final critic," admits Jon Wright, founder/president of Jon Q Wright & Artists, based in Walker, MN, a fish and wildlife artist/print publisher/ licensing agency with 35 or so licensees. He describes his fish designs as clearly unfeminine in look, but finessed enough through color and design to appeal to a woman.
"The challenge with fish art is that 90 percent of the time, the woman is buying it," he says. "She's the one in the gift shops. The guy we're trying to reach is out fishing on the lake." He says his firm, which designs wildlife art to fit product shape and the marketplace, dances a fine line between men's and women's tastes every day.
New Homes, Big Business
"My bathroom product business had seen better days, but right now it's up 300 percent over last year's sales volume, and that is almost completely attributable to what Creative Bath has done with the Hautmans," says C.B. Babcock, senior merchandiser and product development manager of the home area of National Wildlife Federation's catalog, National Wildlife: At Home With Nature. The nonprofit organization's quarterly catalog reaches between 10 and 20 million households during its peak season of holiday.
Earlier this year, New York-based Creative Bath unveiled bathroom product made under license from the Hautman Brothers, a trio of artistic brothers best known for dominating the annual Federal Duck Stamp contests. The waterfowl admirers' licensing program was $58 million at retail in 2001; it was $48 million the year prior (the agency is MHS Licensing, Minneapolis, MN).
However, throughout Creative Bath's Hautman collection, not a single duck graces the towels, shower curtains, rugs, or accessories that carry suggested retails ranging from $9.99 to $39.99.
NWF started out with three Hautman images on product-a leopard, a scene of wild horses, and a panda (the latter being the star so far). Babcock since has added three more images and by spring will carry a total of eight Hautman designs. "It's unbelievable. We're selling between 200 and 300 pieces a day."
Why? Babcock credits the boost in wildlife home goods sales to the formation of new households post 9/11. "The residential real-estate market has been fantastic, he reasons, and when many people buy new homes, they're out buying new things, from the first purchase of a new shower curtain to new bedding for new bedrooms. "We target a niche customer-a woman near retirement age who appreciates nature-but other than that, she's no different than other women consumers. She just prefers to buy product that is unique and certified by us as featuring an authentic representation of wildlife."
Not every category is succeeding so well at NWF. Ready-to-wear and sportswear has been weak, and the gift area has been downtrending, Babcock notes, with the exception of gifts that double as functional home décor.
But on more optimistic notes, look for new holiday-themed product such as tree toppers, dinnerware, and throws inspired by artist Margaret Cobane, who has provided designs for NWF cards on ornaments in the past. Also, in keeping with industry-wide interest in infant and juvenile product, the catalog is about to debut a sizable line of baby products inspired by artist Mike Speiser, who creates the covers for NWF's juvenile-targeted magazine, Wild Animal Baby.
Mental Breaks
Aside from the home decorating kick, many in the industry attribute the sales uptick in wildlife- or outdoors-inspired merchandise to the need for some indoor serenity.
"In this busy hectic world with all its problems, there is not a lot of good news to be found," says Kittle's Home Furnishings' Easter. "It's nice to have a room that feels like a retreat, like you're getting away. The Dick Idol collection can bring that feel to a bedroom, garden room, or den." Easter says upholstery is selling well, but not at the velocity of the bedroom, dining room, and occasional pieces.
"The area we see expanding most is product people bring into their homes to make themselves feel better," says Mary Agnew, wife and licensing manager of wildlife artist Al Agnew. The gallery painter, whose licensing frontier is nearly $30 million at retail, is most famous for his freshwater fish images, but in the last few years, his wolves and deer designs have grown significantly in demand.
"It's like an antidote to a hectic pace of life," says Al Agnew, who theorizes that there is a large percentage of people who grew up close to nature, but no longer are. His images bring people back to a safe place and time. Adds Mary Agnew: "It's like a mental break. People may not have time to go out for a three-hour hike, but a glance at a lamp or clock [featuring Agnew's artwork] can bring back a memory of a great hike. People need that break, if even for five seconds."
Jody Bergsma, a wildlife artist who infuses symbols such as Celtic knots, crosses, and Native American designs into her feminine art of animals, thinks the trend is healthy. "I'm not sure if being closer to nature makes people feel more pure, or if nature brings people happiness because of its beauty. But if people are buying more of my butterflies and hummingbirds since 9/11 because it makes them feel better, then that's a good thing."
Boulder, CO-based greeting cards supplier Leanin' Tree, Bergsma's first card licensee (hitherto, the artist self-published), attests to the pull of several of Bergsma's images.
"Her wildlife collage and hummingbird designs have sold in at very high levels, especially considering [they only debuted in January]," says Susan January, director of product management. "They are among two of our best sellers across all categories so far this year," she says, adding that Leanin' Tree's lineup this year includes the addition of licensing-savvy artists such as Debbie Mumm.
Bergsma notes that her eagle images soared post-9/11, a not so unusual occurrence due to the bird's role as a symbol of U.S. patriotism. And although many marketers have found that sales of eagle images now have returned to their pre-9/11 levels, Bergsma offers this perspective:
"For the longest time, I couldn't get women to buy eagle art because of the scowl eagles seem to have," she explains, adding, "some animals look aggressive no matter how much we try to soften them." But in the last few years, Bergsma says she's heard a lot fewer "they look evil" comments from women, and more conversation about the eagle's relevance in Christian symbolism.
"For Native Americans, the eagle has been the symbol for the Great Spirit, but eagles are also common in the Bible. I can recite to you Isaiah:40 because I hear it so often from my customers: 'You shall rise up on the wings of eagles...' "
Chip Walters, who represents wildlife artist Rick Kelley, says the July 2002 CBA International Convention in Anaheim, CA, was jammed with eagle imagery, and Harold Blaylock, who handles sales and licensing for Blaylock Originals, Mesa, AZ, says his father Ted's wildlife eagle images historically have sold well, but especially when paired with inspirational verse.
"I think nature art is increasing in popularity because of the peace and serenity it offers," says Diane Sansaver, a marketing and sales manager at quilting pattern maker McKenna Ryan Designs, Big Fork, MT. "People want to bring nature into their homes, especially since 9/11," but she adds, like most licensees, that the trend began way before the September terrorist attacks. Some of the best-selling McKenna Ryan quilting patterns, such as "At Home in the Woods," appeal to men just as much as women.
Masculine Drive
On the other side of the demographics-chasing spectrum, plenty of licensors, licensees, and retailers continue to thrive by catering to the traditional masculine tastes of the wildlife-loving, male shopper who more often than not enjoys hunting.
City Brewery, marketer of newcomer regional beer LaCrosse Lager, is thrilled with how wildlife art has boosted its business. Only in its second year of distribution, LaCrosse Lager, based in LaCrosse, WI, debuted new labels in March on its full-bodied, kraeusened beer featuring wildlife turkey art identified by artist and publisher/agent Wild Wings.
The artist was David A. Maass, and by no accident, the two-month run on the labels coincided with turkey hunting season. Mark Susinno's trout art ran during the peak fishing season of summer; Rosemary Millette's pheasant art is on cans now, just in time for deer season; Michael Sieve's white-tailed deer imagery begins its run in November.
"Our sales are up 80 percent from last year," says Jon Reynolds, City Brewery director of marketing and sales. Plus, partnering with nationally renowned artists as well as established Wild Wings, based in Lake City, MN, has been a bonus for the budding beer brand, not to mention that the cans have become collectibles. On top of all that, Reynolds says, City and Wild Wings worked together to offer a version of the label on a decorative mirror to retail for $34.95, and are offering the lager lovers a 50 percent discount on the wildlife art (with or without the LaCrosse logo) in the form of a limited-edition print, originally priced at about $400.
Ducks Unlimited, Memphis, TN, a nonprofit organization with a mission to conserve, restore, and manage wetlands and associated habitats for North America's waterfowl, has a sizable licensing empire sporting DU logos and artwork. Its 60-plus licensees contribute about $400 million in annual retail sales of licensed goods and services, a figure that rises about 8 to 10 percent each year.
Traditionally, DU has a huge following of male hunters and outdoorsmen. Accordingly, many of its licensees include male-targeted marketers such as a hunting show TV partner (Outdoor Life Network, after a handful of years with TNN); an ammunition maker (Winchester); a pickup truck caps and tonneau covers supplier (A.R.E.); and a charcoal cooker and smoker manufacturer (WC Bradley).
However, a few of DU's licensees have been surprised to learn how family friendly and women-friendly the environmentally conscious brand is. For example, one of DU's newest licensees, Marshall's Outdoor Products in Baton Rouge, LA, debuted a few DU-branded ceiling fans at the SHOT Show (Shooting, Hunting, Outdoor Trade Show & Conference) in February. Some DU fans have finishes of brushed nickel and polished brass, while one was co-licensed with camouflage designs owned by Advantage/Jordan Outdoor Enterprises. But all DU fans carry the DU emblem and the duck head on the blade holder. Suggested retail prices range from $164 to $229.
"Our expectation was that it would primarily appeal to men," says John Marshall, president of the firm and an avid duck hunter, "but the response has been pretty much equal among men and women. The reception so far has been fantastic."
Centurion Vehicles, Inc., based in White Pigeon, MI, a truck and van conversion manufacturer that adds detailing and installs special accoutrements into vehicles, is another DU licensee that has reconsidered its notion that only rugged huntsmen and die-hard outdoor enthusiasts are attracted to the DU brand.
"We've found people are ordering the Ducks Unlimited customized Chevrolet Tahoes, Suburbans, and Silverado pickups for family use," says Brett Doberenz, vice president, general sales manager for Centurion. "Originally the DU conversion package focused on off-roading and hunting options such as lockable gun storage, winches, and grille guards, but over time, we realized people wanted to customize with more family friendly options, such as TV monitors and DVD players. That told us Ducks Unlimited appeals to more than just hunters and off-roaders, it appeals to anyone who likes to take nature walks or pictures of wildlife; it even appeals to people who aren't necessarily DU members."
In its four-year relationship with the conservation organization, Centurion has added DU customizations to about 1,300 Chevy vehicles. DU has a promotional partnership with the automotive brand.
New Venues
With the abundance of wildlife art currently flooding the market, some licensors worry that oversaturation could become a problem. Some established wildlife artists are choosing new genres, such as Ted Blaylock's recent foray into inspirational-themed images, and his new focus on his years' old passion for painting scenes featuring trains, particularly some set in the Old West.
That said, some new venues for the genre are blossoming for certain brand owners. Although it may be a long-term project, Dick Idol Ventures has been approached for a family targeted, outdoor TV show that could focus on nature, antiques, art, and lifestyle.
"It could have a segment on hunting antler sheds [what falls from horned animals naturally and seasonally[ and how to showcase them, or how to cook venison and wild game," offers Livengood. "But it wouldn't be a hunting show."
Aliso Viejo, CA-based marine painter Wyland, known around the world for his giant mural "whaling walls," predicts preservation of nature will be a vital issue 100 years from now. "The environment, the quality of water, the protection of land and sea...if you are a licensee or a company and not in on the ground floor of protecting the planet, you will be missing out, because that's where the spotlight will be."
As for now, wildlife for most folks is on an upswing. Licensees have begun to search out new artists to better serve their retail customers. The mass-market-friendly blankets and throws resource Biederlack, a happy Hautman licensee of at least six years, might be adding some additional artists, perhaps from Applejack's fold. And Riddle & Cockrell, for whom an image from Applejack artist Alan Hunt has been "a top seller overall" for the wovens/throws/ home textiles supplier to the mid- and specialty tier, might be adding some new MHS-managed art to its mix.
There's more hope than ever flying around in this corner of the art world. Cottage Garden Collections, in Bainbridge, IN, just signed 16-year-old wildlife artist Dylan Scott Pierce for licensing and publishing purposes.
"Kitchen or bath tiles, stationery, puzzles, nightlights, pillows, blankets, linens, wall hangings and flags, checks, clothing, tabletop and dinnerware are what me and my mom think would be good categories," says the prodigy from a hotel near a zoo in Michigan, where he was participating in a show and doing field work at a nearby zoo.
"We're open to all categories," echoes Mark Timm, president of Cottage Garden Collections.
It's all crazy, hopeful, and wild, but if you listen to the likes of Wyland, wildlife art merchandising is not going away any time soon.
CHARITY HELPS
Having a conservation program or wildlife-protecting charity built into your licensing business can help heighten awareness of your art, or at least offer a competitive advantage over non-cause-related licensors.
For example, since 1937, Ducks Unlimited has raised $1.5 billion for conservation efforts, and preserved 10 million acres of wetlands. DU licensees often are involved in fundraising activities, the DU magazine, TV show, Website efforts, and other avenues connected to DU members.
Wyland, based in Aliso Viejo, CA, a marine painter known for his giant mural "whaling walls," who has been the subject of six or so TV shows on the Outdoor Life Network and a few QVC programs, set up his own separate nonprofit animal conservation company about 10 years ago. "Chicken Soup for the Soul," the popular HCI-published book series founded by Jack Canfield and Mark Victor Hansen, plans to release "Chicken Soup for the Ocean Lover's Soul," co-edited by Wyland, sometime next year. "Once a year, we create a book that is a little bit larger in social impact," says Canfield. "Our stories are meant to uplift and inspire, but with "Ocean Lover's Soul," we hope also to create empathy for the marine life that lives in the ocean, in addition to protecting the oceans themselves."
Wyland is focused on educating children about the ocean and art, and is keen on adding children-targeted licensees to his stable of 40 manufacturing partners. Retail sales for Wyland goods are about $30 million.
Lynn Chase, a New York-based painter and upscale tableware resource who recently signed with Sarried, Ltd., for antique-inspired red China lacquered furniture accent pieces, created her own nonprofit organization, the Chase Wildlife Foundation, in 1988 to preserve and protect endangered species. CWF has awarded grants to several animal-interest funds. The artist works with about five licensees and is in talks with high-end stationer Crane's. She is represented by agency Fashion Licensing of America in New York.
Subscribe and receive the latest news from the industry.
Join 62,000+ members. Yes, it's completely free.
You May Also Like
Loading..