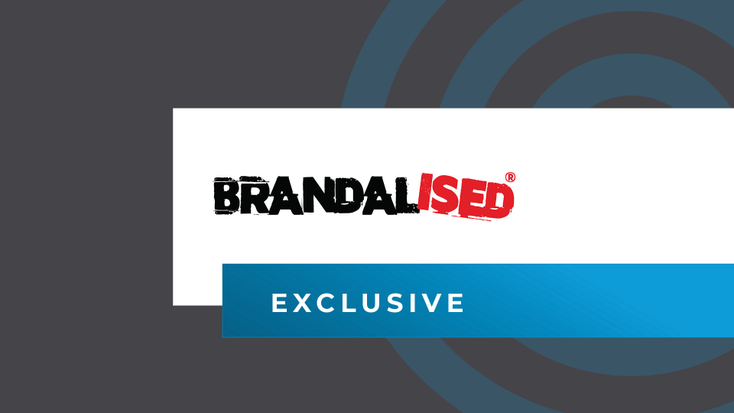 Brandalised logo.
Brandalised
Notoriety and anonymity are signatures of a successful street artist. But when a collaboration with apparel company, GUESS, made global headlines, a conversation surrounding the place of anonymous street art within intellectual property, licensing and merchandise was brought to light. 
Having signed the product creation rights to over 260 works by street artist Banksy, alongside graffiti by various artists across the world, 
and 
is leading the licensing business for street art collabs and consumer products.  
Speaking exclusively to Ben Roberts, content director, EMEA, License Global, Andrew Gallagher, owner, Full Colour Black and brand director, Brandalised, spotlights the importance of street art to the consumer, explains how the licensing side works and takes us behind-the-scenes of a headline 
.
Ben Roberts: Let's look at how you got into intellectual property. What was the demand for creating brands like Full Colour Black and Brandalised, and how have they grown since then? 
Andrew Gallagher: People who follow rules rarely make history. This is one of the reasons why, despite operating separately, Banksy and our company
have simultaneously achieved so much success over the last 16 years. We both operate in a very specialist area which has global appeal, and because it's everywhere.  
Under the guiding eyes of the best IP lawyers from each territory, our company has been systematically securing rights for nearly two decades. We offer vector files, layered Photoshop files, the original graffiti and even original graffiti slogans. We have a fantastic catalog.  
There are a lot of young people in the world who want to be successful but don't have the tools or know-how to achieve this goal. That's why graffiti has such massive appeal. Anyone can do it. It's subversive and it's quick. All they need is a spray can.  
I started in an economically-neglected part of the U.K. and learned to act on opportunity quickly. My first endeavor was trying to get a job in the music industry, but I quickly realized that to be in that business truly, you need to do it yourself. So I promoted club nights and made a lot of then-unknown DJs famous. We were pioneers of the U.K. rave scene.  
Thanks to a huge amount of front page – and negative – publicity about raves in newspapers, we quickly gained notoriety … and a very large fan base. By 1993, we were putting on raves for about 12,000 and 33,000 people on the grounds of stately homes throughout the U.K., Europe and Australia. To cater to our fanbase, we decided to release albums and it was here that I learned how to negotiate music licenses with unsigned music makers. Across 44 album releases, which featured, on average, 40 tracks per album, I did a lot of licensing, 1,760 deals at least. Using guerrilla tactics, I built a brand from nothing and making records was my apprenticeship.  
After the invention of the Internet and the launch of Napster, I realized that new technology would decimate the music business. The kids were not buying music anymore. They were swapping music for free. In 2003, when the iPod was gaining ground and the record shops started to close, I shifted out of the music industry and began looking for a new market to enter. 
Underground magazines were running stories on a new street art scene, so I gradually began securing the rights for what I considered commercially viable, public-domain graffiti. I didn't realize it at the time, but most of the photographs I took were by a new kid on the block who went by the name of Banksy, who was playing fast and loose with other people's IPs. 
One of the reasons why graffiti has massive appeal is that anyone can do it. It's subversive and it's quick. All you need is a spray can, access to a phone to generate PR and you can start making money. There are a lot of people in the world who don't have a lot but are looking for a route to success. Graffiti gives hope to these people. I'm always looking for the next new thing and new talents. 
How is anonymous street art a tricky element within intellectual property and copyright, especially given Banksy's "Attention All Shoplifters" post? Can it "go wrong," for want of a better phrase? 
I don't think this has been tricky at all. Unauthorized street art and the creation of graffiti is a criminal offense worldwide, and U.K. Photography and Public Domain law enable us to commercially use our images.  
It's not even a new concept. Walt Disney built an empire on the strength of public domain law, releasing 50 films and associated merch. Our Brandalised offer has been triple-checked by the best IP lawyers in the world and there is a very good reason why we do not receive any official legal communications: we have the rights. It's as simple as that.  
The only thing that can "go wrong" is getting global publicity because Little Timmy from Vandals'R'Us starts howling to his friends that "it's not fair!!" In my view, the most effective PR agency in the world couldn't achieve this level of international media attention even if they tried. This amazing capsule we've done with GUESS has become global news and, dare I say, art history. How often do people get the chance to wear something affordable that made global headlines? 
It's important for licensees to remember that Brandalised isn't a normal license like "Sonic the Hedgehog" or "Avengers." We have Banksy's graffiti ... the reason why we're it's successful is because it's edgy, it's newsworthy and the world loves a rebel. Banksy loves to buck the system, and disruption is his USP. That's why it always makes great, global news. Once people realize this is all just a game, every new development that pops up makes you smile and nod knowingly. 
As a licensing partner, GUESS has been great. Rightly, they do not consider people who make false and dishonest claims on social media. They remain fully committed to our licensing collaboration, continuing to sell our range across all their channels. The small minority of people who moaned on social media is a tiny group whose outputs can be very easily managed – we help with that. The public majority approves of what we do, catering to the global Banksy fandom and doing it well.  
As a final note, it's difficult to take someone seriously when they have built a career appropriating other people's artworks and making statements that he doesn't need permission. The media love to report on stuff like this. 
How can you get branding in street art right for all parties involved, from the artist to the consumer? 
We do our very best to get everything right. We don't adjust or change the message of the graffiti and we don't deal with high-value auction houses. We make purely make affordable products for fans, and there are millions of fans. What the public doesn't know is that we have offered royalties to Banksy many times over the last decade, but our offers have never been accepted.  
Why is street art a more powerful form of art in the eye of the consumer? We imagine the demand for street art goods takes up a good proportion within the art and design licensing category. 
The demand for street art goods is phenomenally high. Banksy's graffiti has appeal on a global basis because it belongs to young people. It's something that their parents didn't have. They've got their scene. By its very nature, it can be applied to anything. Graffiti gives people who have nothing hope. Hope is the one thing that every young person should have. Brandalised is a cherry-picked collection of street vandalism, packaged as a product and branded under a trademark. 
What new projects do you have on the board, and what new deals are you particularly excited about? 
Wow, where do I start? We've got so much stuff: golfing bags and clubs, snowboards, sneakers and NFTs. We're currently in discussion with two major drink companies too, but that deal isn't closed yet. The drink cans and point-of-sale materials are stunning. Rat and Paintbrush flavor, anybody? We are one of the most exciting licensable properties in the world and we're the gift that keeps on giving because it'll always be in the news. 
Read more about:
Subscribe and receive the latest news from the industry.
Join 62,000+ members. Yes, it's completely free.
You May Also Like
Loading..