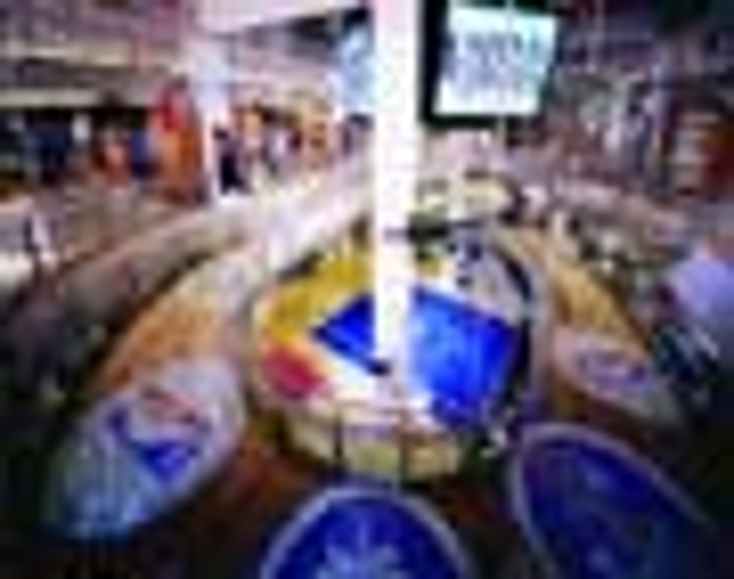 ]>Merchants will troll Licensing 2002 International aisles for new licensing activity stemming from TV, movies, Japanese anime, and music.
It's been two years since Pokemon mania hit, but the hunt continues for the "next" blockbuster entertainment property that can translate into mega sales of licensed merchandise. Retailers who spoke with License! are hoping to find the golden egg at the upcoming Licensing 2002 International Show.
Decision makers from chains such as Big Lots, Blockbuster, Dave & Buster's, Sears, Musicland, and Spencer Gifts are some of the merchants who will be shopping the show floor for properties of all kinds. However, most admit their radars are set to discern new activity stemming from the likes of television, movies, Japanese anime, and music.Entertainment BoundA prime example of an entertainment seeker is Charmaine Barton, buyer of licensed merchandise for 3,500 Blockbuster video rental stores. Currently, great-selling licensed merchandise at Blockbuster includes product inspired by SpongeBob SquarePants (Nickelodeon), Ice Age (Fox L&M), Scooby-Doo (Warner Bros.), Disney-inspired merchandise, and non-entertainment property Hello Kitty (Sanrio). "I'll be looking at the studios and the agents for TV and video properties," says Barton. "We look to support our core business, which is rental video."
Most
of Blockbuster's merchandise is exclusive to the chain, via product features or packaging. But its best-selling items tend to be inspired by properties that co-exist in the apparel category at other retailers. For example, it may carry exclusive Hello Kitty goods, but the Japanese property's softline merchandise success at Target has helped brighten Blockbuster's Hello Kitty experience.
For Dallas-based Dave & Buster's, an entertainment venue in itself, finding new product inspired by fun TV and movie characters is job one. The 31-unit, restaurant/bar/interactive gaming center chain currently carries licensed product such as SpongeBob backpacks; Scooby-Doo bobbles, playground balls, and plush; Coca-Cola items including coin banks and volleyballs; and M&M (Masterfoods USA) plush, which does very well for the chain, says merchandise buyer Keitha McBride. At the show, McBride will be paying close attention to several entertainment-related properties that have multigenerational appeal, such as Scooby-Doo and Spider-Man (Sony and Marvel).
Because entertainment is "at the forefront of my shoppers' minds," it also must be top-of-mind for Diana Hutchinson, senior buyer, apparel for ladies', men's, and children's for Big Lots, the nation's largest broadline closeout retailer, which operates more than 1,300 stores under names such as Big Lots, MacFrugal's, and Pic 'N' Save. "I need to know about the properties that are still hot, and I need to be cautious about the ones that may be dying," she says. "I also am there to learn more about who is doing what licenses for what genders."
Sears will be looking for "any new licenses we can wrap our arms around, that have synergy across all categories, including playwear, sleepwear, accessories, toys etc.," says Marc Satriano, divisional merchandise manager, children's apparel, toys, and furniture. "We also will look at opportunities with existing licenses to see if they have future potential."
Minneapolis-based Musicland, the 1,300-plus-unit subsidiary of Best Buy, naturally seeks properties to complement its core merchandise of prerecorded entertainment products. However, Director of Licensing Betty Lyke, who buys for Musicland/Sam Goody, Media Play, and Suncoast stores, specifically craves new music and Japanese anime properties. "The show is great for movie and TV properties, but it's harder to make a music deal [at the venue]. Signatures Network and Bravado are there, but I'd like to see more sources, such as The Stronghold Group and The Firm. Same for anime -Pioneer and Funimation are there, but I want to visit more people with anime rights."
Peace and Quiet
For some retailers, the show lacks nothing more than a good quiet meeting space. "June licensing week is a great opportunity to meet with licensors at the senior and mid-management [level]," says Beth Schlansky, vice president, licensing, for 800-plus-store group Spencer Gifts. "But what's missing is convenient spaces for retailers to meet with small and new licensors, as well as licensees."
Blockbuster's Barton suggests an on-site-only space for all film-related properties. "It would be less time constraining if we didn't need to leave Javits to visit some studios off-site. Javits was exciting last year, with the Butt Ugly Martians booth being so festive, Universal with its Tarot cards, WWF looking like a wrestling ring…and all the visual treatments that make licenses pop."
Subscribe and receive the latest news from the industry.
Join 62,000+ members. Yes, it's completely free.
You May Also Like
Loading..