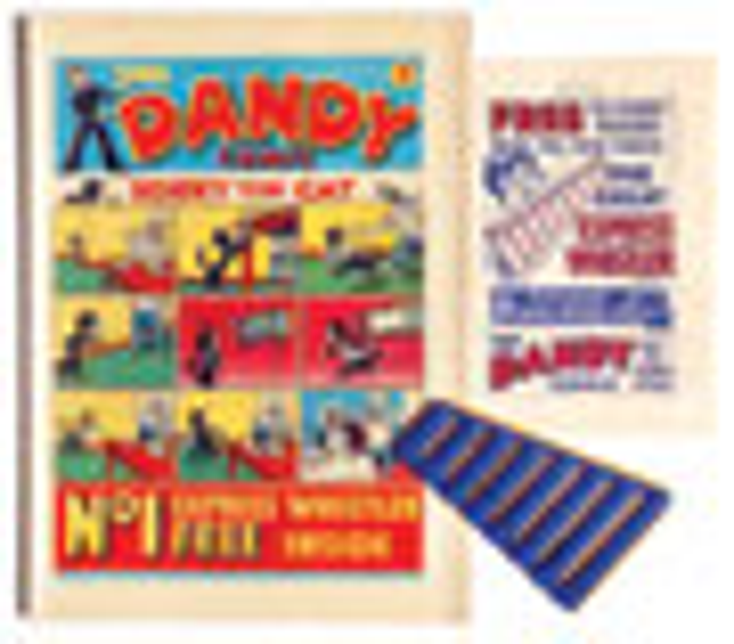 ]>Three months ago, we wrote: 'forget retro, think vintage'. Since then the appetite for vintage character art has blossomed and entertainment companies are leading the way.
Today you can buy a Dolce and Gabbana vintage Mickey Mouse t-shirt for the same price as a washing machine. And next year Duffer will launch a line of clothing based on film titles such as E.T. and American Grafitti. With the past as inspiration, licensees, particularly top fashion labels, seem to be using licensing to have a ball. Things started off with Viacom and Mighty Fine's inspired campaign in which Hello Kitty starred in Breakfast at Tiffany's for a US fashion line. Since then Sony, Marvel, Universal and Fox have brought their vintage characters to the fore.
Universal Studios was built on the success of monsters such as Frankenstein, Dracula, Creature of the Black Lagoon and Wolf Man and, until now, there hasn't been a focused licensing programme dedicated to these stalwarts. But now they have their own style
guide and logo. and will be marketed under a collective brand 'Universal Studios Monsters.' MD Steve Manners makes the point that many of these characters were not well described in their original written stories so each of their looks (such as Frankenstein with the bolt through his head) was created by Universal for the films. It is therefore proprietory.
Some of the products will be targeted at speciality retail for collectors, adults and fans. But others will appeal more broadly to kids. Steve says, ''We knew there was an opportunity with retro films such as Scarface, which is popular in the mass market right now. But we also knew there were non-mass market opportunities - just think of the example of Simpsons and Iceberg.'
An important lead has been the re-release of the classic movies in a DVD collection called The Legacy Collection, but Steve perceives a disconnection between consumers of the DVDs and products. 'Children all know the monsters and have their own visions of the look, but not many would want to sit through the whole 1930s film library.' The new style guide shows moody treatments, gothic styling, rich colour and both illustrative and photographic imagery of the actors from the original films.
European licensees for the monsters include Ryebypost (film cells), Pyramid Posters, Slow Dazzle (calendars), The Original Group (neon signs), IGT (dressing up), Dreamcatcher (video game) and VMC (Accessories).
Sony re-introduced its vintage anime character, Astro Boy, as a new animated series last year. Now it has a style guide and licensing programme for an even older character called Mighty Atom, which dates from the 1950s and is therefore perfectly placed to capture that decade's current popularity. There are three lines licensed in Europe by CPLG; Retro Rockets, Electric Era and Vintage Voltage. Designers are urged to distress and age the products they are developing and to use muted tones with splashes of colour to achieve a sun-faded look, like old newsprint.
20th Century Fox has also entered the fray with its 'Fox Classics' licensing programme. This is based on artwork from the golden era of movies and will give licensees access to faces and names such as Lauren Bacall and Marilyn Monroe. The first fashion and accessories products are already at retail in the US. Fox hopes to launch similar lifestyle products in Europe.
Comic book publishers, D C Thomson, run two distinct programmes for licensing for its famous comic titles The Beano and The Dandy. Children's products continue to appeal to a wide audience of modern children. But a strong second strand of licensing is emerging to appeal to collectors and to adults attracted to the vintage style. Licensees include Robert Harrop for collectible figures, Corgi for replica vehicles and Fine Digital Print for canvas prints of classic vintage comic covers. Recently, Marvel unveiled its vintage programme at a presentation in London. Marvel has an archive of millions of images that is being added to every day. Marvel's Bruno Maglione says the vintage strand is a 'no brainer,' but that no-one had identified it until recently. 'We have an enormous archive but it had never been packaged up to make it easy for consumer products people to use.' Fashion will be a strong element for this strand and since its launch in New York in June the fashion chain Zara has used the material in its stores worldwide with H & M and Hugo Boss also taking it on board, Boss using the cult classic The Silver Surfer. Marvel's characters will also extend to household goods (toasters and mixers, for example), adult stationery and kitchen apparel. The vintage look appeals strongly to designers and retailers. Bruno says, 'designers grew up with the imagery. Those characters keep appearing again in big-budget movies and something that was a personal remembrance is now a mainstream brand.' What the vintage lines do, however, is allow these fans to have products bearing the characters as they remember them. Which is why Marvel's strap line is 'That's My Marvel'. In all these cases, licensing vintage imagery is unlikely to create the small fortunes that a mass-market programme might with toys or food. But what's special is that it will penetrate new markets, it makes great PR and it appeals to teens and tweens embracing the retro look. As Bruno says, 'the business is incremental.'
Subscribe and receive the latest news from the industry.
Join 62,000+ members. Yes, it's completely free.
You May Also Like
Loading..