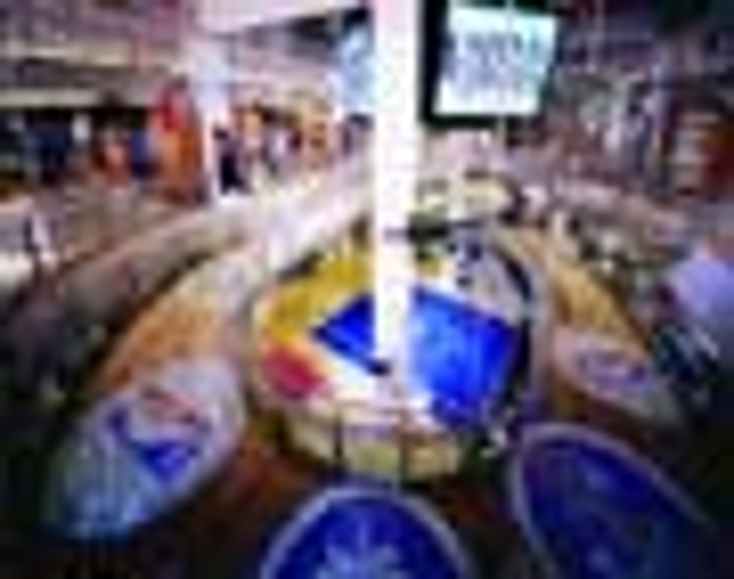 ]>Art licensors set their sights on new, nontraditional product categories.
In a growing art market, art licensors are brainstorming for product opportunities in nontraditional categories, including uniforms, tissues, and wedding toppers. Several benefits are involved: Mature art brands access new channels of distribution; manufacturers increase their appeal to consumers loyal to the artist; and retailers can offer a "new twist" on well-loved consumer brands.
Uniform Spirit Cherokee Uniforms, a manufacturer of medical uniforms, recently signed a license with Art Makers International to feature the Morehead characters on medical scrubs. "We chose Morehead because we loved the children depicted, the art style, and the colorations," says Mike Singer, president and CEO of Cherokee Uniforms, Pocima, CA. "Our uniforms should make our customers look great and feel comfortable. [They] often make patients laugh or smile, and help them to feel at ease in a potentially stressful environment.
"Art on
medical uniforms provides artists the chance to make a difference in people's lives," he continues. "Although this is a 'smaller,' extremely price-sensitive market relative to other licensed categories, the exposure is tremendous. Our customers are walking billboards that interact with many patients."
Mary Engelbreit, an art-based brand with 2001 retail sales estimated at $110 million, is courting licensing opportunities in new product categories that reflect the lifestyles of her target demographic. ME Studios recently signed a license with Teacher Created Materials, Westminster, CA, for a line of decorative and book product incorporating Engelbreit's artwork and inspirational messages, to be marketed directly to teachers and teacher supply stores.
"Twenty percent of Mary Engelbreit fans are in what we consider to be the helping profession, including teachers, nurses, and counselors," says Claudia Reed, director, marketing, Mary Engelbreit Studios, St. Louis, MO. Product will include notepads, bulletin boards, postcards for parents, decorative borders, and teacher management books (suggested retails, $4 to $20). This is the first art license for Teacher Created Materials. "There is a lot of sameness in the [teaching products] market," notes Rich Levitt, chief operating officer at Teacher Created Materials. "We thought our teachers would want to see something different. Also, many Engelbreit sayings and artwork relate well to a teacher being 'in charge' of a classroom of students." Previous licensing relationships at Teacher Created Materials include Time for Kids, and an Olympics co-publishing license with Griffen Publishing.
Sweet Stuff
Even more nontraditional is ME Studios' recent licensing deal with Sweet Wrapsody, the exclusive custom wrapper for the Nestle brand, to create overwrappers featuring Engelbreit's artwork on 3.5-ounce Nestle Crunch bars. The first line of overwrapped bars will feature cover art from Engelbreit's illustrated edition of Clement C. Moore's "The Night Before Christmas," published by Harper Collins Children's Books. Both products will be launched simultaneously at retail in October 2002 (the ME book retails at $16.99, and the Nestle Crunch bar at $3.25 each). The bars will retail at gift and specialty shops and bookstores nationwide and will be merchandised alongside the book where possible. "The Mary Engelbreit license takes the Nestle bar, already established in commercial markets, to a different level as a gift or social expression," says Beth MacChesney, president and founder of Sweet Wrapsody, Lexington, KY. This is Sweet Wrapsody's first licensing agreement. The company began after MacChesney sent custom-wrapped Nestle candy bars to friends announcing the birth of her daughter. She later approached Nestle SA for permission to custom wrap Nestle Crunch bars and print and distribute Nestle Crunch look-alike wrappers. She then began creating custom-wrapped bars for promotions at corporate events, trade shows, and announcements featuring popular icons.
Sweet Wrapsody recently signed its second license for over-wrappers featuring undersea and wildlife artist Schim Schimmel (represented by Art Impressions). MacChesney plans to target gift shops in zoos, aquariums, and museums, along with specialty and mass retailers. Schimmel's licensees include Hasbro for puzzles, Mead for school supplies, and greeting cards and journals by Leanin' Tree. MacChesney is courting additional licensing opportunities with sports, kids, teens, and girl brands.
Going forward, ME Studios is exploring licensing opportunities for medical uniforms and other products that focus on life in hospitals, home décor, additional children's books, children's apparel, infant sleepwear, and more direct-response opportunities, including catalogs, and continuity programs. On the promotions side, ME Studios and Binney & Smith are partnering to merchandise Crayola tins filled with crayons and decorated with a Mary Engelbreit teaching image. The tins will be available this fall at drug, craft, and grocery stores, and major retailers where Crayola products are sold. In addition, the flagship store of Filenes in Boston will highlight five blocks of Engelbreit product in its Christmas holiday window display.
Paperwork
Going beyond stationery, ceramacist/artist Marco Fabiano (represented by Art In Motion) recently signed a license with Paper Products Design to feature his art on Sniff tissues and paper napkins. Fabiano's tile work is characterized by a fascination with Mediterranean images and ancient cultures. Other licensees include Antique Reflections for wood benches, clocks, and door boards; and Hindostone for coasters. Categories available for licensing include dinnerware, kitchen accessories, and textiles. Going forward, Art In Motion, which represents some 150 artists, is looking to expand its licensing initiatives in the home, plus nontraditional categories such as cell phone covers, eyeglass cases, and eyeglass cleaning cloths.
Wedding Diversity
On the matrimonial front, Jamie Lynn, Chicago, IL, a manufacturer of wedding decorations and accessories, recently renewed its partnership with artist Ty Wilson (Alaska Momma) to create resin or porcelain wedding toppers modeled after the Hispanic and African-American personalities depicted in his artwork. "We've had strong responses from our customers," say Steven Kahn, vice president of Jamie Lynn. "Previously, selections for ethnic consumers were very poor. With Ty's art, we are using something that initially was created with ethnicity in mind, instead of just repainting an image."
Wilson and Jamie Lynn currently are working on a line of larger figurines to be placed next to the cake. These figures will be approximately seven inches high, with an interlocking fit that allows consumers to select (separately) the ethnicity of the bride and groom, whether Caucasian; African-American; Hispanic; and now, for the first time, Asian. Other licensees at Jamie Lynn include Precious Moments, Kim Anderson, and Dreamsicles.
Subscribe and receive the latest news from the industry.
Join 62,000+ members. Yes, it's completely free.
You May Also Like
Loading..