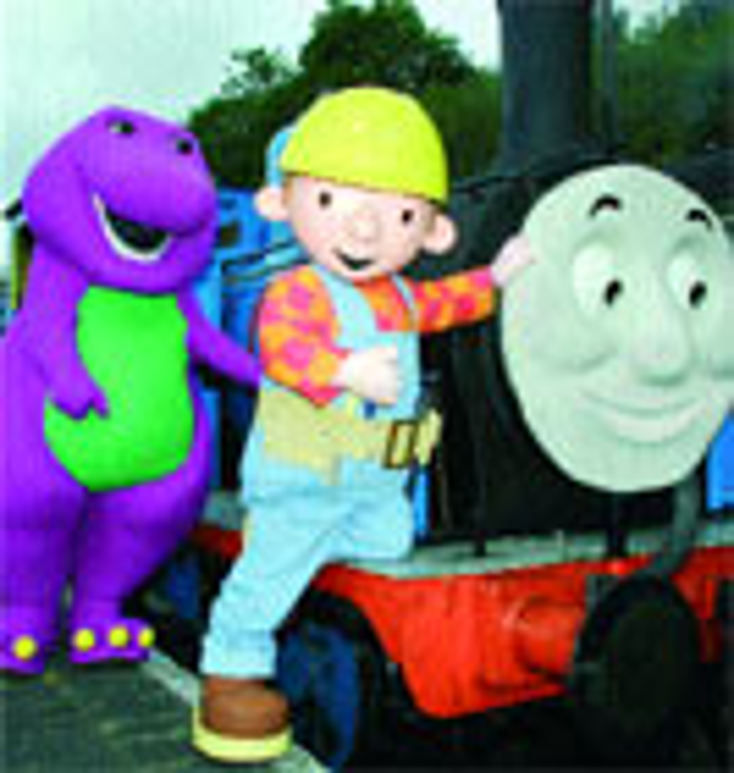 ]>MIPTV showcases new properties and offers fresh takes on existing programming that promise to offer licensing punch. Content providers are rising to the challenge of shrinking broadcast and retail space in local and international markets. Key strategies include acquiring rights to properties with demonstrated success, including book properties that target preschool audiences or have been successful in Asia as comics or video, plus an increased focus on DVD as an outlet for original content. That said, MIPTV 2003, to be held this month in Cannes, France, will showcase new properties and offer fresh takes on existing programming that promise to offer licensing punch.
"Retailers are cutting back on the number of vendors, but I believe the cream will rise to the top," says Kenn Viselman, founder of Kenn Viselman Presents. "If you have something unique and interesting, broadcasters will find your product."The challenge in the preschool area especially is that there is not a lot of places to
expose new content, explains Warren Kornblum, chief marketing officer at Toys "R" Us retail stores. "Domestically, you may see a lot more properties going direct to video and DVD." "Before, studios worked more with licensees toward the retail end. We now work closely with our retail partners to conceive strategies," says Kathleen Hricik, executive vice president, international program enterprises for MTV Networks. "Retailers even indicate they are interested [in a property] long before the manufacturer approaches us for a license. But we don't make plans to license until we know the property has resonated with children."As a retailer, Toys "R" Us welcomes dialogue with broadcasters and cablecasters to build blocks of appropriate content, says Kornblum. "We have an acute understanding of the kids' and family market and the common goal of trying to expose great content for kids. Toys "R" Us has always attended MIP. We believe earlier retail involvement in the development process gives us a better opportunity to bring intellectual properties to life."
"At 4Kids, we focus on shows that have proven themselves," says Al Kahn, chairman and CEO of 4Kids Entertainment, which recently purchased the Saturday morning Fox Box block. Immediate plans include launching a girl's programming block that will be separate from the Fox Box. "While not all shows will lend themselves to licensing at first, there are always spinoffs when a show does well, and licensing often follows." Here, a preview of programs and licensing opportunities that can be found at MIP:
Bardel Entertainment:
The studio will unveil Silverwing, an animated series based on Kenneth Oppel's children's books (currently sold internationally and in the U.S). The story follows the epic adventures of a young teenage bat. The first 13 episodes will air in fall 2003, and an additional 13 are in development. Bardel holds all worldwide rights and seeks licensing and merchandising partners.
Cinar Entertainment:
Immediate plans for Caillou include expanding the series into the European market with broadcast relationships in Germany, France, and Spain. Meanwhile, Warner Home Video and Sony Music Canada recently announced plans for a full-length Caillou movie for direct-to-video release on VHS and DVD. The Caillou movie allows for a longer format plus value-added content ranging from games to additional language components, explains Louis Fournier, head of distribution for Cinar Entertainment. Cinar also seeks to bring Mona the Vampire to the U.S. with television and subsequent brand extensions via licensing (13 new episodes are currently in development). Meanwhile, Cinar expands the merchandising program in Canada for Zoboomafoo (PBS Kids series) with apparel licensees for footwear (Black and White) and fashion accessories (Romeo and Juliette).
Discovery Communications:
The studio will focus on health and travel aspects of the umbrella Discovery brand. Negotiations are under way for licensing the Discovery brand in key categories such as travel/outdoor gear from sleeping tents to telescopes and footwear, says Kenton Selvey, vice president of international licensing for Discovery Strategic Partnerships. DVD titles such as James Cameron's Expedition: Bismarck saw strong success at retail this past year. With more than 30 DVD distributors in 80-plus countries, Discovery will focus on expanding creative content and selling new product titles internationally.
4Kids Entertainment:
A fresh Teenage Mutant Ninja Turtles animated series launched in the U.S last month. Up next is expanding broadcast distribution in international markets, says Kahn. The latest addition to the Fox Box children's block is The Cramp Twins (produced by TV Loonland), now the No. 1 rated series among 4- to 15-year-olds in the UK. 4Kids also owns exclusive merchandising rights in some territories.
HIT Entertainment:
New series and specials are in focus for key properties including Bob the Builder, Thomas and Friends, Barney, Pingu, and Angelina Ballerina. This spring, Barney will premiere in Germany on Super RTL with an additional 20 new episodes in September. Super RTL currently airs Bob the Builder. The studio is looking to expand distribution for the Rubbadubbers preschool series beyond territories such as the U.S., UK, Germany, and Australia. Meanwhile, the first Bob the Builder live show comes to the U.S. this year and is scheduled to last two years and include 90 cities.
Kenn Viselman Presents:
HarperCollins signs on Li'l Pet Hospital for a series of book titles scheduled to debut in May. The property launched in the U.S. last year as a plush line in FAO Schwarz stores and is currently available in retailers nationwide. Li'l Pet Hospital plush will see exposure in Latin America, France, Germany, UK, and Scandinavia via a variety of retailers, says Viselman. The studio is focused on bringing the series to television next year and will present the concept to broadcasters at MIP.
MTV Networks International:
With the success of SpongeBob SquarePants on air and at retail (SpongeBob merchandise soaked up in excess of $600 million at retail last year), Nickelodeon will launch an international licensing program for the series, beginning with the UK. SpongeBob currently airs in international markets such as France, UK, Mexico, and Australia. The program will be managed in-house. Product will focus initially on older markets such as college-age kids and ultimately filter down to younger audiences, according to Hricik of MTV Networks International. "Overall, we are using a country-by-country approach to understand what will work for that local culture," she adds. Also in focus is Yakitty Yak, a newly created animated series co-produced with Australia's Kapow Pictures and Canada's Studio B Productions. MTV Networks currently holds all international distribution and merchandising rights except in Canada and Australia. Additional territories with third-party broadcasters are in view for Dora the Explorer, which debuted internationally last year.
Nelvana:
Now in the final stages of the first cycle of 50 Beyblade episodes, Nelvana enters into the second phase of programming with new broadcast partners for South Africa, Hungary, and Poland, in addition to existing partners in the U.S. and UK. The Beyblade series debuted on VHS and DVD last December in the UK (in partnership with Contender Entertainment Group), selling more than 11,500 copies in a single week.
Nelvana's Sid Kaufman, executive vice president, worldwide licensing and merchandising, says the next step is to expand the merchandising program in specific markets with interactive, publishing, apparel, music, and fast-food-related partnerships. Hasbro is the current master toy licensee. Also on the agenda is to bring the Beyblade spinning top tournament, currently a fever in Japan, to local markets in partnership with broadcasters and licensees. Among new properties at Nelvana is Little Miss Spider, a series based on author David Kirk's adventures of a lively spider and her family. More than 4 million books are currently in print, and a Miss Spider special (Miss Spider's Sunny Patch Kids) will air on Nickelodeon (U.S.) this month. The characters have made their way to Target retail stores, where they currently are featured on apparel and room accessories for preschoolers.
Ragdoll:
The Teletubbies Everywhere series launched in the U.S. on PBS this year alongside a master toy license with Play Along Toys. Also in focus is Brum, which debuted on TLC last month. Ragdoll's David Levine, vice president, corporate and business affairs, says the studio's newly created series, Boohbah, which debuts on UK Television this Easter, is generating much interest from broadcasters in the U.S. and international markets. The series is said to have more computer graphics than other previous Ragdoll productions.
Sesame Workshop:
The Workshop continues to presell Out There (formerly known as Two Down Under), its newest live-action series for 'tweens. The series debuts this month on CBBC in the UK, and currently airs on Australian broadcaster ABC TV. It will debut in the spring on Noggin, the 24-hour kids' educational network from Nickelodeon and Sesame Workskop, in the U.S. Merchandising ideas include video and sound track initiatives and publishing, says Martha Van Gelder, group vice president, Sesame Workshop. Also in focus for international markets is the new Play with Sesame half-hour formats and Elmo's World, a short 15-minute series now airing in the UK on Channel 5. Fisher-Price will create specific Elmo's World toys. The Workshop is in the process of closing a broadcast deal in Europe for Sagwa, The Chinese Siamese Cat. In China, Sesame Workshop and Warner Bros. are partnering to develop and distribute television, print, video, interactive, and related merchandise for Zhina Jie, the Chinese version of Sesame Street, over an initial period of five years. Both partners are seeking local and international broadcast partners to support the three new seasons (a total of 195 episodes).
Sho Pro Entertainment:
Formerly ShoPro USA, the studio's new name reflects its focus as an entertainment company and its business relationships in international markets such as Canada, Europe, and Latin America. In addition to Hamtaro (introduced to the U.S. market last year with 58 licensees to date), the newest lineup of properties includes Japanese programs Mirmo Zibang; Megaman: NT Warrior, which comes to U.S. networks this summer on Kids WB; and Croket, a boy action adventure series based on a Japanese comic.
Subscribe and receive the latest news from the industry.
Join 62,000+ members. Yes, it's completely free.
You May Also Like
Loading..