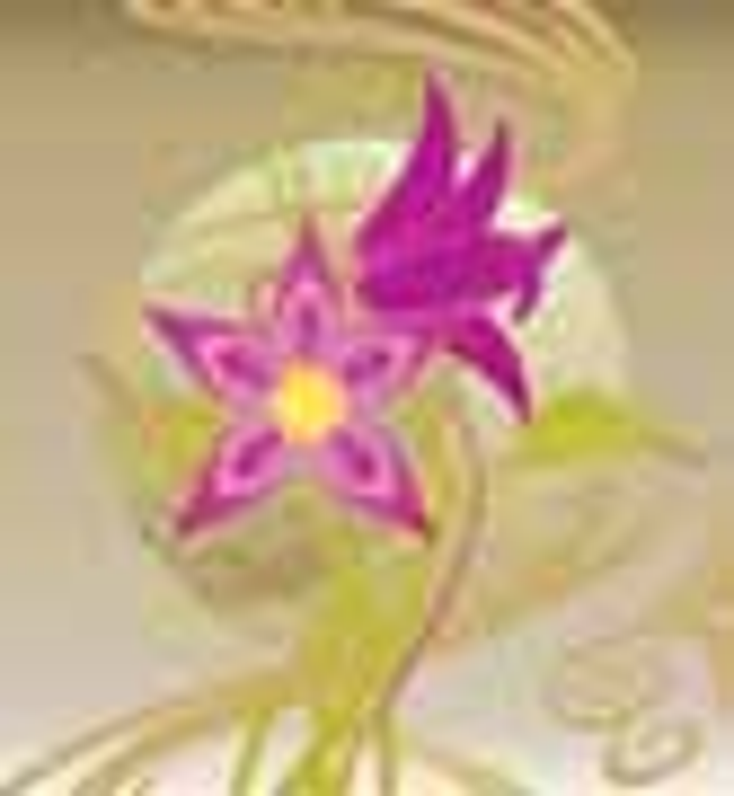 ]>
With clear strategic goals in mind, a little more than a year ago, Warner Bros. Consumer Products (WBCP) created a team dedicated to the efforts of Warner Bros. Television, Warner Bros. Animation, and Cartoon Network. Heading up the group is former Disney exec Maryellen Zarakas, appointed to the position of vice president and general manager, Television and Studio Licensing, reporting to Karen McTier, executive vice president, Domestic Licensing, Global Toys, Publishing, and Themed Entertainment, WBCP
(License!
reported this story in September 2003). Beyond a bottom-line, revenue-generating move, the creation of a new dedicated TV Licensing department shined a brighter spotlight on Warner Bros.' Entertainment's commitment to its TV properties with an aim to foster ongoing communication at the earliest stages of creative development among WBCP executives, WB Animation, and Cartoon Network, much like that of WBCP and Warner Bros. Pictures for its theatrical lineup.
Needless to say, with
24-hour-a-day programming targeting demographics from children to adult, the shift was a smart one. One need only consider Warner Bros.'
Scooby-Doo
franchise or Cartoon Network's
The Powerpuff Girls
to gauge television and consumer products success. Warner Bros. TV properties ripe for licensing and merchandising don't end there as Warner Bros.' lineup of shows (airing on The WB!, Kids' WB!, or Cartoon Network) range from
The Batman
to
Hi Hi Puffy AmiYumi
to
Krypto the Superdog
(coming in spring 2005) to
The OC
and
Codename: Kids Next Door
(for a full list of shows and networks).
License!
wanted to check the pulse of the TV Licensing division, and its merchandising tactics for its current lineup. In addition,
License!
set its sights on what to expect from WBCP TV Licensing in 2005, and how it is working synergistically with WB Animation and its president, Sander Schwartz. In this exclusive interview, McTier, Zarakas, and Schwartz explain just how they aim to turn TV channels together without compromising each other's commercial goals or creative integrity, timing of merchandise in store, unique merchandising tactics already applied and forthcoming, and what merchandising is on tap for a variety of successful boys' and girls' TV properties. Strategies for SuccessAccording to McTier, the group's original intent was to focus on developing merchandisable TV properties, drive awareness and revenue, and balance the WBCP portfolio. "In the past, Warner Bros. Consumer Products was working with WB Animation more on franchise properties such as
Justice League
and
Batman
. Organically integrating animated television properties with Consumer Products began formally with the arrival of Maryellen [Zarakas]," says McTier. Although Zarakas only has been on the job since May 2003, thus far, "it's been really successful. We've been able to strategically focus on all opportunities and decide what our priorities should be for individual TV properties and the television licensing division. Our portfolio now is more well-balanced, more in sync with the market, and we are building revenues," continues McTier. Adds Zarakas, "The TV Licensing division is unique in that it handles product development, property development, marketing, and retail development."
Bridging the gap between creative capabilities and commercialism is no easy feat, but McTier, Zarakas, and Schwartz all say you must maintain "mutual respect," and the ultimate goal is to "create quality shows." The partnership and collaboration between WBCP, WB Television, WB Animation, and Cartoon Network has resulted in a "win-win" situation for all parties, with each being "open and supportive" of the TV Licensing group and its initiatives and vice versa. "We appreciate the help and support of Consumer Products, as there are plenty of opportunities coming from Animation," says Schwartz.
Much like theatrical, WBCP is working with executives from TV and Animation "prior to properties being greenlit," explains Zarakas. "We sit in on pitch meetings and gauge, from our perspective, what will be most merchandisable. In addition, we are able to make suggestions based on needs in the marketplace—more preschool, more girls' properties, for example—and they are open to hearing those suggestions."
Those suggestions already are paying off. When WBCP considered the success of Cartoon Network's
The Powerpuff Girls
, it was in search of another "great girls' property," says McTier. Enter
Hi Hi Puffy AmiYumi.
"We were thrilled when they introduced us to
Hi Hi Puffy AmiYumi
. It is a rich girls' property that is clearly fashion and trend driven. And, it was beneficial to work on the show very early in its development." Another "win-win" example lies in the development of merchandise utilizing Mattel's VEIL technology for
The Batman
. "We worked with WB Animation to launch this breakthrough technology before Christmas," says McTier, noting it was too early to tell (at press time) how the merchandise did at retail, but the launch received positive consumer and trade press. Schwartz agrees,
"The Batman
utilizes some of the world's best state-of-the-art animation. With VEIL technology, we were able to introduce an array of weapons and gadgets to enhance the experience for the viewer both on screen and outside of the screen." Both Schwartz and McTier say the collaboration prompted "unique, cutting-edge, and fresh" merchandise for retail.
Launching Pad
The execution of a licensing and merchandising program around out-of-the-gate TV programming is a wait-and-see proposition, to some extent. What aids Consumer Products in its merchandise strategy execution is being in on the ground floor of new programming. However, both McTier and Zarakas stress there's "no set formula for launching a TV-based consumer products program. Each TV show must be looked at individually." Some of the factors involved in gauging a program include: viewer awareness and recognition of a property, origin of the TV program (is it book-based?, for example), target audience ("sweet spots" of who ultimately will buy the consumer products), and air time (on air once a week versus five days a week). An exception to the no-set-formula rule, according to McTier, was
The Batman
, as merchandise rolled out day and date with the show. "
The Batman
is a franchise property with incredible awareness. Product sold through immediately even though kids weren't familiar with the new show."
Familiarity was top of mind for
License!
when we asked about drawing upon licensees WBCP already utilizes for franchise and theatrical properties. "We do not have a bundling philosophy," McTier says. But having a wealth of licensees that are experienced within their categories and working with Warner Bros. is helpful, according to Zarakas, who mentions she's also drawn upon new licensees such as KIDdesigns for Cartoon Network's
Codename: Kids Next Door
.
Asked about whether retailers prefer the longevity of a TV property versus a theatrical release, McTier cites
Batman
as a classic long-life example, when you consider its comic book, animation, and movie ties. "All of these elements give
Batman
longevity. Retailers love the idea of
The Batman
TV animation, but movies always create marketing excitement for retailers." For other properties that don't have a movie tie-in, Zarakas notes that once the initial rollout product range has been decided, she and her team must be consistent with a retailer's buying cycle and cognizant of a retailer's plan-o-gram to optimize impact during peak retail time frames in each product category. While this works nationally, internationally, McTier says, "rollout is much more individual by territory." She continues, "We generally provide a template to our international counterparts of how we have structured a program in the U.S., and they then can tailor the foundation internationally."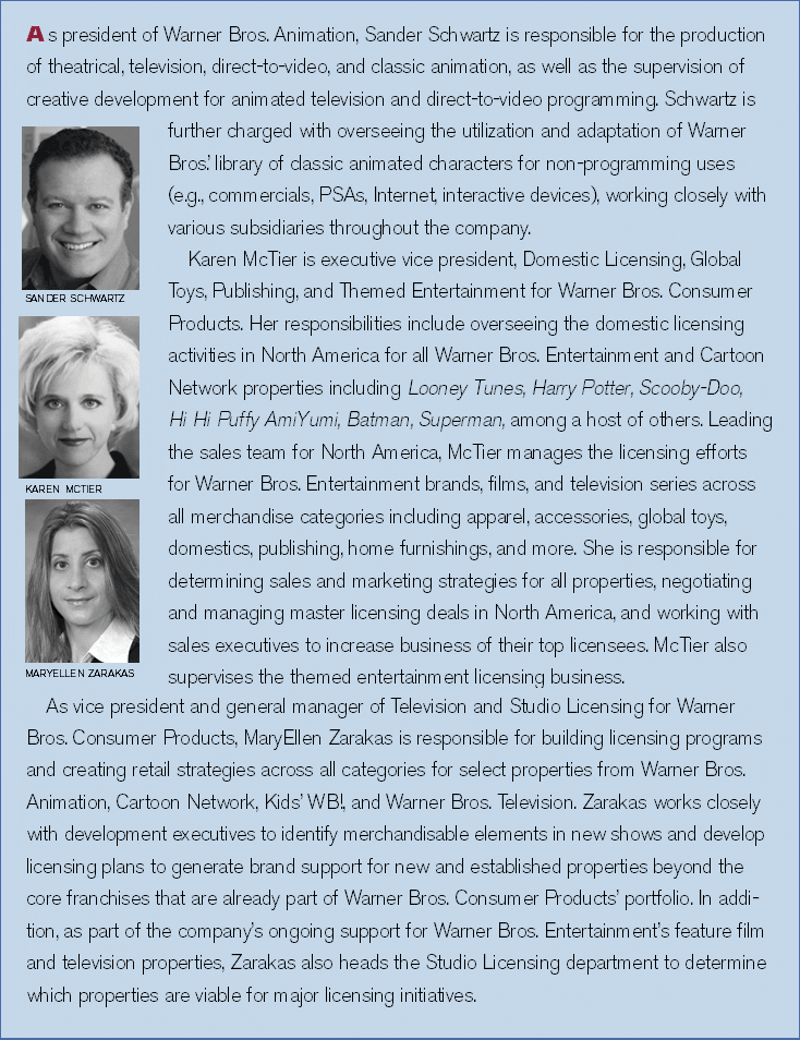 Zarakas' enthusiasm beams for some of the merchandising strategies set in motion for a variety of shows. For WB Animation's series
Teen Titans,
a successful toy program launched exclusively at Toys "R" Us in spring 2004, then expanded into footwear with Payless Shoe Source for holiday. 2005 will see bedding, accessories (headwear, backpacks, etc.), camping and fishing gear, beach and bath, sleepwear, and an expanded apparel program; stationery is in the works for this program targeting ages 5 to 11. This also will be an expansion year in products for
Codename: Kids Next Door
with a softlines and hardlines program for the 5- to 8-year-old sector. A big focus for the program will be on role-play toys, vehicles, and action figures.
Hi Hi Puffy AmiYumi
, a top-performing show for Cartoon Network, will see the rollout of toys, apparel, accessories, home items, stationery, and other categories for fall and holiday 2005, in time for the show's second season launch in early fall. For WB Animation's
Xiaolin Showdown
, trading cards will be on shelves this October, and toys hit retail in spring 2006; product for
Krypto the Superdog
(one of Schwartz' favorites, as is
Baby Looney Tunes
because it was "a brand extension of the
Looney Tunes
franchise and our first foray into the preschool arena.") will roll out in fall 2005. Zarakas also cites live-action TV properties
One Tree Hill, Sex and the City,
and
The OC
as priorities.
Of course,
License!
asked about what's to come from the entities moving forward. Schwartz says it's too soon to tell if
Superman
will be animated in the near future as all eyes are on the feature film coming in 2006, but he hinted to a "strong girls' property" coming out of the Animation division soon. McTier and Zarakas were hush-hush, except to mention the possibility of an announcement at this month's Toy Fair in New York. As always, stay tuned...
Subscribe and receive the latest news from the industry.
Join 62,000+ members. Yes, it's completely free.
You May Also Like
Loading..