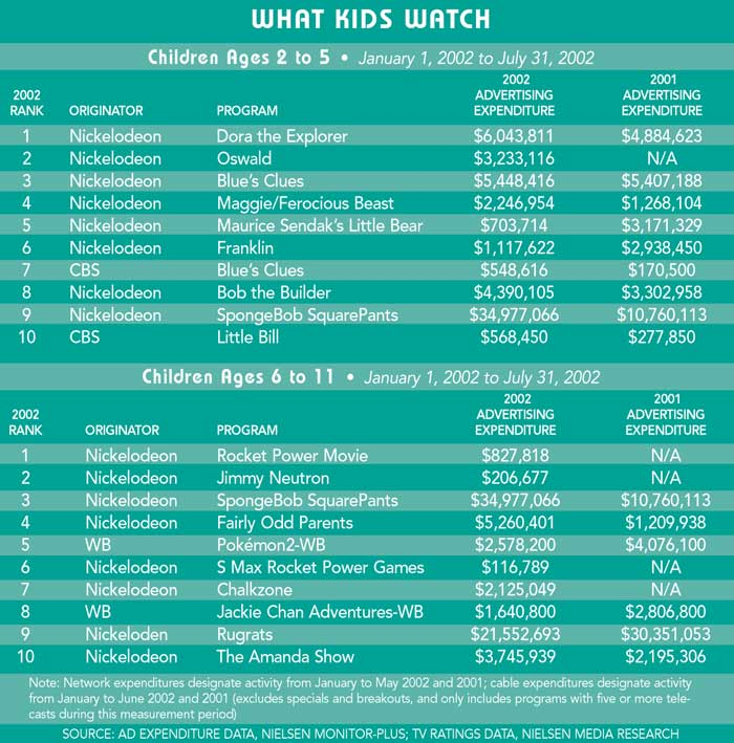 ]>How is the international kids' TV licensing market coping with diminished air time, consolidation, and declining ad revenues? Calling him entrepreneurial and aggressive, TV program developers, licensees, and retailers applaud 4Kids Entertainment's Al Kahn for daring to bid for-and winning-Fox Broadcasting's Saturday morning children's block over the next four years, with the initial launch set for September. But they wonder whether the savvy executive will be able to reap a sufficient return on investment to satisfy hungry shareholders. Similarly, industry experts admit the advantages of HIT Entertainment Plc's recent acquisition of Gullane Entertainment and its blockbuster preschool property, Thomas the Tank Engine. But, they say, properties are cyclical entities, dependent on fickle kids and strong marketing campaigns.Coupled with stagnant advertising revenues, these developments are turning the international kids' TV licensing market into an even bigger gamble, with ramifications for program developers, licensees, and retailers alike. As industry players get set for MIPCOM and MIPCOM Junior in Cannes, France, next month, they must consider how they will be affected by the changes in the market, how they will respond, and what the future will bring.Buying TimeNew York-based 4Kids Entertainment's FoxBox launches September 14, offering a mixture of franchise hits and original programs, including Ultraman Tiga, Ultimate Muscle, Kirby, and Fighting Foodons. "Our problem was that we had signed a lot of properties but didn't know where they were going to air," explains 4Kids Chairman and CEO Al Kahn. "Then the Fox position became available, and we went after it. It's all about controlling retail and broadcast."
That control comes at a cost, though, with 4Kids paying $100 million for the four-year slot. Corus Entertainment's Nelvana, Los Angeles, also bid on the block but bowed out because "we couldn't visualize a return on investment our shareholders would be comfortable with," says Toper Taylor, president, international distribution, marketing, and consumer products. "I'm curious to see how 4Kids can monetize the investment-it needs to find $120 million to $130 million for shareholders over the next four years."
The
success of the gamble depends on the strength of the FoxBox shows, notes Joy Tashjian, president, Joy Tashjian Marketing Group, and vice president, Mainframe Entertainment Group in Los Angeles. "If more than one of the shows in the lineup fails, that costs 4Kids a lot of dollars."
Kahn, however, points to the fact that 4Kids is following its usual tried-and-true strategy of signing boys' action properties that have had success in other places (think Pok/n and Yu-Gi-Oh) and that offer ample licensing opportunities. "Ultimate Muscle is all about wrestling, a popular pastime today," he notes. "Kirby is a popular Nintendo game that has sold millions of units. And Ultraman Tiga has been the No. 1 boys' property in Japan for 30 years."
Matthew Wexler, licensing manager of Spin Master Toys, Toronto, Ontario, terms Kahn a "visionary" who learned a lot from bringing Pok/n to the U.S. from Japan. "Kahn is using shows that have had success in Japan. But how much room is there in the action figure aisle? Will 4Kids programs compete with themselves even though the shows target different age groups? It's the right formula, but I'm not sure the audience here is ready for it."
4Kids has two more options after the fours years of FoxBox, but Kahn says not to ask him what will happen in six years in terms of renewal. As for seeking additional time slots, he admits, "Just because we have our own programming doesn't mean we aren't still looking for additional ways to put programming on-and that might be a cable position."
Whether other entertainment companies will follow 4Kids' lead is a subject of debate, one that largely hinges on the availability of time slots and a program developer's financial wherewithal. Alliance Atlantis currently owns or co-owns 18 specialty channels in Canada and provides content for its channels, but Jennifer Bennett, vice president, merchandising and licensing, says the U.S. is a much different and bigger ballgame, and her company doesn't have any immediate plans to pursue such an approach.
Taylor says Nelvana would look at another block of programming on a global basis, but it would need to have the right level of return on investment. He believes "buying blocks of time on channels is a short-term trend in a down advertising time in a niche business-kids."
Indeed, Stuart Levy, chairman and CEO, Tokyopop, a Los Angeles- and Japan-based distributor of international, character-based entertainment and licenses, thinks there are few broadcasters left from which to buy a block. "I think the more realistic result is that shows will be sponsored, and producers will buy slots, assuming the content meets approval," he says. "That's not entirely different than the old syndication model, but rather more centralized."
Some retailers worry that the diminishing available air time may prevent quality kids programming from getting a slot. "Whether a network or cable broadcaster owns the property, I want to see lots of strong kids programming and exposure to kids," says Toys "R" Us Chief Marketing Officer Warren Kornblum. "There should be enough places for kids and parents to find an intellectual property on the air."
Advertising Doldrums
Cable seems the place to be for kids' programming in recent years (think Nickelodeon and Cartoon Network). In fact, a lot of money has been sapped by cable from regular syndicated networks, according to Charles Day, president, The Sharpe Co., which represents Thunderbirds for London-based Carlton International Media Ltd. Data from Nielsen Media Research show eight of the top 10 shows watched by kids ages 2 to 5 and 6 to 11 are from Nickelodeon (see chart, p. 16). "It's all about dilution," Day says. "Major advertisers on TV traditionally went to limited places to spend their dollars. Now there are so many channels, advertisers have less proportionally to spend on each channel."
Ratings, of course, are a huge part of determining whether a program has merchandising legs, according to Leigh Anne Brodsky, senior vice president, consumer products, Nickelodeon. "If we're hearing from kids that they know and love a show, and want a relationship beyond TV, we know it's time to develop product, usually one to two years after the TV show came out."
Retailers also are eager to work with TV developers, particularly in the early stages of creation. Toys "R" Us' Kornblum is going to MIP this year "because we want to get involved with content providers early in the food chain and see trends. We're starting to build substantive relationships with content providers and may be able to help with character development and music, for example."
Merger Mania
Overall, retailers are pretty bullish about UK-based HIT Entertainment Plc's acquisition of Gullane Entertainment for $198 million, many of them already working with HIT and eager to see how it will manage Gullane's properties. "We work with HIT on an ongoing basis, and the merger allows us to foster a better relationship with it," says Kornblum. "At the end of the day, though, you don't make decisions based on who's managing the property but on the strength of the property."
"We're very selective in terms of the licensed products we carry," agrees Lisa Visco, vice president, merchandising, Learning Express. "Thomas the Tank Engine has been very strong for us. However, while existing Thomas collectors-those who started when they were 2 years old and are now 4-are still in it, we're not seeing new children getting into Thomas-say, the current 2-year-olds-because it's not currently on TV. I'm curious to see if HIT can get Thomas back on TV and in a good time slot. Then I think it will come back."
Spin Master Toys' Wexler questions whether "Thomas the Tank Engine will still be the No. 1 priority, and what will happen to other properties in the Gullane stable." Already working with HIT as the master toy licensee for The Wiggles, he is very interested in the answer to those questions, because the merger "gives Spin Master access to Gullane and its properties."
While both HIT and Gullane declined to comment on the acquisition or upcoming plans for Gullane's properties (claiming details of the deal were still pending and corporate management would not sanction press interviews), most industry watchers do not think the merger will have a negative impact on the industry.
Alliance Atlantis' Bennett says she doesn't think HIT's acquisition will really affect her strategies and plans. "Though I like to keep abreast of what the other teams are doing, I think you find more success when you're more proactive and less reactive."
For PBS, Tracey Beeker, vice president, strategic partnerships, says the acquisition won't affect its licensing strategy because HIT already manages all licensing activity for Barney. She believes "the acquisition can be a positive thing in that two creative businesses are pooling their resources together. With Barney, HIT is looking to grow out the Barney & Friends reformat coming out this fall. Lots of retail activity is going on. Eventually, hopefully, the acquisition will strengthen the retail connections, especially those HIT has with specialty stores."
Clearly, there are more benefits to the bottom line if you can buy a property that has exposure, Mainframe's Tashjian says. "Wall Street isn't interested in brand-new wannabe properties. You need a creative property and the financial wherewithal to promote it. In HIT's case, it got a library with ongoing revenue flow."
Will the consolidation craze continue? It depends on whom you ask. Toys "R" Us' Kornblum says he "doesn't see anyone going crazy on the acquisition trail," while Nelvana's Taylor says he thinks there will be more consolidation on a macro level as a result of shrinking shelf space and fewer retailers and broadcasters.
That means the challenge for TV licensors is how to get their product to be meaningful, Learning Express' Visco says. "It used to be kids only had Sesame Street. Now there are so many more properties to choose from. If you buy the wrong property, it's a big markdown. As a retailer, we're going to go with the one that's the home run."
Subscribe and receive the latest news from the industry.
Join 62,000+ members. Yes, it's completely free.
You May Also Like
Loading..