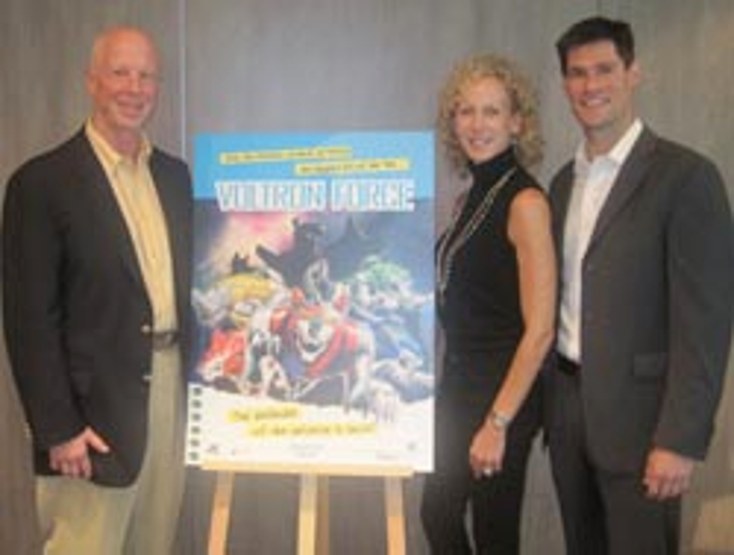 At the start of Mipcom, a slew of entertainment companies, such as MTVNI, Classic Media and Warner Bros., are securing new broadcasters, licensing deals and more.
Here are some highlights from the show in Cannes so far:
MTV Networks International has revealed an expanded catalog, including 5,000 original program hours, an increase of 20 percent in two years. New shows include Comedy Central's comedy-horror animation "Ugly Americans" (sold to the U.K.'s Five, CTV in Canada and SBS in Australia); preschool animation "Team Umizoomi" (acquired by France TV and Canada's YTV) and "The Hard Times of R J Berger." Two new sales directors have been named, Emmanuelle Bon, who is responsible for program and format sales specifically in the French market, as well as taking on a wider role across southern European territories, and Maria Rakhmatullina-Ufland, who is charged with overseeing sales for the emerging markets. MTVNI also appointed Maciej Kutak as vice president of commercial for MTV Networks Poland. In this new position, Kutak will oversee the company's multi-platform commercial efforts in Poland spanning advertising, sponsorship, affiliate sales, digital media, marketing and communications. His responsibilities include the development of commercial planning and implementation and revenue channels across both emerging and existing platforms for MTVNI's portfolio of music, kids' and entertainment brands.

Classic Media and World Events Productions revealed their re-launch of "Voltron" for a new generation of fans in celebration of the 25th anniversary of the original series. Classic Media manages the international distribution and worldwide merchandising and licensing for Voltron. Mattel is to develop a new line of Voltron toys for fans of all ages, adults who grew up with the popular '80s series, as well as a new

generation of fans that Voltron Force will create. The new animated television series "Voltron Force" will debut in 2011 on Nicktoons. WEP and Classic Media will produce, together with Kickstart Productions. The new series will consist of 26 half-hour episodes of 2-D and CGI animation. Meanwhile, the company also signed a production deal with Singapore's August Media Holdings for ten properties, including George of the Jungle, Underdog, Mr. Magoo, The Lone Ranger, Casper the Friendly Ghost, Rocky & Bullwinkle, Richie Rich and Little Lula. (Pictured above from left to right are: Ted Koplar, creator of Voltron; Holly Stein, vice president of licensing acquisitions, Mattel; and Bob Koplar, vice president, World Event Productions)

Warner Bros. Consumer Products highlighted "The Looney Tunes Show" and new 3-D theatrical shorts, as well as its expanded product portfolio, which in EMEA includes more than 300 licensees and more than 1 billion units of Looney Tunes Active! Products sold across the area in less than three years.

FremantleMedia Enterprises has added exclusive licensing and distribution rights outside of Canada for new live-action series "My Babysitter's a Vampire" from Fresh TV. The family-friendly comedy will debut in 2011 on Teletoon in Canada. Meanwhile, FME took a 60 percent share in @radical.media, a global transmedia business that creates branded entertainment content and advertising worldwide. The deal marks FremantleMedia's first large scale move into the branded entertainment market, allowing the company to diversify its revenue sources and to develop new business models. Jon Kamen, @radical.media's chairman and chief executive officer, will continue in his role and the partnership will not impact any of the firm's existing management team and relationships.

Discovery Communications' Planet Green announced a number of program acquisitions, including "30 Days," "Coastwatch," "Last Woman Standing," "Conviction Kitchen" and number of special and documentary films.

CBeebies has penned a deal with Twofour54 and 3Line Media for a second season of 50x10 episodes of "Driver Dan's Story Train," together with a half-hour special. This commission takes the total number of episodes to 104. "Driver Dan's Story Train" mixes CGI animation and live-action to introduce preschoolers to the magic of books and storytelling by encouraging them to "story play." In the U.K., Macmillan Children's Books has published a range of books. The first TV series has been acquired by the U.S.' Sprout, where it premieres in November and by ABC Television.

DQ Entertainment has signed a co-productions deal for "The New Adventures of Peter Pan" (26x30) with ZDF Group (Germany) for editorial and distribution rights across German-speaking countries in Europe (excluding Italy and Turkey), the U.K., Ireland, South Africa and Latin America.

Tiny Island Productions, a Singapore-based animation company, and Classic Media have announced the launch of "Dream Defenders" a new CG-animated action-comedy series for ages 6 to 9. Tiny Island will distribute the series in North America and Asia while Classic Media will manage distribution across all media, including consumer products in all other territories worldwide. Zane and Zoey, twins and rivals, are the "Dream Defenders"—the last line of defense between the real world and the nightmare creatures of the Dreamworlds. Based on original concepts by Tiny Island Productions, this production with Classic Media will be produced at the Singapore-based studio, with a writing team based out of Los Angeles. Due for delivery in late 2011, the series will be available in both non-stereo 3-D and stereo 3-D formats.

Endemol secured a number of international broadcast partners. They are: "Hot in Cleveland" with BSkyB, "Wipeout" with Poland's TVN, Czech Republic's Nova TV, Slovakia's Markiza TV, Ukraine's Inter Channel and Belarus' ONT; "XXS" with Ukraine's Inter Channel; and "The Marriage Ref" with Russia's TV3.
Subscribe and receive the latest news from the industry.
Join 62,000+ members. Yes, it's completely free.
You May Also Like
Loading..