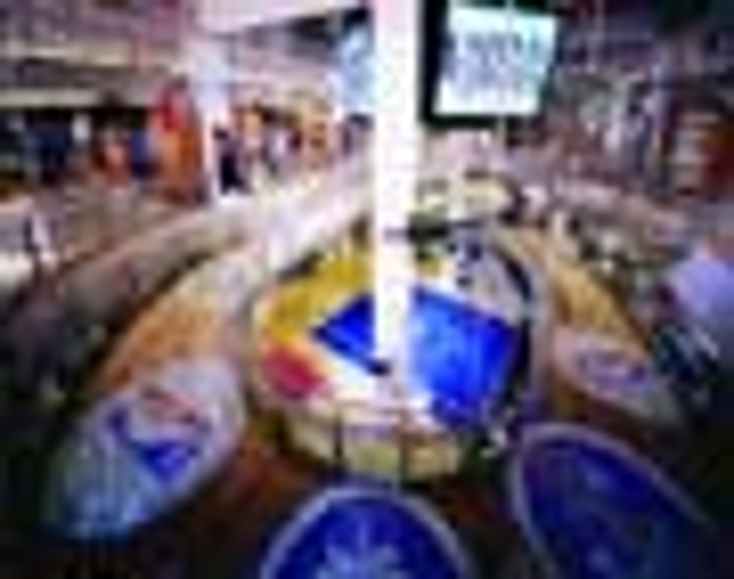 ]>As the world's largest store and global shopping destination, Macy's marks its centennial on New York's Herald Square.
At the crossroads of 34th street and broadway, stretching across 35th Street and up to 7th Avenue, stands a New York City family tradition and global icon. Indeed, for the last 100 years, Macy's Herald Square has welcomed visitors from across the oceans and across state lines. What's more, Macy's Herald Square can be heralded as a family gathering with its slew of annual events that draw national attention, particularly Macy's Annual Thanksgiving Day Parade and 4th of July Fireworks Spectacular.
To pay homage to this historic milestone, License! spoke with Patti Lee, senior vice president and general manager, Macy's Herald Square, about the momentous occasion, celebrations, and products surrounding the centennial, and what it's like to oversee and manage the operations of the World's Largest Store. Separately, with Macy's Annual Thanksgiving Day Parade around the corner, License! spent some time talking with Robin Hall, group vice president of annual and special events, and Amy Kule, vice president of annual events, about the year-long parade preparations. Macy's Welcome Mat Saturday, November 8, 1902, Macy's opened its doors to the public on New York's Herald Square. It wasn't until 1924, following the completion of the 7th Avenue addition, that Macy's Herald Square was termed "The World's Largest Store." Over the years, Macy's Herald Square has entertained and delighted city-goers and national and international tourists alike. "About 25 percent of our customers are tourists, both domestic and international. For international tourists, Macy's Herald Square offers the best of American status brands-Ralph Lauren, Tommy Hilfiger, DKNY, and Kenneth Cole," says Lee. "For some domestic tourists, Macy's Herald Square offers more shopping than their entire town might." Beyond the American status brands, another Macy's Herald Square advantage is exclusive merchandise to that location, according to Lee. "We must continue to excite the customer. It's all about product…product in the right shopping environment. We are constantly searching for what's new and fresh, and we test those products here at Herald Square all the time." Further, "showcase shops," as Lee terms shop-in-shop environments, allow many designers to showcase the best of their assortments.
"Much
of what we do at Herald Square may not translate well in our other stores, mainly because of Herald Square's sheer size and square footage," says Lee. Asked what sets Macy's Herald Square apart from other Federated stores and retail competitors, aside from its square footage, Lee answers: "Certainly, age and longevity on Herald Square alone sets us apart. The retail landscape of New York City has changed very much in this area in the last 100 years. There really isn't the same kind of competition. Macy's Herald Square still keeps the family customer in mind with some razzle-dazzle. Our merchandise mix ranges from mid to better."
Lee further explains that Federated Department Stores, parent of Macy's, is in the midst of beginning its two-year project (which began rolling out in fourth quarter) that will remerchandise and reinvigorate selling floors in many of its doors. "The goal is to create customer-friendly, easy-to-shop, quick and convenient environments for busy customers. Also, particularly for Herald Square, it's shopping as entertainment," says Lee, noting the Herald Square's junior department boasts a live DJ.
But before customers even enter this "retailtainment" theater, Macy's Herald Square begins its customer draw at it windows. The Main Broadway window themes are changed every other week, according to Lee, and themes range from Christmas to fashion to its recent Faces on Broadway that featured real people getting cosmetic makeovers. Of course, with the centennial celebration underway, windows were dressed to commemorate the decades leading up to 2002. Entitled "New Then, New Now," the windows were complete with a 3-D historic timeline and the range of product being offered exclusively for the celebration.
Remember Me to Herald Square
At the beginning of 2002, a Centennial Committee, made up of marketing and visual executives and merchants, was formed to begin the design, marketing, and execution of various products, souvenirs, packaging, and promotions. A Macy's Herald Square logo was developed specifically for the 100-year anniversary. "Once that logo-which incorporates the fa$e of the building-was developed, the Macy's souvenirs team was able to incorporate it on products such as key chains, mugs, tote bags, snowglobes, and ready-to-wear," says Lee. "In addition, the logo was used in the Herald Square directory, newspaper special advertising inserts and fashion advertising, electronic gift cards, and shopping bags."
Centennial-related product then was merchandised throughout the Herald Square store, dependent on product classification. For example, a costume jewelry vendor created a Macy's centennial charm bracelet and a handbag vendor created a special handbag that features the Macy's Herald Square building. Both of these items can be found on the main floor. Macy's Cellar features a centennial product area, and will until all merchandise has been sold. Lenox created a 100th anniversary commemorative vase that is limited edition, and Gund created Macy's and The Five Little Bears (the teddy bear also made its public debut in 1902), each wearing a special Macy's logo or patch. Lee explains that all commemorative merchandise is essentially limited edition, and probably will sell through the end of the year/beginning of next or until all inventory has been depleted.
While a series of events were slated leading up to November, the Centennial Celebration officially kicked off September 23 with a special musical and fashion tribute "block party" on Broadway. Broadway and TV stars turned out for the event, as did the likes of broadcast legend Walter Cronkite, and, of course, the public-tourists and New Yorkers alike.
Behind the World's Largest Store
For Lee, heading up the World's Largest Store is "like being a kid in a candy store." Lee has spent her 19-year career with Macy's in positions including buyer and store manager of locations in South Jersey, Willowbrook Mall, and Roosevelt Field Mall. In her current position for nearly four years, Lee says "for a retailer, there's nothing better than greeting new and different customers daily with fresh, exciting merchandise." She relates that beyond the many floors, square footage, and products Macy's Herald Square offers its visitors, there are a variety of special events that make the experience even more memorable, including the Annual Parade, the Flower Show, Fireworks Spectacular, and Santaland.
When she's not running the World's Largest Store, she says traveling, the beach, collecting antiques, and paintings is how she spends her free time. But managing Macy's Herald Square seems quite the passion for Lee. "I am thrilled to be here, celebrating an exciting time in the history of Macy's-at the crossroads of the world. Macy's Herald Square was here before Grand Central Station and the Empire State Building, and it will be here for another 100 years."
Here Comes the Parade: Robin Hall and Amy Kule walk License! through Macy's annual Manhattan march.
The Macy's Annual Thanksgiving Day Parade has come a long-and largely helium-filled-way since its beginnings in 1924. Known its first year as the Macy's Christmas Parade, each year the Macy's Thanksgiving Day Parade (as it came to be known) has awakened families across the nation to the beginning of the holiday season. The parade has become synonymous with endless floats and large balloons flying high above Manhattan; the first giant helium balloon hailed in 1927, thanks to famed puppeteer and Macy's window designer Tony Sarg. From 1942 to 1944, the parade was cancelled due to scarcity of rubber and helium. In November 1942, as the story goes, Jack Straus (of Abraham & Straus fame) donated deflated parade balloons (650 pounds of scrap rubber) for the war effort to then-New York City Mayor Fiorello LaGuardia.
"Giving" has become the mantra for Macy's Herald Square. While the annual and special events department manages and oversees a variety of events for Macy's East, "the two big signature events-the Parade and the Fireworks Spectacular-are not designed to drive traffic to the store, as the store is closed on Thanksgiving, but to let customers know we care and to give back to the City," says Robin Hall, group vice president of annual and special events, Macy's. Because many of the spectacular events are held in, near, and around the Macy's Herald Square store, Hall and Amy Kule, vice president of annual events, term Patti Lee, senior vice president and general manager, Macy's Herald Square, "a major partner and supporter of many of our events."
Speaking to family, Hall and Kule reveal that the majority of parade volunteers-some 4,000 to 5,000-are Macy's employees, some of whom have been marching for more than 50 years and others who have retired from their Macy's positions but not from the parade, continuing on as clowns, balloon handlers, and float escorts.
Choosing what will fly and float isn't easy. "The standard criterion for a balloon or float is entertainment value," says Hall. "We also look for new properties that will become icons." Kule notes Licensing International Show and Toy Fair in New York are key in finding entertainment properties. Both Hall and Kule keep an eye on TV and other mediums, as well as product. They also reveal that there "are some characters you just know will look great in the sky." The duo mention long-flying Snoopy (United Media) for example. This year, United Media's Charlie Brown will fly high in the sky.
This year's parade will host 30 floats/ vehicles and 14 giant balloons. New floats include Hershey's; LEGO; and Barney, Angelina Ballerina, and Wendy & Muck (HIT Entertainment). Macy's has its own brand-new float: a showboat three stories tall. New balloons include Kermit the Frog (The Jim Henson Company), Mr. Monopoly, and Little Bill (Nickelodeon). In addition, a retrospective balloon of Uncle Sam will fly this year.
2003 parade plans are already in the works, but neither Hall nor Kule would offer hints on potential participants. But, they did say they would keep License! "afloat" when the time was right.
Subscribe and receive the latest news from the industry.
Join 62,000+ members. Yes, it's completely free.
You May Also Like
Loading..