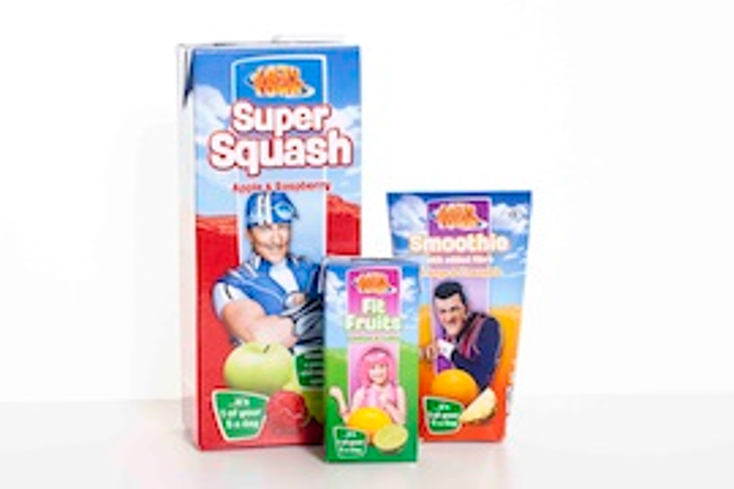 Turner CN Enterprises has struck a deal with Gerber Juice Company for a range of LazyTown branded juices. The two-year deal will place product on more than 300 Sainsbury's shelves in the U.K. this month, with a full roll-out to follow.
The partnership is the first deal for TCNE's LazyTown property.
"We are committed to partnering with market leaders for official merchandise that truly reflects our brands," says Catrina O'Brien, senior sales manager, preschool, TCNE EMEA. "Gerber fully understands the LazyTown ethos and is the perfect partner to produce 100 percent healthy drinks that share the same goals and values of the property. We're really excited about this partnership and the initial range, which we hope will mark the beginning of a successful beverage catalog."
The drinks will feature three flavors based on the characters of the "LazyTown" series–Sportacus apple and blackcurrant, Stephanie lemon and lime and Robbie Rotten orange and peach. Gerber will also produce LazyTown branded
natural spring water.
"We see a gap in the market for healthy drinks and water that actively promote kids' health through a connection with a popular and aspirational program such as LazyTown," says Marnie Millard, commercial director, Gerber Juice Company. "We're very proud of this association and we're confident that these new products will be perfect for parents who want healthy, convenient and appealing drinks for their children."  
"At a time when there is so much focus on healthy eating, it is fantastic to have a brand like LazyTown in our portfolio which lends itself so superbly to healthy food and drinks products for kids," says Graham Saltmarsh, U.K. licensing director, TCNE. "The Gerber Juice drinks range is perfect to initiate our U.K. licensing and merchandising program for LazyTown and we look forward to seeing product hit shelves on March 22."
Subscribe and receive the latest news from the industry.
Join 62,000+ members. Yes, it's completely free.
You May Also Like
Loading..