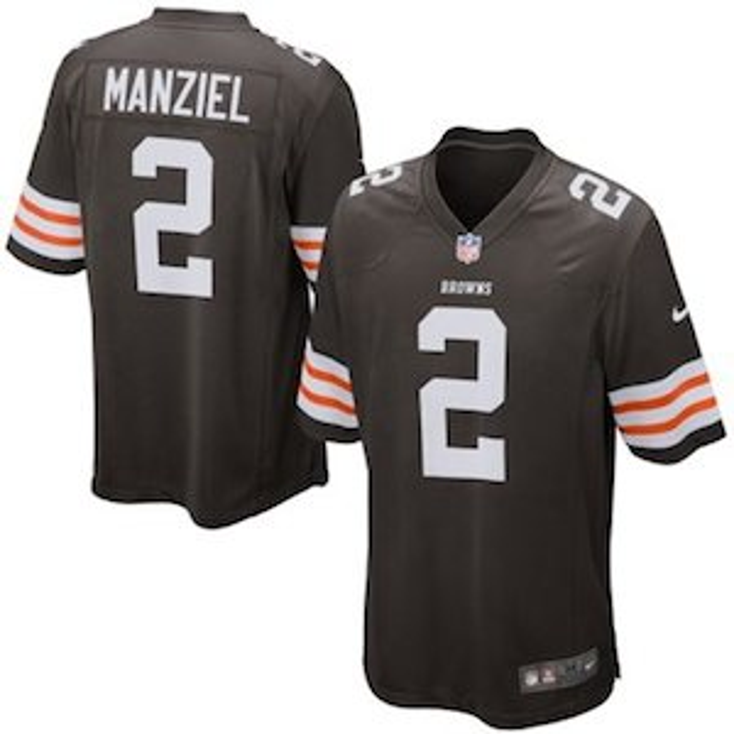 Quarterback Johnny Manziel of the Cleveland Browns ranks No. 1 overall on the NFL Players Inc.'s Top 50 Player Sales list for the first quarter of 2014, with less than one month of actual sales recorded post-NFL Draft.
In that span, Manziel surpassed Super Bowl XLVIII champion quarterback Russell Wilson of the Seattle Seahawks in overall sales, which is based on total sales of all officially licensed products from March 1 through May 31.
Manziel joins three other rookies including Texas defensive end Jadeveon Clowney, Jacksonville Jaguars quarterback Blake Bortles and St. Louis Rams defensive end Michael Sam in the Top 50.
The list, released quarterly by NFLPI (the marketing and licensing arm of the NFLPA), is based on total overall sales of all licensed products from online and traditional retail outlets as reported by more than 70 NFLPI licensees including Nike, VF Imagewear, Fanatics, Outerstuff, Fathead and McFarlane Toys. Licensed product categories include men's, women's and youth game
jerseys and t-shirts, player murals, figurines, matted and framed photos, bobbleheads, drinkware, jewelry and electronics accessories, among others.
Among the Top 10 retail stars are some of the best players on offense and defense. Joining Manziel and Wilson to round out the Top 10 are San Francisco 49ers quarterback Colin Kaepernick, Seattle Seahawks cornerback Richard Sherman, Denver Broncos quarterback Peyton Manning, Houston Texans defensive end J.J. Watt, Seahawks running back Marshawn Lynch, Dallas Cowboys wide receiver Dez Bryant, New England Patriots quarterback Tom Brady and Green Bay Packers quarterback Aaron Rodgers.
Interestingly, three Seahawks–Wilson, Sherman and Lynch–led all players in bobblehead sales.
In conjunction with the top 50 player rankings, NFLPI also announced two new licensing agreements with Beveridge Marketing for NFL player-identified EyeBlack that incorporates name, jersey number and signature, as well as player co-branded products with former colleges and Pop Warner teams; and with Stylinity for the organizations first social commerce catalog. NFL players will use Stylinity's in-home "style stage," an online selfie photo studio that allows fans to view photos of players' outfits, to access product information and shop online.
NFLPI Top 50 Player Sales Rankings 
(March 1-May 31): 
1.     Johnny Manziel*, Cleveland Browns
2.     Russell Wilson, Seattle Seahawks
3.     Colin Kaepernick, San Francisco 49ers
4.     Richard Sherman, Seattle Seahawks
5.     Peyton Manning, Denver Broncos
6.     J.J. Watt, Houston Texans
7.     Marshawn Lynch, Seattle Seahawks
8.     Dez Bryant, Dallas Cowboys
9.     Tom Brady, New England Patriots
10. Aaron Rodgers, Green Bay Packers
11. Clay Matthews, Green Bay Packers
12. Jadeveon Clowney*, Houston Texans
13. Jason Witten, Dallas Cowboys
14. Drew Brees, New Orleans Saints
15. Patrick Willis, San Francisco 49ers
16. Doug Martin, Tampa Bay Buccaneers
17. Ryan Tannehill, Miami Dolphins
18. LeSean McCoy, Philadelphia Eagles
19. Eric Reid, San Francisco 49ers
20. Tony Romo, Dallas Cowboys
21. Jordy Nelson, Green Bay Packers
22. Adrian Peterson, Minnesota Vikings
23. Jamaal Charles, Kansas City Chiefs
24. Cameron Wake, Miami Dolphins
25. Eli Manning, New York Giants
26. Luke Kuechly, Carolina Panthers
27. Demaryius Thomas, Denver Broncos
28. Andrew Luck, Indianapolis Colts
29. Earl Thomas, Seattle Seahawks
30. NaVorro Bowman, San Francisco 49ers
31. Brandon Marshall, Chicago Bears
32. DeSean Jackson, Washington Redskins
33. Jordan Cameron, Cleveland Browns
34. Vernon Davis, San Francisco 49ers
35. Wes Welker, Denver Broncos
36. Sean Lee, Dallas Cowboys
37. Alex Smith, Kansas City Chiefs
38. Nick Foles, Philadelphia Eagles
39. Victor Cruz, New York Giants
40. Blake Bortles*, Jacksonville Jaguars
41. Michael Sam*, St. Louis Rams
42. Eddie Lacy, Green Bay Packers
43. Michael Crabtree, San Francisco 49ers
44. Frank Gore, San Francisco 49ers
45. Percy Harvin, Seattle Seahawks
46. Eric Decker, New York Jets
47. Darrelle Revis, New England Patriots
48. Geno Smith, New York Jets
49. Randall Cobb, Green Bay Packers
50. Vincent Jackson, Tampa Bay Buccaneers
*
Represents sales from May 8-31.
Subscribe and receive the latest news from the industry.
Join 62,000+ members. Yes, it's completely free.
You May Also Like
Loading..