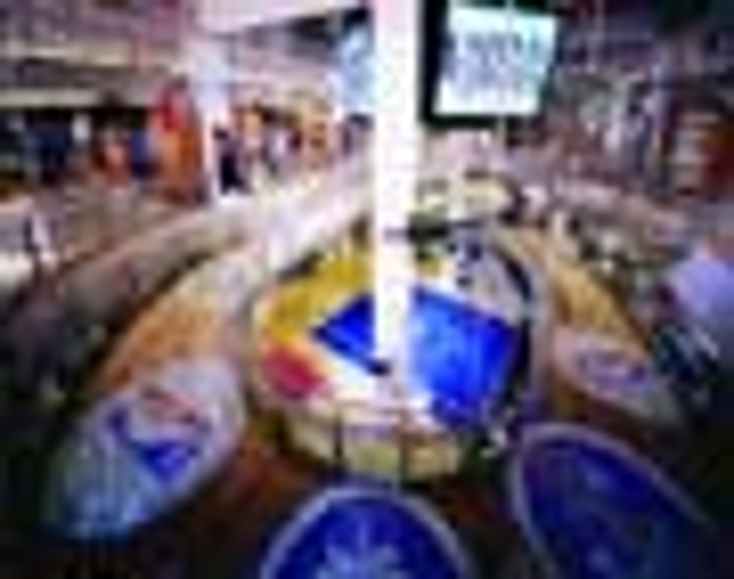 ]>How do in-store shops stack up versus brand exposure in departments throughout the store?
"Location, location, location" is an adage retailers and licensing executives keep in mind when creating strategic merchandising solutions for licensed goods.
Store-within-a-store concepts or shops have emerged as a great venue to present a cohesive retail environment and a true destination area for a brand or property. "Showcasing a breadth of product is beneficial as guests may not be aware of the amount and scope of product available," says Eva Steortz, director, retail sales & promotions, Disney Toys. "Also, we believe you can achieve an impulse purchase on a second product within a property when categories are merchandised together."David Jacobs, senior vice president, consumer products, at Gullane Entertainment, agrees. "At the end of the day, what is going to work is having the right products presented together in the right way. The key issue is to understand that retailers have limited space. Thus, the coordination we provide, the theater of the brand we project, and the products themselves all must be profitable for them." Space LimitationsWhile most companies would love to have in-store shops that house everything from apparel to toys and ancillary products in one area, it's not such an easy feat. Some retailers cannot guarantee this kind of real estate and often scrutinize inventory turns, sales per square foot, and foot traffic to make sure the investment is worth all the space. In some cases, licensees are asked to contribute to the cost of the shop, which can be an expensive proposition.
"There
have been major movies and properties where many of our stores bought lots of products and put them in a feature area," says Lisa Visco, vice president of merchandising at Learning Express, the Ayer, MA-based chain of 132 franchised specialty stores. "Unfortunately, the product didn't sell and you had, in essence, built a markdown monument. I believe that when a property loses its desirability, it becomes a liability. Therefore, it is sometimes better to sprinkle different products in different areas of the stores, so it doesn't create such a negative impact."
Some licensees and licensors agree and prefer to have double, triple, and quadruple exposure within different departments such as apparel in the apparel area, accessories on the main floor, and toys in the kids' area.
However, the tide seems to be turning in favor of in-store presentations with top level management at a growing number of mass-market, specialty, and department stores supporting these environments. This edict from high on the corporate ladder is good news for buyers as it often quells their concern over protecting "their valuable real estate."
"Buyers have numbers they have to make and a certain amount of real estate in which to make them," says Bob
Traub, senior director of retail development at Nickelodeon. "Therefore, whenever you have to give up space, you put your numbers at risk. You have to look at the ultimate picture and realize these selling environments will help everyone."
Today's most proactive retailers in all distribution channels see the forest from the trees and are providing a fertile landscape for licensees and licensors in which to grow and nurture a brand.
The Toy Giants
Think toys and you automatically think of Toys "R" Us, FAO Schwarz, and Zany Brainy, each increasingly willing to support properties through exclusive partnerships or by carving out retail space for a handful of new and classic properties with lots of legs.
"Our strategy with store-within-a-store environments is twofold," explains Warren Kornblum, chief marketing officer at Toys "R" Us. "First, we value our relationship with our vendor partners and believe our stores should be a showcase for their intellectual properties and brands. When done right, the environment you create brings these licenses to life, making them stand out and shine. In addition, we want to be a place where moms and kids can find everything they want from today's hottest and most popular properties."
Designated feature departments are an ongoing and successful focus for Toys "R" Us, with the retailer devoting prime real estate to "major entertainment properties and brands that moms and kids love." Going forward, the company plans to convert approximately half of its 600 stores to combo stores that will merchandise softlines and hardlines together, giving a greater breadth and depth of products across many categories.
As for concept shops, its latest venture is with Nickelodeon for an approximately 1,600-square-foot Blue's Clues feature boutique in one of six feature areas in its flagship Times Square store. Open since late June, the boutique showcases 23 to 30 skus, including some exclusive toy items in an environment bursting with colorful signage, shelf talkers, and the first few products for Joe, the new host of Blue's Clues.
"We felt Toys "R" Us was an ideal place to showcase our products and provide consumers with an environment where they could see our range of products without having to chase all over the store to find them," says Nickelodeon's Traub. "We believe that pooling products together does a justice for us with add-on sales, as well as making buying easier for the consumer." Toys "R" Us also lends its support to Universal Studios' E.T. The Extra-Terrestrial and Jurassic Park at its Times Square store with an E.T. Shop filled with exclusive merchandise and the Jurassic Park Exhibit, where a 5-ton, 20-foot-high and 34-foot-long animatronic T-Rex stands outside the gates of a themed area. The retailer also will be the exclusive home of Sesame Workshop's Dragon Tales in February 2003 with a year-long product, signage, and marketing program planned.
FAO Schwarz has had substantial success by bundling all of Nickelodeon's properties in a shop. "When the product was right, we saw a 20 percent to 30 percent sales increase," reveals Nickelodeon's Traub. Next up is an exclusive eight-week program for Sagwa, the Chinese Siamese Cat from Sesame Workshop that ends October 15. Featured will be an exclusive porcelain tea set packaged in a bamboo steamer that will retail for $50 to $60. Zany Brainy also will support Sagwa with a minimum of 4 feet that will include some exclusive plush items. "The benefit of these environments is they tell a compelling selling story that makes the consumer stop and take a look," says Lisa Appleby, vice president, business development, at Sesame Workshop. "Signage also can help bring the property to life and capture the magic of the show as we did at FAO." Also at FAO, support abounds for Thomas the Tank Engine with a dedicated area in its new Farmer's Market store in Los Angeles.
The Mid-Tier Set
A handful of aggressive mid-tier and department store retailers also have embraced these environments with much success. The May Co. took on the exclusive for Dora the Explorer, pooling products together on rounders and tables for holiday 2001. The result: Sales exceeded its expectations by two to three times for any licensed property, notes Traub.
"We had great success with our product mix at The May Co. because shop concepts are a great way to platform a new property and make it look very important to the consumer," says Felice Stolzberg, licensing and marketing director at New York-based Global Design Concepts, a Dora backpack licensee in the initial May Co. in-store shop.
Similarly, Clifford the Big Red Dog made a huge impact at JCPenney when the retailer created a destination area for its once-exclusive property and supported it not only in-store but through circular advertising and in its catalog. "The launch at JCPenney gave us a home and was a real home run for us," says Peter Van Raalte, vice president, consumer products at Scholastic Entertainment. "In turn, it gave Penney an opportunity to become a destination for fans of the show and take on ancillary products it might not have taken on without the dedicated areas."
Sears likewise saw the value of shop-within-a-shop environments: Instead of breaking down the shop after its exclusive for Bob the Builder expired, the retailer chose to keep the shop in place so as not to jeopardize the sales momentum for the merchandise. "Sears did a good job maximizing the product mix and creating an environment that attracted consumers and exposed them to a wide range of Bob licensed goods," says Josh Wormser, executive vice president at Northbrook, IL-based Wormser Co. "We were pleased at how well our sleepwear did and continues to do in the shop environment."
The Hip Specialty Stores
Trendy shops such as Gadzooks, Spencer Gifts, Hot Topic, and Musicland often take a strong position on hot licenses but are careful not to hold on long after the merchandise filters down to the mass market. At Gadzooks, the specialty retailer of teen lifestyle merchandise took an exclusive stance on Team Woody/Honda for T-shirts, coordinates, and sets for boys and juniors. The merchandise was supported by signage and in-store video.
Spencer Gifts is well known for supporting the hottest licenses and true to form, created a front-of-store presentation for Austin Powers In Goldmember filled with a variety of non-exclusive items and a handful of exclusive novelty products. Hot Topic continues to soak up great sales results from SpongeBob SquarePants and has built in-store boutiques stocked with exclusive themed jewelry dedicated to Nickelodeon's eclectic underwater character.
Subscribe and receive the latest news from the industry.
Join 62,000+ members. Yes, it's completely free.
You May Also Like
Loading..