Worldwide retail sales of licensed merchandise declined for the second consecutive year, as expected, due to the continued impact of the global recession and sluggish economies, cautious consumers and general uncertainty in the majority of major territories for licensed products.
Total worldwide sales of licensed merchandise declined 2.7 percent to $182.4 billion in 2009, according to the exclusive
License! Global
Annual Outlook, affecting every major category from art to sporting goods. This decline follows the first major decrease in retail sales of licensed merchandise in 2008, which came after five strong consecutive years of growth. The retail sales of licensed merchandise, which peaked in 2007 at $191.7 billion, were projected on track to hit the $200 billion threshold by 2010 before the global economic downturn thwarted that lofty milestone and impacted every industry sector and type of business.
While the decline in 2009 is hardly a surprise to any licensing or retail executive, there
is a more positive outlook for growth, albeit small and methodical, that has already begun through the first half of the year and will continue through the holiday season and into 2011, resulting in the potential for a modest gain in the sales of licensed merchandise for 2010, stemming two years of sales declines.
While the U.S. National Bureau of Economic Research determined last month that the recession that began in December 2007 and lasted 18 months is over, it is apparent that its effects still linger.
"A trough in business activity occurred in the U.S. economy in June 2009. The trough marks the end of the recession that began in December 2007 and the beginning of an expansion," the NBER report states. "In determining that a trough occurred in June 2009, the committee did not conclude that economic conditions since that month have been favorable or that the economy has returned to operating at normal capacity. The committee decided that any future downturn of the economy would be a new recession and not a continuation of the recession that began in December 2007. The basis for this decision was the length and strength of the recovery to date."
While so many media-type phrases have been used to describe the state of the economy in the U.S., as well as in the U.K. and other countries—including the "double-dip" recession—the economic recovery and turnaround is likely to continue to be slow and inconsistent not only across the world, but also across the various sectors of brand licensing and retail.
In the short term, economic reports and indicators are about inconsistencies and mixed signals from month to month, but it appears that the long-term outlook is one of guarded optimism and a slow but sustained period of growth. The news is getting better and the rebound is slowly taking shape.
U.S. retail sales have demonstrated a slight uptick and consumer confidence has improved, but the Federal Reserve's latest Beige Book survey of economic conditions released last month warned of a weakening in consumer spending and a general slowdown in economic growth across the country, which had many observers warning of a double-dip recession.
U.S. same-store retail sales grew at a slightly stronger 3.4 percent pace in August versus the 2.9 percent same-store sales gain in July, despite intentions by shoppers to curb spending, according to Kantar Retail.
Furthermore, according to ShopperTrak's National Retail Sales Estimate, year-over-year retail sales increased 5.7 percent for the week ending Sept. 11, while sales jumped 3 percent versus the previous week ending Sept. 4. "Labor Day numbers were right in line with what we expected, as 2010 continues to be a relatively strong year compared to some poor retail numbers last year," says Bill Martin, founder of ShopperTrak. "We expect retail sales will begin their annul post Labor Day decline and will reach a seasonal low during the last week of September before rising again in October for both Columbus Day and Halloween."
The Beige Book, a benchmark report of economic conditions released last month, suggested "continued growth in national economic activity during the reporting period of mid-July through the end of August, but with widespread signs of a deceleration compared with preceding periods. Consumer spending appeared to increase on balance despite continued consumer caution that limited nonessential purchases."
The Conference Board's most recent economic forecast states that the "post-recession rebound phase is over. The economic slowdown we anticipated to begin in the second half of the year began a bit early. But this supports our long-held view that the post-recession rebound would be short-lived as the large contribution from inventory adjustments and fiscal stimulus wane and the consumer was unable to pick up the slack." However, the report states, "a few bright spots do exist and should provide some modest underpinning to the overall economy going forward. Due to the past year of strong profit growth, corporations are flush with cash. They are using some of the cash to boost their spending on equipment and software, albeit modestly. Companies recognize the need to remain competitive in the global economy. For this reason, business investment will outpace the overall economy."
The Conference Board's Consumer Confidence Index, another benchmark consumer report that is based on a sample of 5,000 U.S. households, improved moderately in August to 53.5 after declining in July to 51. "Consumer confidence posted a modest gain in August, the result of an improvement in consumers' short-term outlook," says Lynn Franco, director of The Conference Board Consumer Research Center. "Consumers' assessment of current conditions, however, was less favorable as employment concerns continue to weigh heavily on consumers' attitudes. Expectations about future business and labor market conditions have brightened somewhat, but overall, consumers remain apprehensive about the future. All in all, consumers are about as confident today as they were a year ago [August 2009, 54.5]."
A recent newspaper editorial captures the essence of the U.S. economy while addressing the high unemployment and need to create jobs. It states, "Conventional wisdom says laid-off workers can modernize, refine and retool their skills in an emerging new economy. But this recession defies convention. It feels as though our [U.S.] economy has entered an Ice Age: It is not changing, it is frozen."
For the brand licensing and retail sectors, there are some positive signs that the ice is melting, ranging from activity in mergers and acquisitions to increases in retail sales, as well as some bullish opinions from some of the world's largest licensors. Consider the following major developments in licensing over the first half of 2010.
Disney Consumer Products

is once again more bullish about the future, especially with the acquisition of Marvel Entertainment and its huge upside potential. While the Marvel deal was finalized in January, the overall integration and impact to the parent company—as well as at retail, as it relates to brand licensing—will emerge slowly this year and hit full stride in 2011. DCP chairman Andy Mooney, says the company's goal is "to significantly increase annual global retail sales of Disney- and Marvel-licensed merchandise within the next five years, with boys' merchandise playing a prominent role based on its popular Marvel franchises, Tron and Phineas and Ferb." According to Mooney, DCP is primed for significant growth through the remainder of 2010 and into 2011.

Saban Brands,

which was formed by private investment firm Saban Capital Group in May as a global brand management company, is also bullish about the future of entertainment and brand licensing. In fact, the new company, with a capital fund of $500 million, moved quickly to expand, and in less than five months, has already made two major brand acquisitions: Power Rangers, acquired from DCP in May, and Paul Frank Industries, acquired in August.
"Saban Brands represents a new approach to brand management and licensing," says Elie Dekel, president of Saban Brands. "Leveraging our unique capabilities, significant resources and transmedia orientation, Saban Brands is poised to become a force of innovation and opportunity."
Iconix Brand Group,

the world's second-largest licensor, acquired the Peanuts brand and other assets of United Media in April for $175 million. The deal, which formed a new subsidiary that is 80 percent owned by Iconix and 20 percent owned by the Schulz family, not only broadens the Iconix portfolio of mega fashion brands, but also gives the Peanuts property new opportunities for future growth worldwide.

Warner Bros. Consumer Products

and the newly formed DC Entertainment have developed a new companywide synergy that will further leverage the content-rich DC Comics and its characters.
"The studio realized clearly how important the DC business and properties are to the future and decided to consolidate and create a new strategic organization to drive the creation of intellectual properties through movies, television and online and integrate it into all aspects of Warner Bros.," says Brad Globe, president, WBCP.
The first new project is based on
Green Lantern,
which will hit theaters in June 2011, with other DC characters being developed for feature films, including The Flash, Wonder Woman and Justice League, while other established franchises, such as Batman and Superman, are being developed for sequels.
Another example of one of the year's biggest deals in global licensing is the

Rainbow

and

Nickelodeon

partnership that gives Nickelodeon the television rights for Italian studio's Winx Club for the U.S. and the pay-TV rights for Latin America, Canada, the U.K., Australia, New Zealand and Benelux. The agreement also includes the co-development and co-production of seasons 5 and 6 of the series, as well as all merchandising rights to Winx Club within the U.S., Latin America, Canada, the U.K., Australia, New Zealand and Benelux. "We are very proud to start this collaboration with the most prestigious network in the world," says Iginio Straffi, founder and chief executive officer of Rainbow. "This is a new challenge for our fairies who, I'm sure, will find a place in the hearts of American and British children."
Says Cyma Zarghami, president of Nickelodeon/MTVN Kids and Family Group, "The Winx Club franchise is a big hit with young girls, and we think there is great opportunity for it in the U.S. as a property that allows us to fill a gap for girls in the 6- to 8-year-old range."
FremantleMedia Enterprises

is also expanding its rich portfolio of entertainment properties that includes "Idol," "Got Talent," "X Factor" and "Grand Designs," via its third brand management division that features Rebecca Bonbon and its newly formed kids' and family entertainment division.

Zodiac Entertainment,

owners of Marathon Media and several other entertainment companies, acquired RDF Media Group, one of the U.K.'s largest independent production companies, known for its Waybuloo brand, among others.

DreamWorks Animation,

which is totally committed to new 3-D technology, increased the studio's output to five films every two years and is expanding its licensed products worldwide.

The Hub,

the new kids' entertainment network that debuts Oct. 10 is yet another example of the importance as well as the opportunities in the kids' sector. The joint venture between Hasbro and Discovery Communications will feature various acquired and new programs offering numerous opportunities in brand licensing. Among the programs are: "Animal Mechanicals," "The Adventures of Chuck & Friends," "G.I. Joe Renegades," "My Little Pony: Friendship is Magic," "Pound Puppies," "Transformers Prime," "Twisted Whiskers," "The WotWots" and "Clue," based on the iconic board game.

DHX Media,

a leading independent international producer and distributor of television programming and interactive content, last month acquired Wildbrain Entertainment and its Yo Gabba Gabba! franchise.
While these examples represent a strong and bullish assessment of growth and expansion in brand licensing, they also reflect the trend that the era of the super brands is here. These mega properties, along with many others which have the propensity to dominate retail shelves, will put added competitive pressure on various smaller brands and new properties planning to enter the marketplace.
Yet the entrepreneurial drive and spirit—characteristic of brand licensing and retail—will ultimately prevail, and new properties will continue to garner exposure at retail as historically has always been the case.
The fact is that the opportunity for growth still exists in brand licensing, although it will be more difficult to achieve and will require more tenacious planning and execution, as well as a grassroots-type understanding of the changing dynamics among retailers and consumers.
Aside from all the economic pressures and cutbacks in consumer spending, the impact and squeeze on royalties, as well as price pressures from retailers, is likely to continue.
The licensing sector may not return to the glory days of the past, when sales of licensed merchandise topped $191 billion at the pre-recession peak in 2007, in the foreseeable future, but it will rebound over the past two disappointing years and once again will post a positive gain in 2010 and beyond—barring, of course, any unforeseen circumstances that might put a stranglehold on growth.
According to the International Licensing Merchandisers Association's annual survey, total royalty income declined 8.7 percent to $5.16 billion, from $5.65 billion in 2008.
"These results are not surprising as consumers continued to limit their spending on non-essential products for most of 2009," comments Charles Riotto, president of LIMA. "Looking ahead, however, as the economy continues to improve and retailers' inventories come back into balance, I am optimistic that we are poised for improvement as we see our members exploring new and different opportunities and partnerships to ensure future growth. In the survey, brand owners cited last year's still-sluggish consumer spending, a conservative climate at retail, a longer decision-making cycle and royalty pressure against a backdrop of an economy in slow turnaround as reasons for the slide."
Global licensors are looking for new and innovative ways to extend their intellectual properties in entertainment as evidenced by the increasing commitment to 3-D, Imax, theme parks and various live events, while other innovative areas for brand extensions, such as themed travel cruises, social gaming and mobile apps, are being developed.
3-D.

This year could be described as the year of 3-D, with more than 25 titles released. It could also be the year that defines it as the beginning of a popular mainstream format, not only on the big screen, but at home as well, with the aggressive promotion of 3-D televisions. Among this year's 3-D movies that also had a major licensing push:

Alice in Wonderland, How to Train Your Dragon, Shrek Forever After, Toy Story 3, The Last Airbender, Despicable Me,

and upcoming later this year,

Megamind, Tangled, Harry Potter and the Deathly Hallows-Part I, Chronicles of Narnia,Tron

and

Yogi Bear.

More than 30 3-D titles will be released in 2011.

Theme parks.

Warner Bros. Consumer Products opened in June its much-anticipated theme park attraction, The Wizarding World of Harry Potter, at Universal Studios in Orlando, Fla. Italian animation studio Rainbow will open its first theme park, Magic World, featuring 35 attractions, in spring 2011 in Rome. Paramount Licensing recently announced that it would license intellectual properties from its film library and help to design and plan a new Paramount-branded theme park and entertainment facility in Murcia, Spain.
Nickelodeon is also getting in on the trend along with Pleasure Beach, Blackpool, Britain's favorite tourist attraction, signing a deal to develop the first Nickelodeon-branded attraction in the U.K. Nickelodeon Land will feature the company's popular shows and characters in more than 14 attractions. The park will open in April 2011.
Live events.

DreamWorks is expanding its "Shrek The Musical" to 60 U.S. cities, and it will also tour internationally in 2011. CBS Consumer Products and Mad Science Productions partnered for "Star Trek Live," a new interactive stage show that debuted at the Kennedy Space Center Visitor Complex in June.

Theme cruises.

DreamWorks Animation announced a deal in June with Royal Caribbean that will offer cruise ship guests exclusive shows and activities featuring the studio's key franchises. It will debut on Royal Caribbean's newest ship, Allure of the Seas, in December. Food Network and Signature Travel Network, a retail travel cooperative, are developing Food Network-branded travel programs, including cruises with the network's stars and based on specific shows; trips tied in to specific Food Network culinary trends or topics; and weekend getaways to areas such as Napa Valley, Calif.

Social gaming.

There is a strong opportunity for brand entertainment and games on social networking sites such as Facebook. FremantleMedia Enterprises has launched Family Feud for Facebook and is planning a version for Price is Right.
Several retail trends related to brand licensing continue to be popular, indicating the importance of licensed brands to retail marketing and merchandising:
One of the most important changes at retail is that Walmart is revamping its merchandising strategy, bringing back brands that it had eliminated as part of its Project Impact program and is returning to the promotional aisles that characterized its basic retail philosophy over decades of growth. This will mean greater opportunity for brands that were either eliminated or for new brands looking to get into Walmart and for licensed properties in particular—especially those with high promotional and seasonal value.
Exclusivity

takes on new meaning every year as various promotions get bigger and more comprehensive. Several major deals over the past few months once again reinforce just how important exclusive partnerships continue to be in highly competitive markets worldwide. Walmart and DreamWorks Animation joined forces for an exclusive deal tied to the release of "How to Train Your Dragon." A 40-foot Viking ship merchandising display, which also appeared in New York's Times Square, was featured in 2,500 stores.
FremantleMedia Enterprises launched its first direct-to-retail deal for Rebecca Bonbon with Sears and Kmart for the back-to-school season. The program featured more than 300 items.
Pop-up stores

have become important promotional and merchandising venues for many retailers that are using the strategy seasonally or to debut specific merchandise lines. For example, in anticipation of the holiday shopping season, Toys"R"Us is opening 600 temporary express stores in malls and shopping centers across the U.S. FAO Schwarz, operated by Toys"R"Us, is opening 10 Christmas pop-up stores featuring high-quality plush, collectible ornaments and branded gifts. To celebrate its 50th anniversary this month, Sanrio developed a mobile pop-up shop tour, along with other special events in Los Angeles and Miami. The shop features a selection of 50 collectible products. QVC opened its first pop-up shop last month in New York, featuring exclusive apparel lines in conjunction with the second annual Fashion's Night Out event. It featured K-Dash by Kardashian and Janie Bryant MOD, inspired by "Mad Men."

Brand stores

continue to be popular among major brands, both as destination and tourist stores. Mars Retail Group will open the M&M's World store in the Swiss Centre building in London's Leicester Square. The 35,000-square-foot store is the first of its kind in Europe. Kellogg opened Pop-Tarts World, a 3,000-square-foot retail store and café, in New York City's Times Square. The shop features Pop-Tarts-inspired merchandise and apparel, including a T-shirt customization station. Mattel's American Girl is set to open its fourth flagship store next summer in the Washington, D.C., market. The two-level, 23,000-square-foot store will feature extensive merchandise, a restaurant and customizable T-shirt boutique.
Following is a summary of trends and highlights in the major categories of brand licensing.
Art
The artist community is as resilient as it is creative. Artists weathered a challenging year, relying on their ability to provide differentiated product offerings, create designs for the latest hot categories, establish strong portfolios, partner on creative promotion efforts and expand their business beyond core merchandise.
Artists who fared the best over the last year were the ones with portfolios bolstered by several strong brands.
Tara Reed of Tara Reed Designs, for example, debuted 15 new collections over the past year. Her new drink series featured coffee, tea and cocktails, and beach-themed collections included bright colors, sand and flip-flops.
Artist Robin Zingone also has a number of strong brands in her creative closet. She concentrated recently on three major properties: Cocomimilulu, for the smart, fashionable girl; loveMe, a line of Japanese-inspired dogs and cats; and Girlygirl, which combines art and text in different languages. The three brands effectively target a wide demographic: Cococmimilulu appeals to the juvenile and tween markets, while loveMe and Girlygirl appeal to the teen to boomer consumer.
Zingone, like other successful artists and photographers, including Synthia Saint James, Maryann Luera, Rachael Hale and Bettina Marks, targeted trend-right categories such as cell phone and laptop skins with her designs.
Artists also got creative by partnering with buzz-worthy retailers. Urban pop-art artist Camilla d'Errico paired with Hot Topic to launch a line of T-shirts featuring Helmetgirls designs, and in celebration of the 10th anniversary of It's Happy Bunny, Jim Benton held a special event at Dylan's Candy Bar in Manhattan.
Successful artists also built momentum beyond the licensed merchandise area. Reed continues to expand
, a site that offers artists a wide range of no-cost and low-cost resources, such as e-books on different aspects of the business, teleseminars, a blog and a free monthly artist forum. Participants in the monthly call series have included fellow artists Paul Brent, Mary Engelbreit and designer, TV host and entrepreneur Dena, founder of Dena Designs. In addition, a new data management system for artists, called Art Licensing Manager, is now available through a joint venture between Reed and Hal Gumbert of
.
Brands
The formation of several brand management companies, in addition to Saban Brands, has characterized 2010 thus far and reinforces the popularity and potential of brand extensions.
One of the major global deals of the past year was the partnership between

The Licensing Company

and

Iconix Brand Group

to form

Iconix Europe

. The strategy of the new company will mirror that of the U.S. entity focusing on traditional and direct-to-retail licensing deals for the Iconix portfolio of brands.

Former Hilco Consumer Capital chief executive officer Jamie Salter plans to focus on consumer brands acquisitions at his Authentic Brands Group. Salter raised $250 million in equity capital with Green Equity Investors, an affiliate of Leonard Green & Partners, and Knight's Bridge Capital Partners, a wholly owned subsidiary of Counsel Corporation.
Currently, ABG provides management services for the Bob Marley estate.
Infinity FS Brands was formed by Bradley W. Snyder Enterprises and Infinity Lifestyle Brands. The New York City-based company will focus on consumer product brands, retail names and companies seeking growth or repositioning. Ike S. Franco, co-chairman and principal of the Infinity Group, and Bradley W. Snyder, formerly of Gordon Brothers Group, lead infinity FS Brands.
Character
Two of the largest global character licensing initiatives came from Sanrio, which marked the 35th anniversary of its Hello Kitty brand and the 50th anniversary of the brand licensor, which is being celebrated this month. Both promotions featured extensive merchandise and promotional events.
Entertainment
In addition to the popularity and growth of 3-D, several film franchise sequels continued to dominate brand licensing over the past several months, including
Toy Story, Iron Man Twilight, Shrek
and
Harry Potter,
which is set to release in November. The top-grossing films to date, according to
, most of which had a comprehensive licensing program, are:
Toy Story 3
($410 million),
Alice in Wonderland
($334 million),
Iron Man 2
($312 million),
The Twilight Saga: Eclipse
($300 million),
Inception
($285 million),
Despicable Me
($244 million),
Shrek Forever After
($238 million),
How to Train Your Dragon
($217 million),
The Karate Kid
($176 million) and
Clash of the Titans
($163 million).
The blockbuster lineup for 2011, which could outperform the past few years, includes several franchise properties that will have a strong licensing presence at retail:
Rango; Stretch Armstrong; Thor, Pirates of the Caribbean 4: On Stranger Tides; Hangover 2; Mission Impossible 4; Kung Fu Panda: The Kaboom of Doom; Green Lantern; Cars 2; Transformers 3; Harry Potter and the Deathly Hallows, Part II; The First Avenger, Captain America; Cowboys and Aliens;
and
The Smurfs 3-D.
Fashion
The expansion of entertainment brands into high-end apparel was one of the driving factors in this sector over the past year—a trend that is likely to continue, especially if consumer spending rebounds to pre-recession levels. Licensed merchandise collections for such brands as:
Twilight, from Summit Entertainment, continued to be a popular brand with various expanded retail deals, including a merchandise collection with Nordstrom.

Disney's Alice in Wonderland partnered with Bloomingdale's for designer apparel and accessories, as well as a fashion window displays. Disney and Target partnered for a new fashion line of apparel and accessories for tween girls called "D-Signed," featuring Disney Channel characters.

Warner Bros. Consumer Products leveraged the 75th anniversary of DC Comics with various retail promotions, as well as other specific properties, including Supergirl and the exclusive line of apparel at JCPenney called Supergirl by Nastia, from Olympic star Nastia Lukin.

Fox Consumer Products featured an exclusive apparel collection with Macy's and accessories with Claire's based on its "Glee" series.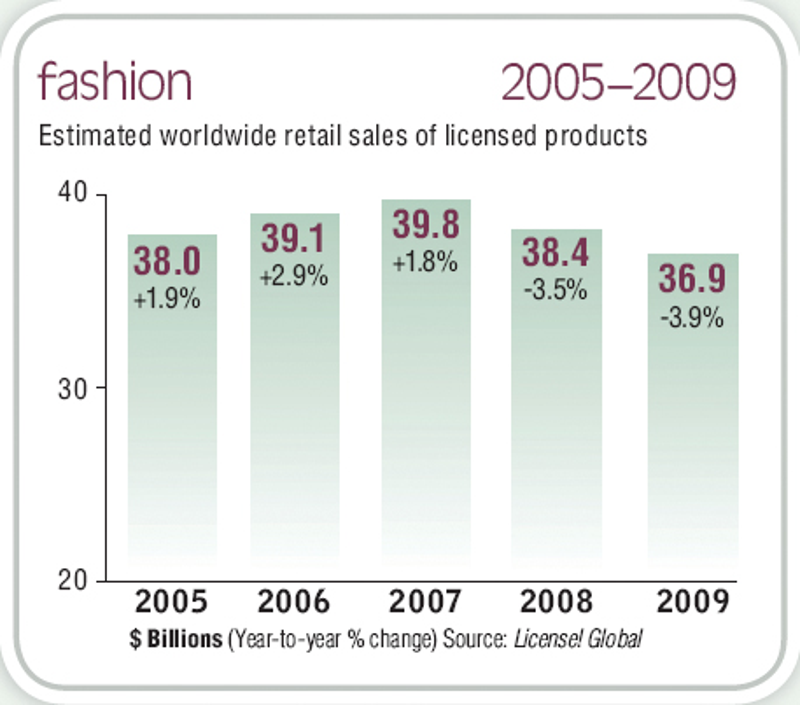 Interactive
While sales of traditional console and game software have declined, apps for Facebook, mobile, and Apple's iPad, iPhone and iPod continue to grow and offer new and sizable opportunities for brand extensions.
Sports
The prominent coverage and global reach of the FIFA World Cup over the summer characterized a true international event and merchandising bonanza. While the vuvuzelas created a lot of noise and publicity, the extensive merchandise collections were on display with every match. One mega merchandising program, spearheaded by Global Brands Group, was the exclusive FIFA deal for in-store shops with Walmart.
One of the current major initiatives and focus in brand licensing is for the 2012 Olympics in London.
Conclusion
So now that the recession was declared officially over, the focus among global licensors and retailers shifts to a return to the growth and prosperity of pre-2007 years. With the various economic and consumer benchmarking analysis coupled with the more bullish, although still cautious, attitude of brand licensing and retail executives, 2010 will likely show some improvement in the retail sales of licensed merchandise, but it will be 2013 before sales of licensed merchandise will even come close to returning to pre-recession levels.
Subscribe and receive the latest news from the industry.
Join 62,000+ members. Yes, it's completely free.
You May Also Like
Loading..