With various TV deals and multi-platform licensing initiatives, as well as a new mega partnership with Nickelodeon, Rainbow is well positioned for growth.
Whether he is assessing production in the new animation studio, wheeling and dealing on the mobile or directing a shoot behind the camera, Iginio Straffi is working relentlessly to keep the independent Italian studio Rainbow SpA at the forefront of kids' animation, television and brand licensing.
For the creative and energetic chief executive, it's been a dream come true and rapid rise to prominence for Rainbow, which is now one of the largest and most influential production studios and brand licensors boasting one of the most popular girls' television properties in "Winx Club," which features Bloom, one of six magical fairies that captivate young girls in almost every language.
This creative entrepreneur began his career as an illustrator and writer for comic books and feature films, and of course, kids' television. But most important to him personally is the fact that he has been able to fulfill his childhood dream and his passion as a cartoonist and animator and along the way hone his
skills as a savvy businessman and licensor, as well as hang out with Bloom.
"This is something I always wanted to do since I was a kid," recalls Straffi, who started painting and selling his work when he was 12 years old to make some extra money. Following college and several years working in the film industry in France, Straffi returned to Italy in 1995 and the picturesque, small-town lifestyle of Loreto (Ancona Province), on a hilltop near the Adriatic Sea, where he was born and raised.
From its humble beginnings in 1995 when Straffi founded the company, he has painstakingly established Rainbow as one of the largest privately held studios worldwide.
"The goal was to create a multimedia company across all platforms, as well as a consumer products business across all categories," explains Straffi. "This approach requires a lot more research, development and pre-production." But he admits it's been worth the time and investment.
In addition to the new Loreto headquarters facility, which boasts state-of-the-art animation and 3-D technology, Rainbow also has offices in Rome, Holland, the U.S. and Singapore, where the headquarters for the company's digital and interactive business was established in November 2008.
As Rainbow celebrates its 15th anniversary, the company is poised for significant growth over the next several years as it develops new properties, expands television broadcast deals and brand licensing efforts and further penetrates the U.S., U.K. and other key markets, including emerging territories such as Russia.
In fact, Rainbow and Nickelodeon announced a partnership this month in what is one of the year's biggest deals in global licensing. Nickelodeon acquired the television rights for "Winx Club" for the U.S. and the pay-TV rights for Latin America, Canada, the U.K., Australia, New Zealand and Benelux. In addition to the existing "Winx Club" series and two theatrical films, the agreement also includes the co-development and co-production of seasons 5 and 6 of the series, as well as all merchandising rights to Winx Club within the U.S., Latin America, Canada, the U.K., Australia, New Zealand and Benelux.
"We are very proud to start this collaboration with the most prestigious network in the world," says Straffi. "This is a new challenge for our fairies who, I'm sure, will find a place in the hearts of American and British children."
"It is very exciting for us to be partnering with Straffi and Rainbow, who have had such tremendous success with this property internationally," says Cyma Zarghami, president of Nickelodeon/MTVN Kids and Family Group. "The Winx Club franchise is a big hit with young girls and we think there is great opportunity for it domestically as a property that allows us to fill a gap for girls in the 6- to 8-year-old range."
"Winx Club" seasons 5 and 6 will consist of 26 episodes each and will launch on Nickelodeon domestically and internationally (with the exception of Italy) in 2012. Prior to launching the new seasons of "Winx Club," Nickelodeon will introduce the series with four hour-long animated specials based on seasons 1 and 2. Seasons 3 and 4 of the series will air on Nickelodeon in 2011.
Another key initiative for Rainbow is the continued expansion into emerging markets. "Winx Club," which airs on CTV in Russia, is the top series for 4 to 12 year olds.
With Straffi's belief in the importance of brand licensing to coincide with broadcast, Rainbow's sales of licensed products have more than doubled since 2007. According to the Top 125 Global Licensors report, published by
License! Global
magazine, Rainbow generated $3 billion in worldwide sales of licensed merchandise at retail in 2009, ranking No. 16, along with Lucasfilm, Mattel, National Basketball Association and Pentland Brands, which all also reported $3 billion in retail sales.
In certain ways, Straffi is a throwback to the glory days of Hollywood when creativity and content dominated over finance and Wall Street. Yet, this creative entrepreneur also possesses the business acumen and vision that has helped to form the core of Rainbow's business strategy as evidenced by the recently announced partnership with Nickelodeon. Straffi, along with Joanne Lee, who serves as senior vice president at Rainbow, have developed an impressive portfolio that is at various stages of development with mostly all properties or businesses not even close to maturation.
The Rainbow portfolio, which began with Tommy & Oscar, now includes the widely acclaimed Winx Club, and newest properties PopPixie, Maya Fox, and Huntik: Secrets and Seekers.
"Tommy & Oscar" (1996): This was the first series Straffi created when he formed Rainbow and therefore holds a sentimental place with him and in the company's history. It features the adventures of 10-year-old Tommy and his pink alien best friend Oscar. It's now in more than 40 countries.

"Winx Club" (2004): Straffi created Winx on the belief that the marketplace was crowded with boys' properties, but lacked a dominant girls' property.

"PopPixie" (2010): While its own series debuts this fall, PopPixie first appeared in the second season of "Winx Club" in 2007.

Huntik (2009): "Huntik: Secrets and Seekers" was launched in 2009 in co-production with Big Bocca and M4E, and is already broadcast on more than 30 European networks. The second season, scheduled this fall, has been pre-sold to more than 40 TV channels in Europe.

Maya Fox (2009): This new tween property is based on a series of books created in partnership with Italian publisher Mondadori.
Straffi says Rainbow's growth strategy for the future consists of five key elements:
Movie division. The second Winx movie

Magical Adventure,

which will be in 3-D, is scheduled to release Oct. 29 in Italy, followed by other countries, including Russia and Turkey. It also includes a new licensing program featuring 10 new doll collections, sticker books, food, snacks, fragrances and various promotions, all set to kick off this fall.

New properties. Rainbow continues to expand its new brands, including PopPixie, Maya Fox and Huntik. The "PopPixie" TV series will launch this fall in various countries, including France, Portugal, Spain, Turkey and Greece. A licensing program featuring a full range of toys from master licensee Bandai will launch in October. Other licensees include: Ferrero (food promotions), Mirtillo, Carel and Leomil (apparel). An extensive licensing program is also planned this fall for Huntik, including a trading card game from Upper Deck, 3-D figures from Tridimensional, books and toys. The company also has big plans for Maya Fox, a fashion property for tweens based on a book series.

Theme park. Rainbow MagicLand, the company's first theme park with 35 attractions, is currently scheduled to open in spring 2011 in Rome.

Gaming. Rainbow is set to launch a free multiplayer online game this month based on Winx Club in which users will be able to create their avatar and play with various fairies and characters.

Expansion of Winx Club. Its new partnership with Nickelodeon will help to accelerate growth of the property in the U.S. and U.K. and solidify its position as the leading global girls' property.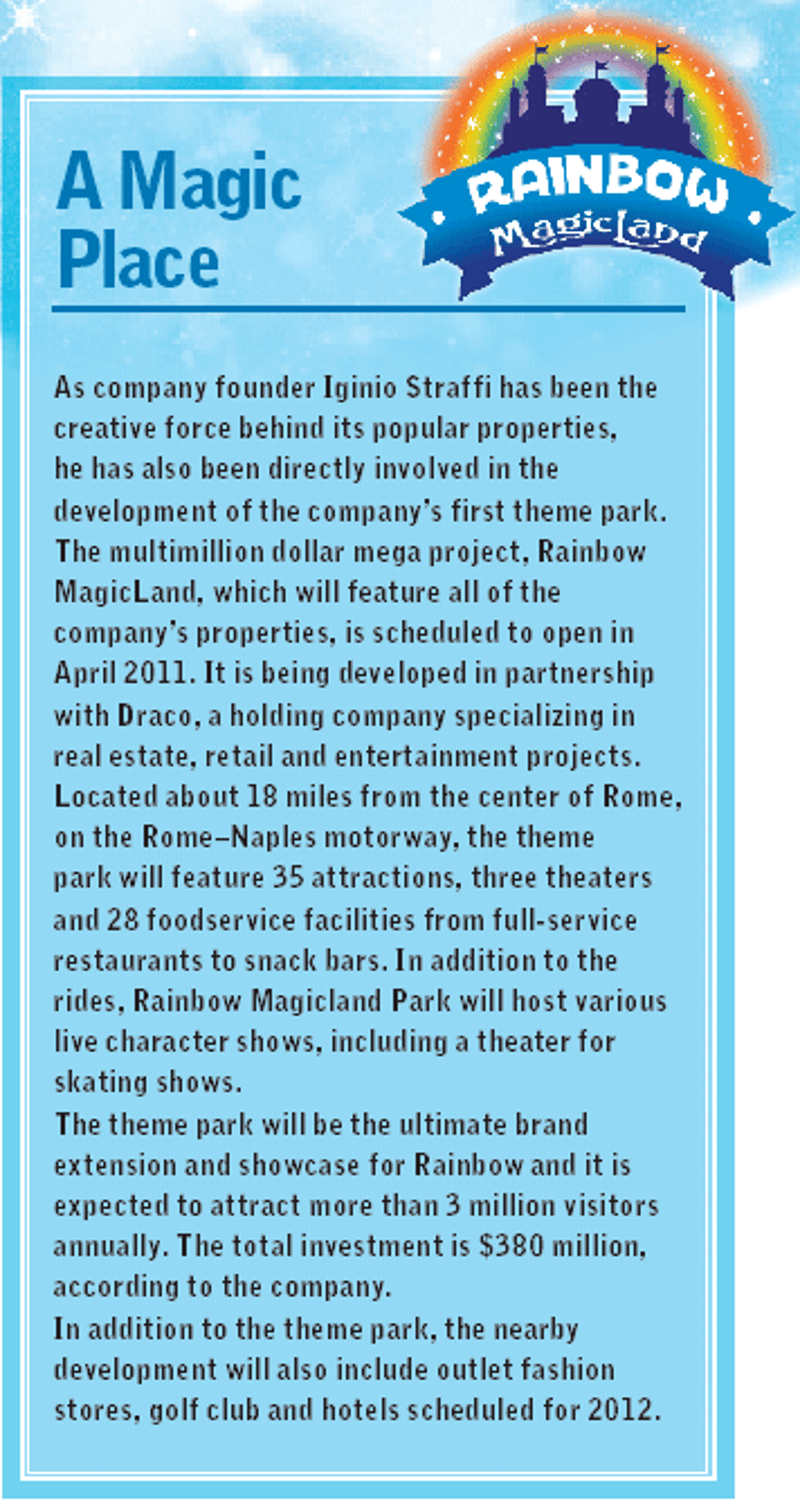 "I wanted to create a cartoon for girls in which music was as important as fashion," explains Straffi, adding that it took more than a year to create "Winx Club." "In the late 1990s, there were a lot of strong boys' properties, but nothing for girls. So I followed my instinct to develop this concept of fairies and witches and managed to make these characters aspirational in the way they look, speak and move."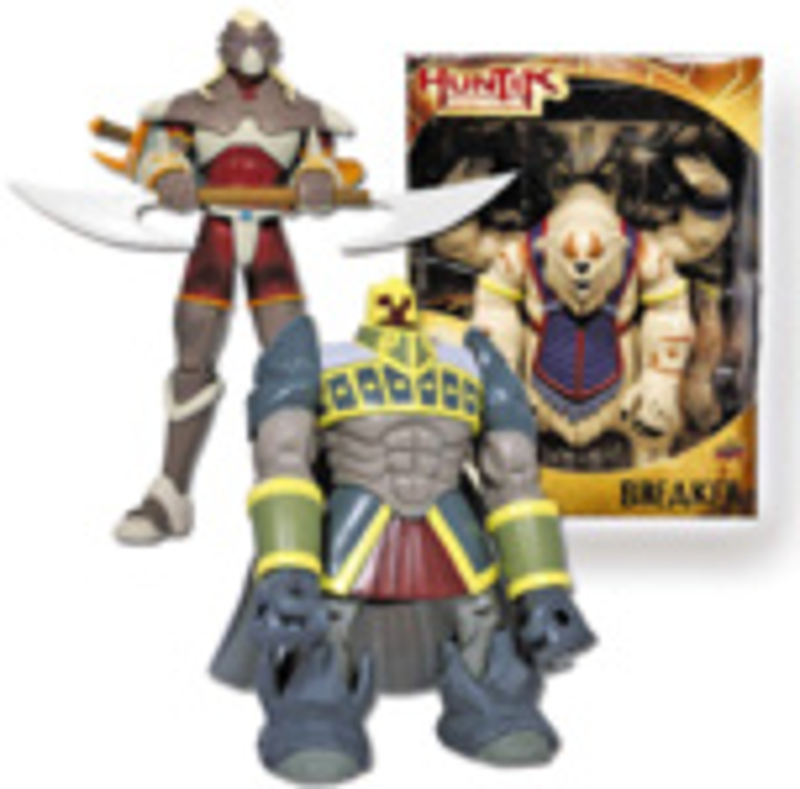 Straffi explains how Tommy & Oscar was sold methodically country by country over several years and this basic business philosophy hasn't changed, the pace has just accelerated as evidenced by the growth of "Winx Club" and how in six years it is now in more than 100 countries and has more than 364 global licensees.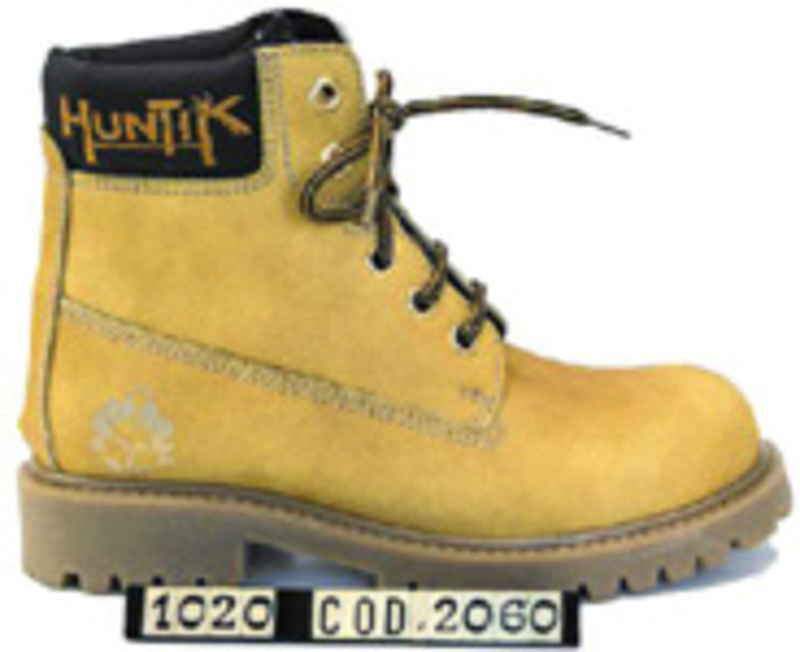 Now with the Nickelodeon partnership in place and season 5 and 6 now being planned, Bloom and her friends will solidify their leadership position among 4- to 12-year-old girls, as well as a bon fide tentpole property for the next decade.
While Straffi is proud of how the company has grown with more than 200 employees and offices in five countries, he is grateful that he has been able to offer career opportunities to so many people, including young aspiring artists like he once was in the early 1990s.
With the expansion of Winx Club and other new properties, along with Straffi's creativity and vision, Rainbow is well positioned for the future and you get the feeling that this artist has something else on the drawing board.
Subscribe and receive the latest news from the industry.
Join 62,000+ members. Yes, it's completely free.
You May Also Like
Loading..