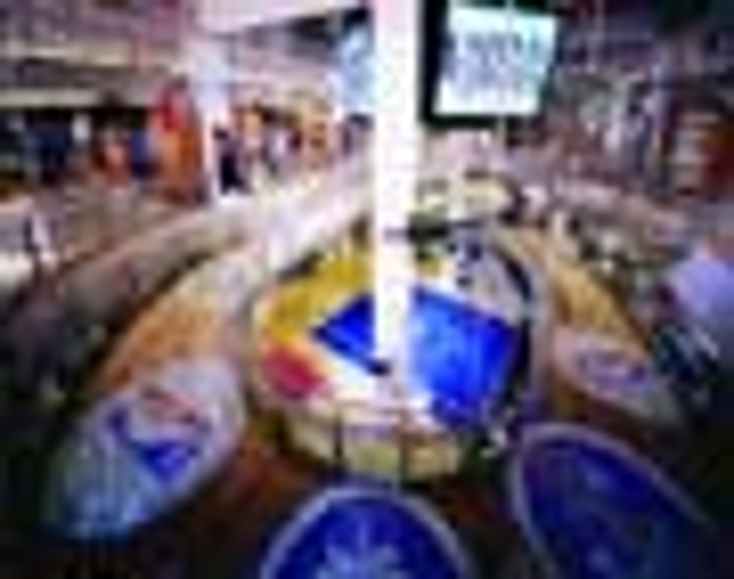 ]>Art licenses satisfy consumers' thirst for spiritual and religious themes.
As the nation continues to search for answers and sources of comfort in the aftermath of 9/11, manufacturers and retailers alike are recognizing and responding to an increased consumer demand for expressions of spirituality. Product that conveys images of peace, hope, and restoration through traditional religious imagery or nontraditional art has become a source of comfort to many consumers.
"There is a demand for product that touches your heart and sensibility, and crosses over religion," says Carolynn Miller-Barnett, owner of Cherish'd, a Woodland Hills, CA-based retail store specializing in inspirational books, cards, and giftware from Mary Engelbreit. The artist's work combines witty, humorous, and often inspirational themes and is ranked as the No. 1 art license with 38 licensees in 17 product categories. "Mary's 'Draw Near to God and He Will Draw Near to You' artwork is a favorite among our customers," says gift retailer Nancy Veselka of Checks on Austin in Waco, TX. The events of 9/11 placed the spotlight on a market already on the move. As more artists create a spiritual dimension to familiar images using simple yet meaningful scripture or verse, the result is a product that appeals to both religious and secular worlds. Know Your Consumer "Some [consumers] want distinct Christian content, others want an inspirational message that reminds them of Christian values and biblical truths," says Bill Anderson, CEO, Christian Booksellers Association (CBA). While CBA mainly targets consumers looking for a Christian message, Anderson notes there is room for growth in both markets. "The consumer is looking for choices. More people desire inspirational pieces in their homes, offices, and lives-especially after September 11."
"The
inspirational market is waking up to licensing and its potential to expand and build brands and revenue," says Leslie Nunn Reed of Nunn Communication. Nunn works with Multnomah Publishers to develop licensing programs for the art and content of famous inspirational titles. A fast-growing property is Bruce Wilkinson's inspirational guides, "The Prayer of Jabez," a New York Times best-seller that sold 11 million copies and features illustrations by C. Michael Dudash, and "Secrets of the Vine," illustrated by artist Katia Andreeva. Products range from cards and calendars to apparel, including T-shirts and ties.
Though traditional spiritual images such as crosses, angels, and water remain popular, a growing trend in the inspirational market is the use of whimsy, Americana, or nature-inspired images accompanied by verse. "Our customers, whether religious or secular, are very similar," says Susan January, director of product management for the Leanin' Tree/Celebration Greetings line of Christian greeting cards. "They are drawn by the color and artwork and are looking to share their faith in subtle ways." The Celebration Greetings line retails to both CBA and general retail.
"You don't have to do angels and praying hands," says Suzanne Cruise of Suzanne Cruise Creative, licensing agent for inspirational artist Sandi Gore Evans. "Combining secular images and uplifting messages or scripture produces a message that will have an even broader appeal."
Alynne Hemphill of Current, a paper goods licensee, says the company's customers prefer a light touch-a spiritual reminder. Current produces an annual "Blessed Are Ye" calendar featuring whimsical characters inspired by Ruth and Bill Morehead, along with verses from the Bible. Art Makers International, St. Pete Beach, FL, handles Morehead, Inc.
Also popular at retail are inspirational T-shirts for adults and children. Airwaves, maker of heat transferable graphics, offers inspirational designs from such artists as Carolyn Shores Wright (Art's Uniq') and Morehead. "Our inspirational product has had great sell through," says Woody Watford, Jr., operations manager at W&B Enterprises, a T-shirt distributor. W&B Enterprises distributes product to some 1,000 retail and hobby stores. Says Watford, "People have more interest in and awareness of spiritual matters, and they don't mind wearing their message on their shirts."
Manual Woodworkers and Weavers recently created a collection of home items featuring inspirational drawings and verse from artist Marci, famous for her Children of the Inner Light drawings. The collection includes blanket throws, pillows, wall hangings, and bell pulls with messages such as "Angels are among us" and "Be kind to everyone you meet."
Growing the Market
Images ranging from the symbols of Americana to the tranquility of the beach and travel are fair game for inspirational sentiment. "The secular and non-secular markets are coming together in terms of art," says Carol White, director of licensing, Art's Uniq'. "Both want a look that is light, current, fresh, and inspirational. The difference is the inspirational verse." White recently signed two new inspirational art properties: "Yours, Mine, Ours" and "it takes two." Both properties offer combined art and inspirational verse. Art's Uniq', a veteran in the publishing and licensing market, has a collection of some 400 fine art images combined with biblical and inspirational verse. While gift items, stationery, and T-shirts remain the leading inspirational product categories, going forward, White is seeking to expand her artists into other markets such as home décor.
Art Impressions in Canoga Park, CA, recently signed its first major inspirational artist: Beth Gordon, creator of ForGiving Souls, a collection of playful images accompanied by motivational messages and Christian scripture. ForGiving Souls was born out of Gordon's desire to help others overcome personal struggles. Categories available for licensing include publishing, social expressions, gifts, stationery, decorative accessories, home furnishings, toys, fabrics and crafts, and infant and juvenile products.
At Art Makers International, President Kay Yearick wants to focus on expanding inspirational properties (such as the Morehead collection) in home dé cor, collectible figurines, social expressions (including bookmarks, stickers, and posters), and the growing market for nursing and caregivers.
Retailers say they want more inspirational product geared toward children and teenagers. What do kids want? "Kids like big bold graphics," notes Pam Hensley, licensing director at Airwaves, noting the popularity of the Morehead "Blessed Are Ye" T-shirts inscribed with the Christian Beatitudes. Artist Mary Engelbreit is looking to expand her playful images into infant and juvenile product such as painted furniture, bed linens, and other home décor items.
Subscribe and receive the latest news from the industry.
Join 62,000+ members. Yes, it's completely free.
You May Also Like
Loading..