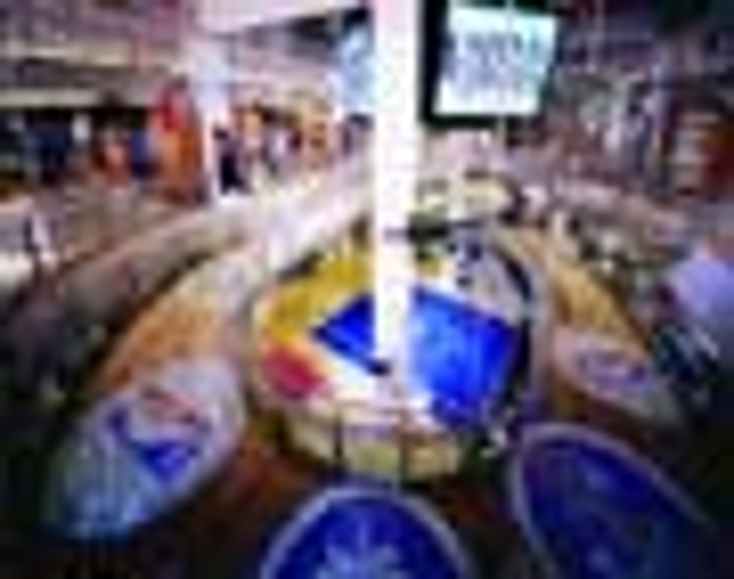 ]>Amusement parks are riding high with licensed merchandise from plush to T-shirts and towels sold via kiosks and dedicated retail space, plus branding the franchise with themed rides/live events and games with prizes.
The fun and thrill of theme parks isn't strictly tied to rides, attractions, and live events for licensing executives but the opportunity to create lasting consumer impressions and extend the life of the franchise through the sale of licensed products and related services.
Theme park attendance took a hit in the months following 9/11 but is on the rebound again. For 2001, attendance rose to 319 million from 317 million in 2000, while revenues remained flat at $9.6 billion over the two-year period, according to estimates from Amusement Business, Harrison Price Co., Economics Research Associates, U.S. Census Bureau, and the International Association of Amusement Parks and Attractions. A growing number of licensors have a significant presence or are fine-tuning a strategy to get more involved in the business. The upside: Theme parks offer multiple and complementary revenue streams such as kiosks, mobile merchandising, and dedicated retail space; themed rides/live events (often tied to an adjacent retail storefront/fixture); and indoor/outdoor gaming environments with prizes.Licensed goods thrive in each of these venues as consumers often like to take home souvenirs whether they are there for the day or on a week-long vacation. It also can be a great place to deepen the commitment and involvement for a property, as well as be a testing ground for new products or concepts. The challenges in these venues are keeping product fresh and trend right for the wide sweeping demographic that pass through the gates on any given day. It is also important, cautions Bob Weitkamp, director of corporate merchandise at Six Flags, to be aggressive, buy right, and give the consumer good value."When characters are strong in the marketplace, we are strong. When there is not a major hype connected to a movie or property, it is more difficult because we buy six months out so sometimes we have to predict the trends," admits Weitkamp.An Exclusive RideIndustry executives reveal that when developing a strategy for theme park licensing, it is vital to maximize key items from existing licensees. Sometimes this can pose a challenge because of the significant margin pressures tied to theme park merchandise. Creating exclusive products sold only at the park is a way to alleviate some concerns, and keep existing vendors happy while testing the waters with new partners.
Sesame
Workshop has kept both of these in mind with much success at its Sesame Place theme park (operated by Anheuser-Busch). Over the last three years, merchandise sales have been "off the charts," approaching 20 percent growth and per cap expenditures in the same range, confides June Archer, vice president, licensing North America at Sesame Workshop.
Exclusive product has done well with strong results from Friends, a line that features Muppets on beach towels, ceramics, tambourines, and other hard and soft goods. Also successful is its Splash program with Cookie Monster and Elmo on T-shirts, necklaces, snow globes, and cups that have a little bit of water play to them. Future initiatives include a candy program, optimizing its existing merchandise space, and a greater reliance on carts and mobile merchandising.
"We are taking an aggressive merchandising stance in coordinating our programs so that when a guest goes into stores they see collections of merchandise with a creative theme and some reason for being," says June Archer, vice president of licensing at Sesame Workshop. "Competitively we don't want to overprice merchandise that you can find at stores down the road. We have to be careful on assortment and keep our focus on books, videos, toys, and plush."
Besides merchandise, Sesame Place has instituted a multi-phase plan that addresses inclement weather with dry rides and areas. New last year was Games of Skill, an arcade for ages 2 to 15. In 2003/2004, the company hopes to open an all-encompassing area where guests will be able to experience a number of dry rides and activities. Other initiatives: a passport loyalty program with tiered pricing, a new catering facility to host corporate events as well as character dining for breakfast, dinner (new), and birthday parties.
Warner Winners
Theme park licensing is a flourishing business for Warner Bros. with a major presence at Six Flags with Looney Tunes, Batman, Superman, Cartoon Network properties such as Scooby Doo, and Paramount Park with Scooby Doo and Hanna-Barbera characters. A caveat: Six Flags cannot carry Scooby Doo merchandise if it is within a 250-mile radius of a Paramount Park. "As operators add more theme parks, our world becomes greater. We help with theming of rides, overseeing live events and stunt shows, and theming of merchandise," says Kelly Gilmore, vice president of toys and theme park licensing at Warner Bros.
New for 2002 are two Scooby Doo rides in San Antonio, TX, and St. Louis that will be used to hype the upcoming Scooby Doo movie. Also on tap: new rollercoasters Batman the Dark Knight in Six Flags New England and Superman Ultimate Flight in Six Flags Over Georgia.
Merchandise sales are a strong part of its overall business and give the company the latitude to test new concepts. Its latest: a multicolored Tweety plush program with positive early feedback.
"With characters, we test many concepts because the teen female demographic is a great testing group," says Gilmore. "Six Flags has done a great job at growing their season and has done a very good job with jackets, sweatshirts, and high-end leather goods." Tweety got an equally good response internationally at Europe's largest movie theme park, Warner Bros. Movie World Madrid. The new park opened in April and is managed by Six Flags. Warner Bros. also has parks in Australia and Germany.
Nick at Play
The recreation business has been a bright spot for Nick Recreation and is slated to entertain more than 15 million paying guests at its six branded lands at major theme parks across the country and at live theatrical productions that tour the top 100 markets annually. Blue's Clues Live will tour in 80 markets through 2003, and Dora The Explorer Live (in preproduction) is expected to launch in early 2003.
The company has a newly expanded area at Paramount's King's Island in Cincinnati and a 30,000-square-foot interactive playground at Universal Studios Hollywood. Each park features a Nickelodeon store filled with licensed goods.
"We view the business as a two-way street," confides Howard Smith, senior vice president of recreation at Nickelodeon. "The theme parks look to us because we have a dynamic brand and we have a pipeline of properties they can tap into, such as attractions and costumed characters for promotions. We see this as an important part of the Nick brand because theme parks are really enjoyed by kids, and we need to be where kids are."
Reaching out and touching kids and adults is a goal The Lego Co. achieves with a variety of entertainment venues. The company currently has four LEGOLAND parks in California; Billund; Denmark; Windsor, Great Britain; and Gunzburg, Germany (due summer 2002); five free-standing Lego stores; and two Lego Imagination Centers (one in Downtown Disney in Orlando and one in The Mall of America).
"Our belief is if you have things outside of the box, it makes kids think outside of the box," says Melinda Carter, public relations assistant manager at The Lego Co.
At LEGOLAND, kids and adults alike are immersed in the Lego experience with rides that mimic actual products; themed rollercoasters such as the Technic Coaster; and the new 4-D Racers live show that debuted in all four parks Memorial Day. Its stores are filled with hands-on activities, large-scale Lego models, and hot licenses such as Harry Potter, Star Wars, Galidor, and the latest, Spider-Man.
"The goal at Lego is to expand from being a toy company known only for construction toys to being an entertainment company," says Carter. The genesis began this year with Galidor for action figures.
A Walk in the Park
Universal Studios has two distinct parks where licensed characters thrive. At Universal Studios California and its sister park in Florida, Jurassic Park, E.T., and The Mummy play an integral role in extending the life and reach of the franchise through themed rides and attractions. Also popular: A Day in the Park with Barney with HIT Entertainment working closely with Universal to capitalize on the property even further. "The Barney boutique with licensed character merchandise is typically one of the most popular shops in the park," says Holly Stein, senior vice president, consumer products at HIT Entertainment. "The mix of merchandise is constantly updated. They purchase a lot of merchandise from our licensees, which keeps their product mix fresh, as well."
Lassie (licensed from Classic Media) is also a headliner at Universal Studios' Animal Actors Stage live show. "We want to get more characters in these venues because theme parks are great for creating consumer impressions and keeping the characters top of mind with multigenerations in one place," says Gary Hymowitz, head of worldwide licensing at Classic Media.
At Islands of Adventure, Spider-Man, The Hulk, and other Marvel characters play a key role for rides, attractions, and merchandise on Marvel Super Hero Island.
MGM Studios is the only studio without a major theme park presence (it licenses its name to Disney), but that soon will be changing. The studio has hired a consulting team in the theme park and leisure business to exploit four distinct businesses: individual attractions, mixed use real estate, nighttime entertainment districts like Universal City Walk, and a full-blown branded theme park, explains Travis Rutherford, senior vice president at MGM Consumer Products and Interactive.
A five-year plan is underway with international markets the first to be developed. In November, Stargate SG-1, a simulator attraction will debut at Space Park in Bremmen, Germany.
Fun and Games
What would a fun-filled day be without playing some games? Indoor/outdoor gaming environments provide yet another opportunity for licensors and licensees to strut their stuff. Now that quality issues have been addressed by most major manufacturers, licensors are more comfortable granting a license in this area.
Warner Bros. recently signed three new licensees for plush with Toy Works, San Antonio, TX, doing Justice League; Nanco creating Looney Tunes merchandise; and Toy Network, a division of Manley Toy Quest, Los Angeles, CA, doing Scooby Doo plush, all strictly for game areas. Rhode Island Novelty Co. does a variety of hard good items for Powerpuff Girls, Scooby Doo, and Justice League.
The amusement trade has been good for plush companies such as Good Stuff where 50 percent of its volume is generated from licenses such as NFL, MLB, NHL, and Coca-Cola. Newcomers include The Pink Panther and The Three Stooges.
Business also is booming over at Toy Works as the company took on new licenses such as Justice League, Flintstones, and Hershey's Kiss for 2002. Seven characters are planned for Justice League with the hope of getting some distribution at new account Universal Studios. The company also hopes to sell-in some Flintstones plush to Paramount Parks, reveals Mark Gawlick, president at Toy Works.
Subscribe and receive the latest news from the industry.
Join 62,000+ members. Yes, it's completely free.
You May Also Like
Loading..