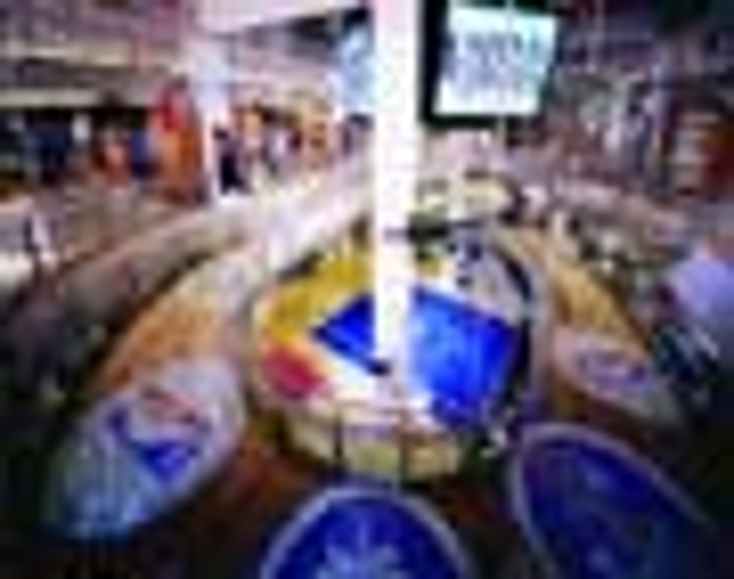 ]>Style and technology steal the show at JPMA
Retailers saw an increased use of fashion elements in apparel and accessories (including bags and strollers) for infants and toddlers, and sound and motion in toys and gadgets at the May Juvenile Products Manufacturers Association (JPMA) show in Dallas, TX. Overall, manufacturers and licensors sought to create a unified brand presence among licenses, and simplify the shopping experience for busy parents. Baby SimplicityDisney Consumer Products introduced its Nursery by Design concept-a complete collection of coordinated infant furnishings that allows parents to mix and match bedroom options for the baby room. The collection includes several choices of top of bed, quilted headboards, valances, wall d?r, mobiles, and lamps. The first Nursery by Design collections, Simba's Circle of Life, Classic Pooh's Classic Moments, and "ABC Stories," are available at Burlington Coat Factory's Baby Depot; "Sincerely Pooh" is available at Target. "We are moving into a lifestyle direction and away from just character," explains Brad Ong, manager, sales and retail marketing, hardlines licensing, Disney Consumer Products.
In
addition, DCP kicked off its new mix-'n'-match nursery tool on disneybaby.com. Visitors can design a virtual nursery by selecting wall colors, stencils, and bedding that fit their personal taste and home d?r-then find out which retailers sell the collection they chose. The Website will provide information on special offers and promotions with Disney products. Licensees on board include Crown Crafts Infant Products, Springs Baby Division, Costco, Dolly, and HAMCO.
Fashion Baby
At Springs Baby Division, retailers got a first look at the Humphrey's Corner baby line that is scheduled to launch later this year. Product on display included sheets, blankets, diaper stackers, and decorative pillows. All products are 100 percent cotton. The complete line will include towels, mobiles, fabric for curtains, valances, and other infant room accessories.
"[With Humphrey's Corner] we've had great interest at mid-tier retailers and above," notes Lucia Fitzgerald, vice president of Springs baby products.
Springs also launched the first accessory pieces in the Raggedy Ann infant collection. New pieces this market include a nightlight and hand-painted frames set (suggested retail, $9.99), diaper stacker and crib ruffle, and receiving blanket ($19.99). Springs launched its initial Raggedy Ann collection (a three-piece set with bumper, comforter, and sheet) approximately two months ago and has already received reorders.
While both Humphrey's Corner (represented by The Sharpe Co.) and Raggedy Ann (United Media) represent strong character licenses, the two collections reveal an increased attention to detail in finish and styling. In addition, the Raggedy Ann collection features a 16-color print pattern, not often seen in toddler bedding. "We're definitely bringing more fashion into our toddler products," says Fitzgerald. "Kids love the characters, but they must appeal to mom, too. Adding fashion is a way to bridge the gap between the two."
Little Suzy's Zoo, the infant and toddler program based on Suzy Spafford's animal characters, continues to grow at retail with sales in excess of $200 million, says Paula Miller, vice president of licensing and brand development, Suzy's Zoo Studios. Licenses showcasing product at JPMA included Prestige (toys) and Dolly (nursery accessories and diaper bags).
Travel Baby
Retailers who stopped by Costco (part of Dorel Juvenile Group), a maker of strollers, car seats, and play yards for the Eddie Bauer brand, saw new coloring and fabrics specific to different tiers of distribution. New introductions include the Ashford collection featuring black and tan gingham with corduroy accents for specialty stores and JCPenney; The Hamilton collection sporting navy plaid and mushroom with corduroy accents, primarily for Target and specialty stores; and the Arrowhead Buff, a sports collection featuring solid and printed nylon for Sears, select Target and specialty stores. An additional four new colorways, not shown at JPMA, will be exclusive to Toy "R" Us stores starting in September. Costco also introduced a three-in-one leather car seat (suggested retail, $125) and a high-back booster chair (suggested retail, $190) open to all tiers of distribution. Costco next plans to develop product exclusive to the Eddie Bauer stroller line, according to Edmund Apperson, director of product marketing, Dorel Juvenile Group.
J. Wasson Enterprises, maker of Samsonite Juvenile Products, introduced fashion travel cases featuring numerous travel and storage options for mom and baby. "We had strong response at mass and specialty," reports Andrea Wasson of J. Wasson Enterprises. An all black three 'n' one wheeled baby traveler backpack diaper bag featured a detachable mini-diaper bag and waist-pack diaper bag (suggested retail, less than $150). In Europe, Samsonite currently is shipping a mom and baby travel case (suggested retail, $120) that features an extra backpack ($60) and tote ($80) and multiple storage options, such as an insulated bottle holder.
Action for Baby
Toys and gadgets that light up or interact with baby were prevalent at JPMA. Among the notables were Prestige Toy's Carter's Starters-musical, light-up pull toys for newborns and older (starting retail, $6 to $7)-and Prestige's first Little Tikes plush collection, including vibrating ring rattles.
Baby Boom Consumer Products debuted the initial line of Baby Genius interactive products, including a musical crib light (suggested retail, $12.99); a remote control mobile ($19.99); a musical pull toy ($9.99) that includes a free Baby Genius CD; and an "interactive diaper bag" featuring a detachable front panel that attaches to a stroller and car seat. Panel features include a storybook, peek-a-boo mirror for entertaining babies; plush characters; and musical note buttons to allow babies to make their own music (suggested retail, $19.99). Also new for Baby Boom this market were Care Bears (American Greetings) infant and toddler room accessories and interactive learning toys in partnership with the National Oceanic and Atmospheric Administration.
Something for Boys
As part of its California Kids license, PJ Kids bowed the High Five collection of boy-focused hand-painted furniture inspired by uniforms and equipment from such sports as baseball, hock-ey, football, tennis, golf, basketball, and soccer. The collection includes a headboard and table and chair set (suggested retails, $249 and $299, respectively), lamp ($49 to $59), and storage locker ($249 to $299). Retailers on board include Art Van, USA Baby and Boston Baby, and BB Kids.
"It is easy to coordinate the pieces with existing sports-themed furniture or the California Kids bedding," says Vasso Unks, marketing director, PJ Kids.
Also new for California Kids is a second Bug Off furniture collection and decorative drawer knobs with designs from California Kids and Olive Kids (suggested retails, $3.99 to $4.99). PJ Kids also added a headboard and round table and chair set in the Olive Kids "Trains, Planes, and Trucks" design.
Subscribe and receive the latest news from the industry.
Join 62,000+ members. Yes, it's completely free.
You May Also Like
Loading..